A Collision of Dreams in Kenya
What really excites alum Conner Longoria ('18) is the positive systemic impacts the development of Mwale will have on western Kenya.
In western Kenya, just north of the equator, temperatures are 65 to 80 degrees year-round. It's hot in the sun and cool in the shade, and generally perfect for Conner Longoria ('18).
"Two days into my visit, I knew I wanted to be part of this," says Longoria, of his first trip to Kenya to see a city called Mwale, an intentional community designed to address some of the region's biggest challenges – namely, health care and jobs. What he loves most is that his work supports developing an economic engine that intends to help raise people out of poverty.
As a first-year student at Gonzaga, he loved attending basketball games and being in the Kennel Club. His love for sports in general would eventually come into play, but first, he had to get down to business. Literally. He ventured toward marketing, with a minor in sport management, hoping that a business degree would be a strong foundation as he sought opportunities in sports. During his junior year, the clincher for Longoria was a class he took from Todd Finkle on entrepreneurship.
"He had the biggest impact on me, challenging me to think entrepreneurially," says Longoria.
By graduation, he had secured a job in Seattle, and while he was grateful, he quickly began searching for an alternative. "I wanted more than just a job. I needed to do something more fulfilling."
During his first phone conversation with the Mwale development center, it was clear there was a place for Longoria. "Anything you're passionate about, you can help create here," he says. For him, that meant putting his sport management studies to good use.
"At GU, I helped create and run a youth basketball program, so I was struck by the opportunity to develop a similar youth sports program with schools in Mwale," he says.
While that prospect excites him, he's equally passionate about the positive impact Mwale is going to make on people's lives in a broader context. For example, the centerpiece of the city is a hospital with an advanced cancer research center to combat the high mortality rate there due to the expense of treatment. Longoria explains, "We're working to restructure health insurance and the medical industry to advance the level of care and save lives."
The hospital and other ventures are funded entirely by benefactors, and while there's no public funding, the Kenyan government is extremely supportive of the plans. Longoria says probably 95% of Mwale partners are Kenyan – it's their city, and making decisions on important issues such as property management is the responsibility of village elders. The is a distinguishing feature between Mwale and other similar developments taking place across Africa and within Kenya, he says.
He loves the country, the people, the work at hand, and especially the simple way of life.
"There aren't so many distractions. People have their work and their family and friends, and they don't need much more than that."
Combined with the year-round perfect weather, Longoria finds that his simplicity of life is enough to keep him content in his new home.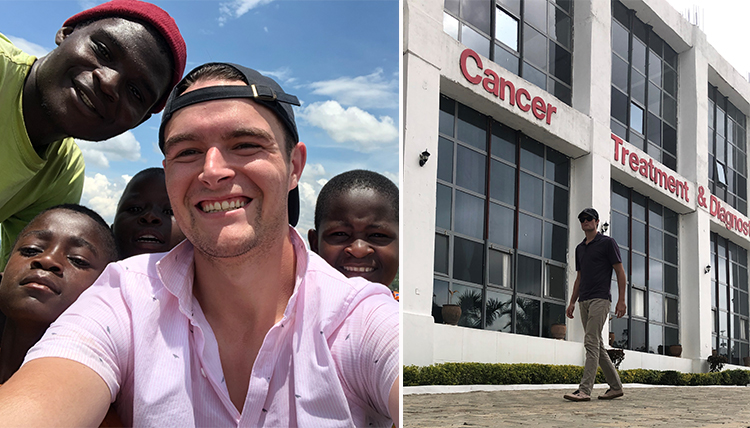 COVID-19 Update
In June 2020, we checked in with Conner to see whether he remained in Kenya or returned stateside. Here's his response:
"I stayed here in Mwale City for the course of the pandemic. It has been a rather busy time for us actually. The hospital we run (Hamptons Hospital) was named the COVID-19 center for all of western Kenya. We have been hiring new staff and getting our isolation and ICU wards ready for when the virus eventually travels from the eastern side of the country, where it is currently, to us.
The government here moved very quickly to shut down hotspot locations like Nairobi and Mombasa. They also were very early in shutting down businesses. (One cool thing of note is that the government here has banned the use of cash entirely; everything is paid for either with card, or more commonly the widespread digital payment called mPesa. It is very likely that after the pandemic subsides that Kenya remains a cashless country.)
Conner says he's been busier than ever, creating marketing plans for the completion of Mwale's COVID-19 isolation ward. Still, he'd love to hear from other Zags and answer any questions about this unique community development project.
On Facebook, search MMTC2020.
An Example of Scholarship Outcomes
The George J. Struble Scholarship was established for students from military families. While Longoria met that basic requirement, it turns out that he and Struble had much more in common: a deep love of sports. We think Struble would be thrilled with funds in his name impacting the vision Conner has for youth sports programs in Africa.
What kind of student would represent your family legacy? Support the Zag Scholarship Fund or create your own.
Alumni
School of Business Administration
Alumni
Business Administration
Gonzaga Magazine