Entrepreneurial Success a 'Piece of Cake' for These Zags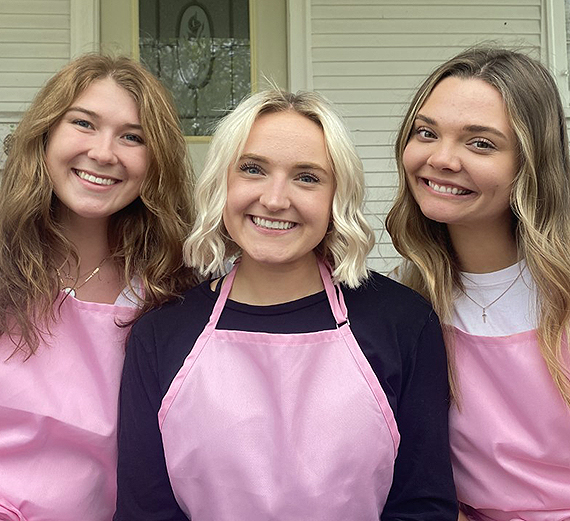 ---
SPOKANE, Wash. — Gonzaga University rising seniors Thea Skokan, Grace Siemering, and Elizabeth Redmond wowed the judges and the public to capture second place and "the Fan Favorite" — and $5,000 — in the recent Northwest Entrepreneur Competition for their team titled, "Piece of Cake."
The competition, held in April, is a forum for high school and college students from the Pacific Northwest to pitch their business ideas to a board of well-established entrepreneurs, said Siemering.
"There are three categories of competition — open, traditional, and technology. We competed in traditional business due to our business model," Skokan added.
In the competition's three stages, student teams are judged and narrowed until the final stage, when they deliver a five-minute pitch to the judges. Winners receive various cash prizes, and the winner of the People's Choice Award also receives $2,000.
The big idea behind "Piece of Cake" was to create a subscription-based service that brought baked goods straight to subscribers' doors.
"There's nothing more appealing than comfort delivered straight to your door," Skokan said.
In developing their entrepreneurial plan, "Piece of Cake" emerged as the students aimed to create a name that captured their passion for baked goods.
Skokan explains, "We wanted to convey the nature of our product while keeping it fun. Piece of Cake aims to put the ease back in baking, what better way to say that than by saying it is a piece of cake?"
Their success was no fluke. The students' attention to detail elevated "Piece of Cake" to the fore among the public. Their attention to the personable aspect of baking, bringing families together and creating memories in the kitchen, made them the Fan Favorite.
"Winning the 'People's Choice Award' meant a lot to us," said Siemering about the team's success in the event that included 50 other competitors.
"This is something I never ever saw myself doing, so to not only have done it but to have won is incredible," Skokan said.
The success was certainly a team effort and the students credit significant help from Todd Finkle, Ph.D., the Pigott Professor of Entrepreneurship, and Scott Rozic, adjunct professor of entrepreneurship.
"I would absolutely want to thank Todd Finkle and Scott Rozic. Their help over the past year is immeasurable, we definitely would not have made it anywhere near as far as we did without them," Skokan said, adding the two professors were always there to lend advice and a helping hand to the students.
The success in the competition is just the beginning for the members of "Piece of Cake." Skokan, Siemering, and Redmond are excited to follow their career paths and entrepreneurial aspirations.
"Having so many people supporting us, believing in us, and cheering us on made us confident that we have the ability to make something as huge as starting a business happen," Siemering said.