Gonzaga Student-Athlete Success 101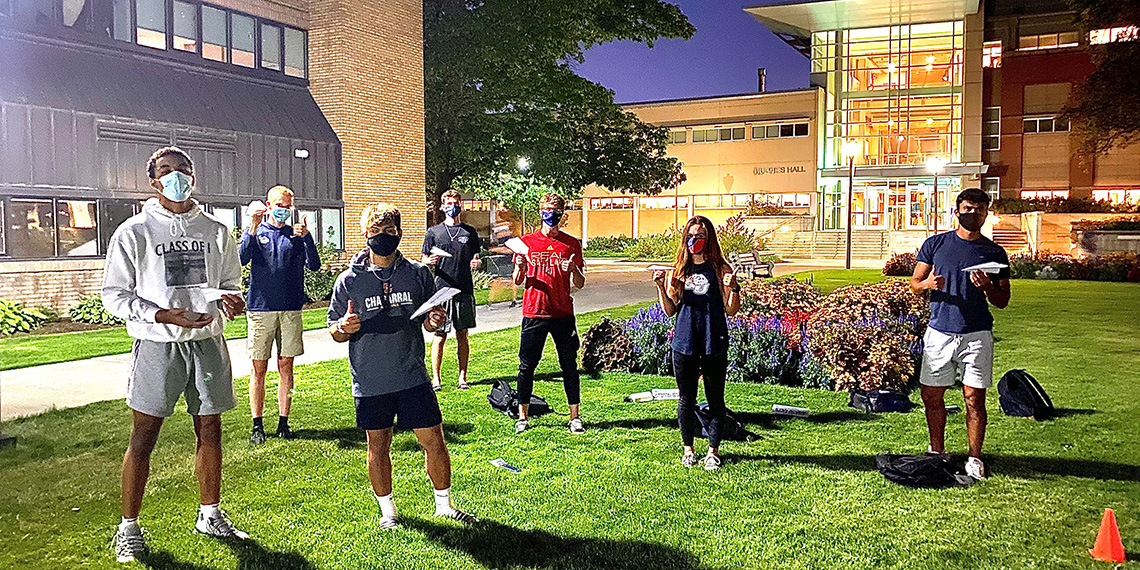 Anatomy of a Game-Changing Class
SPOKANE, Wash. — While Gonzaga University is well-known for its high-flying men's and women's basketball teams, less conspicuous is the elite academic performance of its student-athletes. A one-credit course for first-year student-athletes, in which former Zags like basketball star Nigel Williams-Goss have shared their wisdom, has been an instrumental part of their success in athletics and the classroom.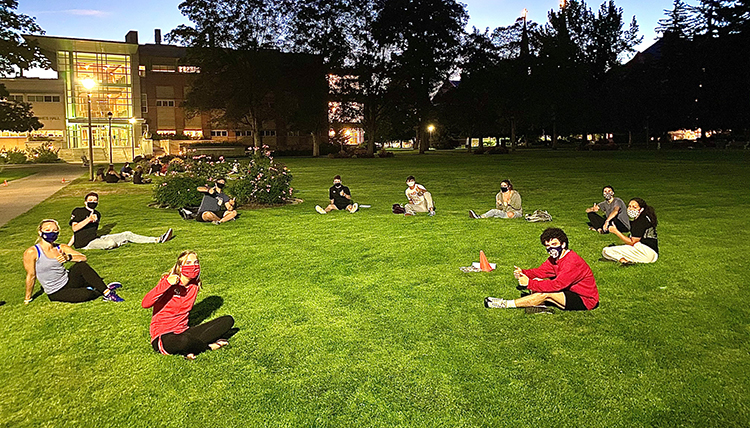 The NCAA's most recent Graduation Success Rate (GSR) data (2020) shows GU student-athletes graduate at a rate of 98% — including 10 GU teams that achieved 100%. Nationwide, Gonzaga's GSR is tied with eight other schools — including Duke, Notre Dame, Northwestern, Princeton, Seton Hall, and others — for second-best. GU also has the highest GSR in the West Coast Conference (average 91%).
Ten GU squads earned 100% GSR scores, including women's basketball for the fifth straight year and men's basketball for the fourth year in a row. Women's cross country and track and field and women's golf each earned a 100% GSR for the 16th straight year, while the following sports extended their streaks of consecutive perfect scores: men's cross country and track and field (13), men's tennis (12), men's soccer (11), women's soccer (10), men's golf and women's rowing (nine).
'EDPE 195: New Athlete Orientation'
While there are multiple initiatives to help all first-year Gonzaga students succeed, one game-changing class at the center of the student-athletes' success is "EDPE 195: New Athlete Orientation."
"This class is an awesome experience provided to our first-year student-athletes during that first fall semester," said Steffany Galbraith, director of academic support services for GU athletics. "With regards to the student-athlete experience here at Gonzaga, I think it sets us apart from others."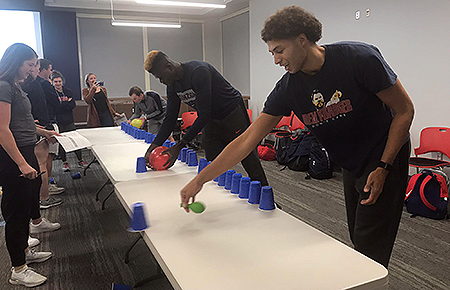 Launched in fall 2007, the course has benefited from continuous evaluation and reimagination, Galbraith said. Zoom conferencing during the pandemic opened new opportunities to allow alumni student-athletes, like Williams-Goss, to more easily share their inspiration and tips with current Zags.
Athletics also uses the class to connect consistently with the new student-athletes to meet their needs.
Emma Moon, director of life skills development for athletics, notes the class — taught by various staff members within the athletic department in collaboration with campus partners — has evolved to focus on these topics in fall 2020 (among others):
Academic Skills, Exploration and Resources
Alcohol and Other Drugs Education
Communication and Branding/Image
Well-being
Life Skills Development
Diversity and Bias
Sport Performance
Academic Advising and Class Registration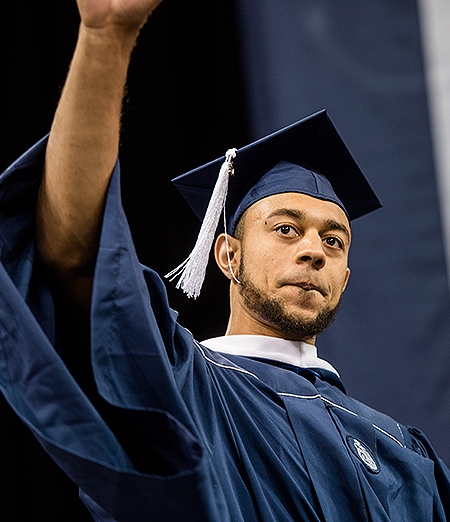 Williams-Goss, a first-team Academic All-America who helped power the 2016-17 basketball team to a 37-2 record and a runner-up finish in the NCAA Tournament, was pleased to share his experience with new Gonzaga student-athletes.
"Gonzaga gave me the platform and resources to achieve my academic and athletic goals. It provided me with lifelong memories and friendships that I still cherish," Williams-Goss said. "In return, I take responsibility in doing what I can to help the University continue to nurture and develop the next group of Zags excel in their own ventures."
Williams-Goss knows all about the unique and disciplined focus it takes to succeed as a Division I student-athlete. At the 2017 Final Four, he was honored with the NCAA's Elite 90 Award presented to the student-athlete with the highest grade-point average participating at the finals site for each of the NCAA's 90 championships.
"There is a culture in place (at Gonzaga) that pushes you to excel in the classroom, in our respective playing fields, as well as wanting student-athletes to enjoy their experience as a college student," said Williams-Goss, who was also named to the Wooden Award All-American Team, and First Team All-American by Sports Illustrated and the U.S. Basketball Writers Association.
"I wanted to talk to the incoming freshmen about the fact that it is possible to excel athletically and academically while still maintaining a healthy social life. But it takes commitment, discipline and time management skills. For me, it was fulfilling to see all of the new Zags and understand how memorable their next four years will be," Williams-Goss said.
Seattle Mariners' pitcher Marco Gonzalez, a first-round selection in the 2013 Major League Baseball Draft, also was among the "guest Zags" who happily presented to student-athletes this year.
Zag Family Night
In addition to hearing from student-athlete alumni, another popular aspect of the course includes the annual Zag Family Night in which student-athletes share a meal with staff across athletics who support their academic and athletic success.
"It is very valuable for our staff, who often work behind the scenes to support our athletic programs and don't always get to put names to faces and meet student-athletes one-on-one," Moon said. "This year, we hosted our Zag Family Night virtually and it was still a great success. Administrators and support staff became experts at breakout rooms, bopping around to meet student-athletes and all having fun getting to know one another."
ZagOlympics
Another key part of the course is the ZagOlympics program, created in 2016 by GU Student-Athlete Leadership Institute members to promote mentorship within Athletics and enhance community building among student-athletes. First-year student-athletes are split into teams with the aim to unify all athletic teams and foster an inclusive departmental culture.
"These teams have upperclassmen student-athlete captains and, as you can imagine, they all love to compete," Moon said. "In addition to building relationships across various sports, we hope the freshmen gain valuable insight and guidance from their captains as they tackle some of the challenges of being a student-athlete."
The emphasis in the various competitions is on fun and building bonds of trust and friendship.
"The ZagOlympics has become a staple in our culture to help build community," Moon said.
Library Night
The class also is paired with a "Library Night" in which each student-athlete has two evening class periods: one focused on a workshop topic, and the other dedicated to spending time in the library.

"The purpose is two-fold: Ensure student-athletes are introduced to the resources and quiet space of the library," Moon said. "And ensure that as they try to manage the incredibly packed schedule of training, travel, competition, class and studying, that they have at least one evening preserved to build a routine and emphasize the importance of time management."
Tianna Helm: Class 'Sets the Tone'
Students-athletes across all sports are quick to credit the course with having a significant impact on their success in athletics and school, including Tianna Helm, a soccer student-athlete who earned a bachelor's degree in business administration with a minor in Spanish in 2019 before completing the Master of Science in Taxation (MS.Tax) program in 2019.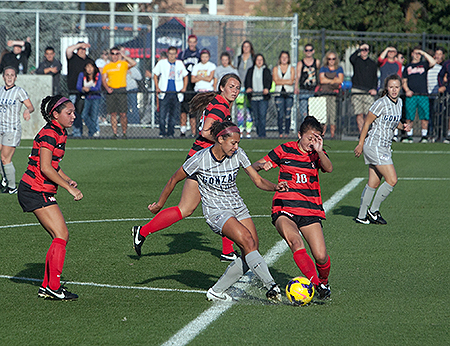 "I honestly cannot imagine my experience at Gonzaga without the student-athlete orientation class. It really sets the tone, settles your nerves, prepares you for one of the biggest transitions in your life to that point, and most of all it's an opportunity to build community and bonds with athletes across all sports teams," said Helm, who served as vice president of the Student-Athlete Advisory Committee in 2017-2018.
"It's one of the greatest common threads that all GU student-athletes get to share and so many relationships are formed during those classes," said Helm, who also presented to the first-year Zags in the class this year. "It was important to me to come back and have a chance to share a bit about my journey because I'm a strong believer in paying it forward. I think it's a strong message when alumni are lining up at the door to give back to their university, because that means they believe in the programs and the people that make GU athletics what it is and as a freshman, that gives me comfort in knowing that I chose a place that will take care of me through all the twists and turns of the unknowns ahead."
And the most important piece of advice she related to new Zags this year?

"Remember to frequently take inventory of who you are. To always be asking yourself what is important to you? How do you define yourself and why are those things so defining to you in this point in time?" Helm shared. "The next four years of their lives will be transformative, and I want them to stay present in those moments so that when the times comes to leave GU, those moments and lessons will stay with them and strengthen them in the next chapter."
Simón Homedes Dualde: 'Zags Help Zags'
Simón Homedes Dualde, a tennis student-athlete who earned a bachelor's degree in business administration with a major in accounting, a concentration in finance, and a minor in the Hogan Entrepreneurial Leadership Program, said he also was pleased to share advice with first-year student-athletes this year.
"To me, EDPE 195 was extremely helpful because every person coming into college will tend to get a little lost. This class was the perfect class to provide us not only guidance and advice for students, but it was specifically structured around the life of a student-athlete," said Dualde, who served as president of the Student-Athlete Advisory Committee (2019-20) and earned the departmental Leadership Award in 2020, as well as co-Male Scholar Athlete of the Year.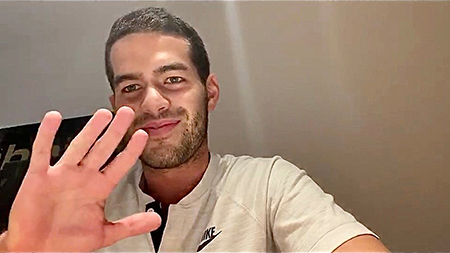 "This class really set the tone for us student-athletes on what is expected and how to manage all the things that we were thrown at throughout our time at school. In addition, we had the opportunity to build relationships with other student-athletes which was key as it emphasized the sense of community that the athletic department has built at Gonzaga," Dualde said, adding that he returned to speak to the class from a desire to give back.
"I could relate to the incoming freshmen because I was in their shoes four years ago. I love Gonzaga and I am so thankful for all the experiences and help that I was provided during my time there," he said. "When I got to Gonzaga I was constantly told 'Zags help Zags,' and that's something I live by now. So, when I was given the opportunity to help other fellow Zags, it was a no brainer."
And his most important piece of advice for first-year Zags?
"Don't be afraid to ask questions and get help. Oftentimes, we refuse to ask questions and decide to remain quiet because we are scared of what others will think. But asking for help to me is not a sign of weakness, but rather a sign of wanting to improve," Dualde said. "Another important piece of advice is to develop a routine. As student-athletes, our schedules are so packed that having a routine and structure really provides confidence in what you're doing."
Academics
Careers & Outcomes
Faith & Mission
Student Life
Academic Vice President
Spanish
Sports Physical Education
Business Administration
News Center