100 Years Strong: Gonzaga's School of Business Administration
From the depths of the Administration Building basement, to its relatively new home in Jepson Center, the School of Business Administration has been up-trending ever since Clarence H. "Bud" Barnes arrived on campus in 1973, with a Ph.D. from Tennessee and a new-world view on business education and research.
He and Erwin Graue were the only Ph.D.-qualified faculty in the small department, and the two were at opposite ends of the economic spectrum . . . Graue had earned his doctorate in 1928, and world dynamics had changed a little. But they complemented each other, and became the foundational pieces in building the school's reputation.
The longest serving-dean in the school's century-old history, Barnes could see there was a lot of work to do when he arrived, and he was eager to start. But he never anticipated, nor had the desire, to serve as dean. President Bernard J. Coughlin, S.J., however, had a vision for fortifying the School, and he twisted Barnes' arm to serve an interim three-year stint as dean, beginning in 1980. Bud's term lasted 33 years.
On this eve of the School's centennial in 2021, it's worth looking back on some of the turning points in Gonzaga School of Business becoming one of the country's most notable academic business institutions.
The Early Days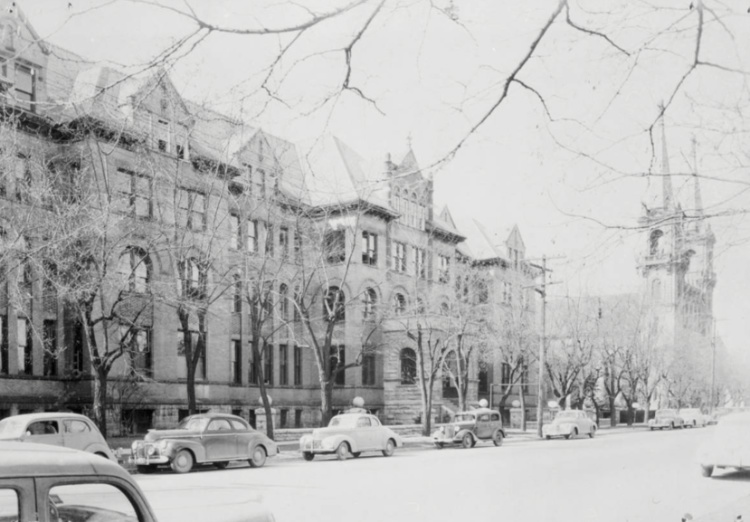 The School was founded in 1921 to help stock a fledgling city with business leaders, bankers, accountants, journalists and professionals in economics, finance and trade. The first formal degree was a bachelor of science in business administration in 1930; the first master's degree in business administration came in 1961.
Meanwhile, a key milestone was the hiring of Dan Brajcich in the late 1940s, who had no idea that he would build Gonzaga's accounting program, almost singlehandedly, which some 70 years later remains the nationally-recognized anchor of the School. Brajcich demanded excellence, and his students delivered. He was instrumental in helping many of them start their accounting careers, and they have honored him by supporting an endowed scholarship in his name. Established in 1976 by colleagues and former students, that scholarship now boasts $3.4 million, the largest endowed aid in the School of Business, thanks to 666 donors.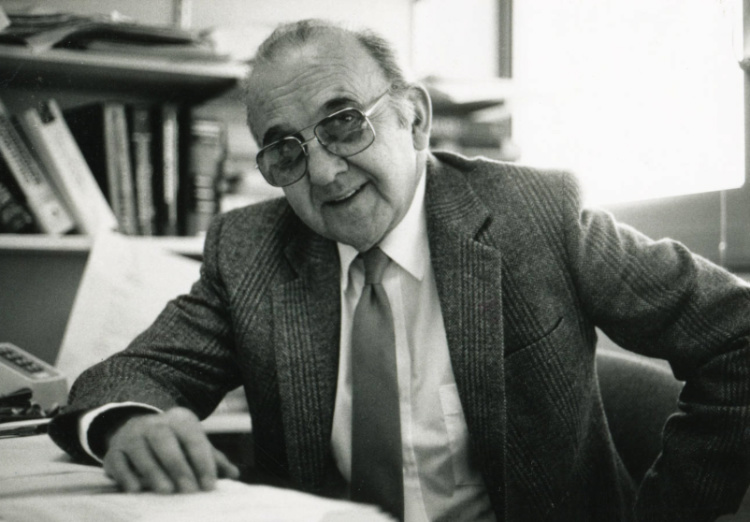 Through the '60s and early '70s, the School collaborated on degree offerings with the schools of Engineering and Law, which continue today. Then, Barnes entered the scene and the foundational vision was set for decades to come.
"Probably no one knew when Brajcich and Barnes were hired what might result, but the decision to hire those two has to be on the short list of big milestones in the School's history," said Dean Ken Anderson, who has taught at Gonzaga since 1986, served as interim dean 2014-16, and dean since then.
Building the Foundation
When Barnes became dean, he knew that in order to gain credibility as a business school, Gonzaga had to be accredited. At the time, he had 17 faculty members and only three or four with doctorates. Accreditation required Ph.Ds. "I had to make a lot of tough changes," Barnes said. He gave current faculty the chance to take a leave and earn a doctorate, and added several other Ph.Ds. through the 1980s. These are many of the people who contributed to achieving – and maintaining – accreditation: professors Jerry Monks, Don Hackney, Larry Lewis, Kay Carnes, Jim Helgeson, Eddy Birrer, Jason Chen, Wil Terpening, Ken Anderson, Randy Bennett, John Beck, Paul Buller, Scott Bozman, David Elloy, Kent Hickman, Mark Shrader, Scott Hedin, Brian Steverson, Barnes' longtime assistant to the dean Terry Coombes, and freshman adviser/assessment evaluator Jane Hession.
"I give a lot of credit to Fr. Coughlin, who said, 'We need to beef up our support for faculty.' We created the John Aram Chair in business ethics and the Erwin Graue chair in economics," Barnes said.
"One Friday afternoon, (Trustee) Jim Jundt stopped by my office. I took him to Maggie's in the lower COG, bought him a $5 lunch, and before we got up he agreed to fund a $1 million chair. I about fell over," Barnes said. Today, the Jundt Chair in economics brings in national and world-renowned economists as speakers, exposing Gonzaga students, faculty and community business leaders to the likes of renowned author Alfred Kahn, Nobel Prize-winning economist Milton Freedman, former Federal Reserve Chairman Paul Volcker, and former Chair of the Council of Economic Advisers Christina Romer.
Soon thereafter, the Kinsey Robinson Chair arose with funding from the Washington Water Power CEO's grandson, and years later the Pigott Chair in Entrepreneurship came about, thanks to a gift from Mark Pigott. The Mozilo Chair in finance is the most recent addition, thanks to a gift from its namesake, Angelo Mozilo and his family.
Next Need for Accreditation: A New Building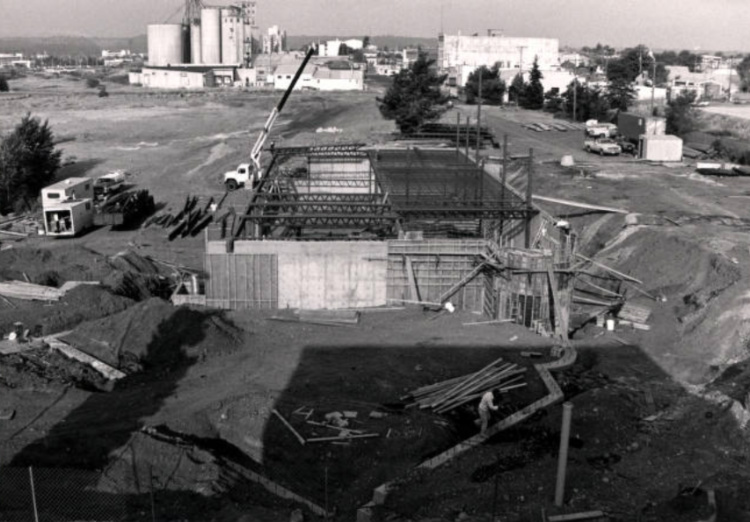 Barnes recalls his first meeting with Bob Jepson, a new Trustee. Barnes showed off his department in the basement of the Ad Building, "which was really abysmal at the time," Barnes said. "Driving him to the airport that day he said, 'We have to get you out of there. Let's build you a building.'"
Through Jepson's initial pledge and significant financial support from Mert and Jessie Rosauer, and a couple of Jepson's friends, the building came to fruition in 1987, with 34,000 square feet, including a 175-seat auditorium and spacious computer lab.
Thus, the School earned accreditation in 1989.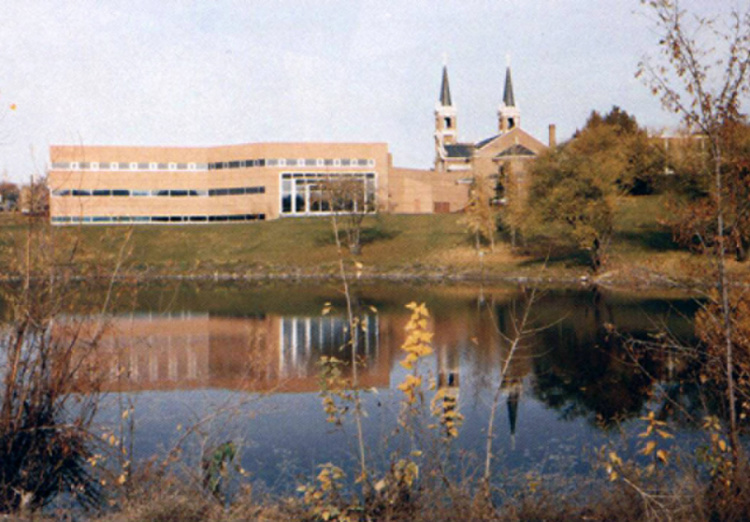 When Father Robert Spitzer, S.J., became president in 1999, he asked Barnes to become more integrally involved in fundraising, "and that opened the door to more possibilities," Barnes said.
In the meantime, enrollment in the School of Business grew significantly, and the building they once thought they'd never fill was too small for their expanding educational enterprise.
"We got Ed Hogan on board, and then Fritz Wolff, who had been a great friend from the get go," Barnes said. "Gerard Centioli and Carl Pohlad both stepped up, and we had an addition built in no time at all." The year was 2005, and space nearly doubled in the Jepson Center.
"Our growth parallels that of the University," Anderson said. "The expanded Jepson Center offered better classroom utilization and space for faculty. A lot of people use the building for many different things. Many non-business courses are taught here, as well, and many presentations on every subject imaginable are staged in Wolff Auditorium." More recently, the School has added the Jack Hemmingson Finance Lab and Shanaman Family Alumni Lobby.
Growth didn't stop with the enhanced building.
Near the turn of the century, when Fr. Spitzer and Barnes developed a relationship with travel industry magnate Hogan, they established the Hogan Entrepreneurial Leadership Program, a minor within the School of Business, connecting entrepreneurial education with service and ethical leadership, to prepare students from various majors to build on their interests and abilities to create a positive difference in the world. A New Venture Lab connected entrepreneurial students with like-minded business investors to create new business enterprises.
Worth Celebrating Today
Anderson appreciates the early pioneers of the modern-day School of Business Administration, who came here on blind faith in what Barnes painted as his vision for the School. "They came here before accreditation, and believed Gonzaga's business school was on the rise," Anderson said. "And they helped make it reality."
Gonzaga's national attention has not been exclusive to the basketball programs. For several years the University's business and accounting programs have been nationally ranked, as well as its CPA pass rate. "We want all of our programs to be nationally recognized," Anderson said.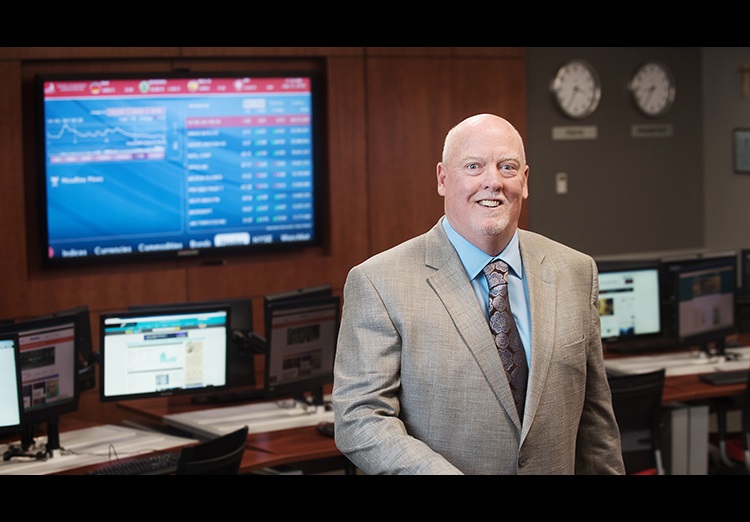 Enrollment in the School's undergraduate programs has grown to about 1,400 students, and graduate enrollment is topping out at about 200 students. Of recent freshman classes, business and accounting majors make up about 20-25%, and more transfer in later years of study. The School has nearly 50 fulltime faculty, said Anderson, who finds great joy in celebrating the accomplishment of others.
Every time the School is reaccredited following a year of preparation and self-review, it's validation that his team's investment is significant and a point of pride.
"Every time we are in the process of hiring somebody, it's a cool opportunity for us to showcase everything that is good about the business school, the University and the good that we do here," Anderson said.
He loves graduations. "Watching these adults walk across the stage is such a culmination of years of hard work and really knowing inside that we did a good job of educating these graduates, and preparing them for their futures."
He also thrives on seeing successful alumni return to share who they are, what they're doing and how they got from point a to b: "Students hear what is possible with a finance degree or an operations degree or a marketing degree, and they network with these people. Those connections are impactful across all our disciplines," said Anderson.
And as Anderson looks ahead, he knows the School will change and be better five years from now, just as it is better now than it was five years ago.
"We have a faculty who understands and buys into the need for change and improvement. We will continue to push our faculty, staff and students outside the walls of our building to engage with bright business minds in our world, as our people also strive to bring business experts with critical and specific focus back into the classrooms to inspire our students," Anderson said. "Our end goal is to serve our students well in education and career preparation."
Looking to the fall and the start of the School's centennial celebration, Gonzaga does so with gratitude to those who laid the foundation for one of the University's greatest success stories, and to those who are carrying success forward in innovative and ethical ways, and to the School's students and alumni who are leading by example, and carrying the Gonzaga banner to new heights.
Are you a Zag with a business degree? Tell us your story.
Academics
Alumni
School of Business Administration
University Advancement
Academic Vice President
Accounting
Business Administration
Master of Accountancy
Master of Business Administration
Master of Science in Taxation