Business Students Visit 'Oracle of Omaha' Warren Buffett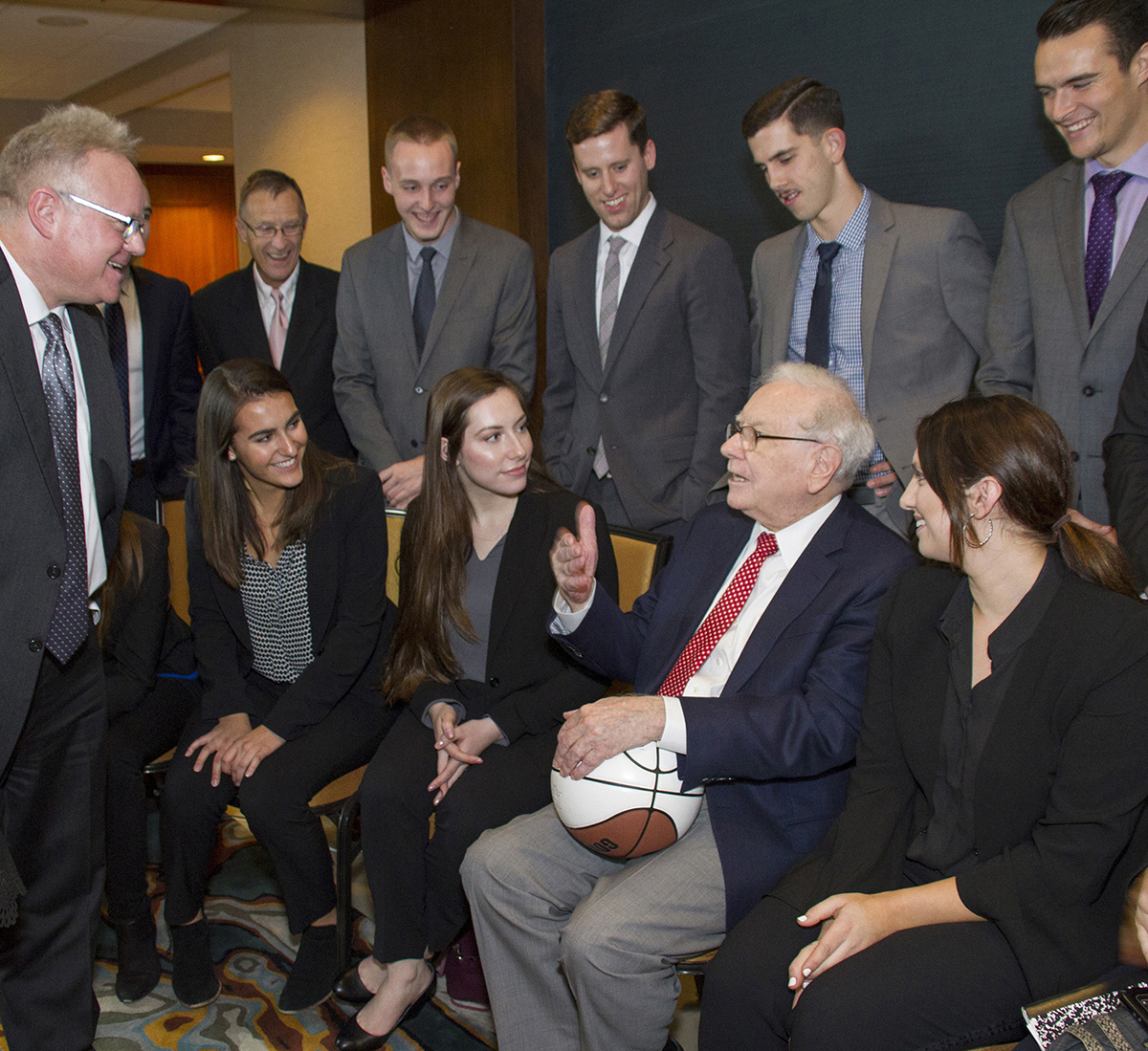 ---
SPOKANE, Wash. – Twenty Gonzaga University School of Business Administration students spent Friday in Omaha learning about business, ethics, and life from billionaire Warren Buffett, the "Oracle of Omaha," one of the most innovative, influential and respected business leaders in the world.
"Every year, Buffett, the second richest man in the world, invites several schools from all over the globe to visit his world headquarters for one day," said Todd Finkle, Gonzaga's Pigott Professor of Entrepreneurship, who initiated the trip. "Gonzaga University was fortunate enough to be invited this year to Omaha. This is an opportunity of a lifetime to meet one of the most successful business minds of all time."
This marks the second trip of Gonzaga entrepreneurial students to visit Buffett, who invites a select number of universities to Omaha each year. In 2011, Professor Finkle led the first trip of Gonzaga students to visit Buffett, chairman and CEO of Berkshire Hathaway, an Omaha-based conglomerate of companies.
"Buffett does not invite just anyone to Omaha. You have to earn your visit," said Finkle. "The list of schools that want to visit him is years long and they come from as far away as China."
The students in the Entrepreneurship & Innovation Program were chosen for the trip through a competitive application process based on grade-point average, a statement letter, service, and personal distinguishing factors. Students attending are: Daniel Bahr, Sean Bulger, Cory Cravalho, Richard Epidendio, Pierce Fleming, Stephanie Forsyth, Christopher Keith, Conner Longoria, Anthony Madrigal, Hope Morgan, Long Ngo, Patrick O'Neil, Timothy Regan, Renee Roach, Kelly Shea, Connor Simmons, Grayson Slattery, Madison Smith, Kurt Wohlers and Charlotte Zimmerman.
In addition to Finkle, entrepreneurship Professor Dan Stewart, director of the Hogan Entrepreneurial Leadership Program, and economics Professor Bud Barnes, dean emeritus of the SBA, also made the trip.
The students and faculty departed Thursday and awakened Friday in Omaha where they met Buffett, had lunch with him, asked him whatever they wished in a two-and-one-half-hour question-and-answer session, and toured three subsidiaries of Berkshire Hathaway and several subsidiaries before returning to Spokane on Saturday.
GU's First Trip to Meet Buffett in 2011
Finkle earned Gonzaga's first trip to visit Buffett in 2011 with the assistance of Paul Buller, the School of Business Administration's Kinsey-Robinson Professor of Business Management.

"I assigned a creative and innovative project to my entrepreneurship students in the spring of that year," Finkle recalls. "Their objective was to create a brand-new product to catch Buffett's attention to get him to invite us to Omaha."

Finkle's class sent three products to Buffett: The design for a Warren Buffett Pinball Machine; a parody of the game Clue that focuses on Gonzaga and Buffett; and a DVD about Gonzaga.

It worked.

"We heard back from Buffett within five days. He said that he liked all of the projects and was inviting us to visit him that year," Finkle said. "We even had three pictures of students – one on the front page – in the Wall Street Journal as they had a writer there doing a story."

Finkle, who led his first group of students to meet Buffett in 2009 when he was teaching at the University of Akron, knew it would take another extraordinary pitch to earn a second Gonzaga trip to Omaha.

"I spent a good chunk of my sabbatical in 2016-17 writing two case studies on Warren Buffett. I submitted the cases to Buffett at the end of May 2017 and he responded by moving us to the front of the list. I hope that our students will use the lessons they learned to not only enhance their own lives, but to make a significant impact on the lives of others," Finkle said.