Todd Finkle Taps Expertise, Relationship with Warren Buffett for New Book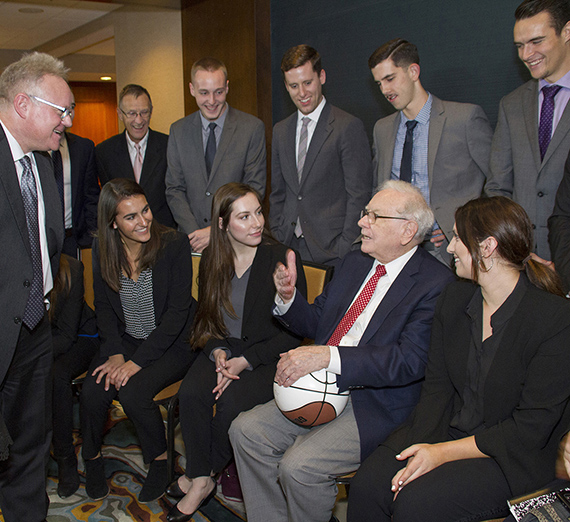 ---
It could be daunting for an author to tackle the life of an icon like Warren Buffett, but Gonzaga University Professor Todd Finkle had a couple things working to his advantage: his own entrepreneurial spirit and a personal relationship with the "Oracle of Omaha" forged during Finkle's childhood growing up in the same Midwestern city Buffett famously calls home, and later visiting Buffett with his students six times.

"I have a personal touch, and I know the family. I grew up there, I know the culture," said Finkle, who's taught entrepreneurship for four universities and currently serves as the Pigott Professor of Entrepreneurship at Gonzaga's School of Business, where he has taught since 2010. Finkle is the author of a new book, Warren Buffett: Investor and Entrepreneur, arriving in March from Columbia Business School Publishing.

Even a casual observer of Buffett knows that much of the Berkshire Hathaway chairperson and CEO's mystique is tied to the simple life he leads in Nebraska, one that belies the incredible wealth he's built over a lifetime of creative deal making and innate hustle first shown when he sold gum and Coca-Cola door to door as a child. Despite a reported worth of over $110 billion, he lives in the same house he bought in the 1950s, holds a modest office in downtown Omaha, and loves to dine on hamburgers and McDonald's breakfast sandwiches.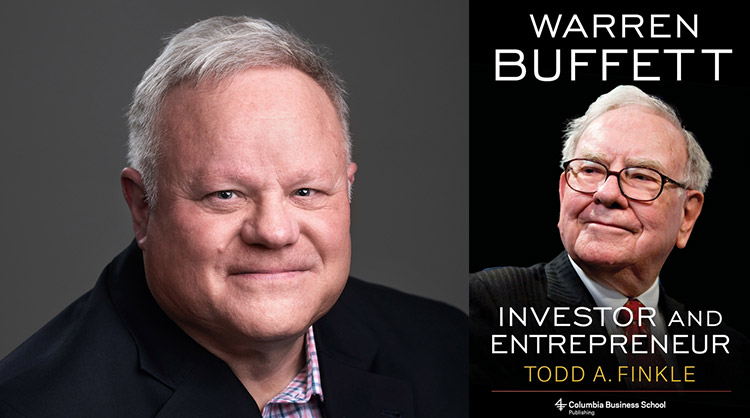 Finkle presents unique insights into Buffett throughout his book, insights earned through his own relationships going to high school with Buffett's son, Peter, his numerous trips taking students to meet the man, his personal experience as an investor, and more recent interviews with people like Susie Buffett, Warren's daughter.  
The initial drive to write the book came during the economic recession of 2008, when Finkle did a deep dive into Buffett's life and investment philosophy and discovered a trove of valuable information worth sharing. It also came from a desire to do a significant piece of academic work, one that would surpass any of the 250-plus articles, books and grants he'd previously published.  
"I've been in academia now for 33 years, and I just didn't feel like I wrote anything that would have a lasting effect after I passed away," Finkle stated. "I worked on this for 14 years — nine years part time, and the last five years full time — often staying up to three or four o'clock in the morning."
"It was an incredible amount of work, but it was worth it."
Finkle's attention to detail shines across all 272 pages of the book that's also being translated into Chinese, Italian, Vietnamese and Marathi (an Indian dialect). Warren Buffett: Investor and Entrepreneur is part biography, part memoir, part business how-to, and part philosophy primer, thanks to Finkle's care in examining Buffett's life and career from myriad angles.  

"I have an entire chapter on Buffett's mistakes, and I haven't seen that in any other Buffett book," Finkle said. "I examine 20 of his mistakes going back to when he was 11 years old. And the mistakes can be mistakes of omission, such as not investing in Microsoft or Google." 

Finkle considers Buffett's life and career through the lens of entrepreneurship, making a convincing case that the man best known as an investor should be considered much more than that. According to Finkle, "What people fail to see is that Buffett is an entrepreneur and has been one since he was five years old." In exploring Buffett's business methods, management strategies and personal philosophy, Finkle finds invaluable life lessons for both professionals and those with no business background.  

When Finkle asked his students what the most valuable part was they learned from Buffett, they inevitably told him "How to live your life," and they said little about making money.  For example, one of Buffett's best lessons to the students was, "The most important decision you will make in your life is who you marry." 

Buffett's life was deeply affected by the Great Depression in his youth, and his values were formed by those of his father, Howard. When you go into Buffett's office, you won't find a computer. You won't find an iPhone. But you'll find a picture of his father on the wall. His father's humor, humbleness, values and ethics all made their way to Buffett," notes Finkle. I hope my book helps people realize this grandfatherly figure is more than just another rich guy."  

"My life has changed because of him," Finkle said. "Buffett has significantly impacted my life for the better. And now it's time to share it with the rest of the world through writing and speaking."
Enjoy an audio conversation with Todd Finkle