Alumna Spotlight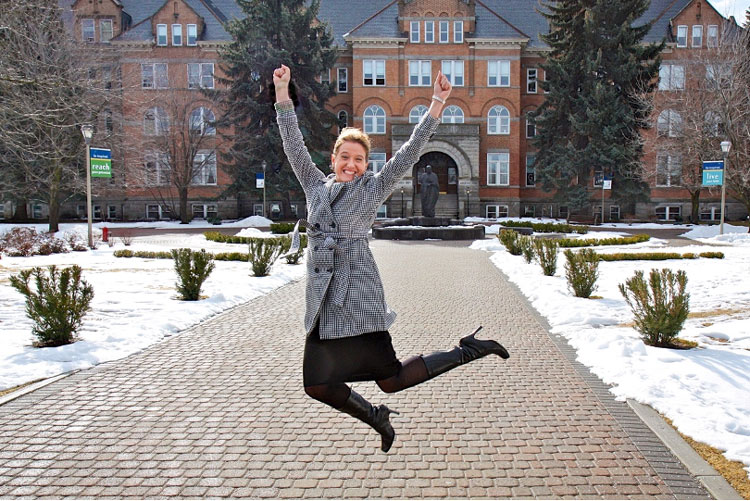 ---
Dr. Sandra Davidson, PhD, MSN, RN ('01, '11) shares her Gonzaga journey
Dr. Sandra Davidson is a proud double Zag. When she first started her Gonzaga journey in 1998 in the Master of Science in Nursing Nurse Educator program, there were very few distance education options for nurses. Though the Gonzaga MSN program looked very different in the 90's, it was considered innovative for the time. Davidson reminisced that weekly classes were recorded in a classroom, where on-campus students made up the live-studio audience. VHS tapes were sent to her via mail and she would watch the recorded lectures when the tapes arrived – one week later. Davidson would also travel to Gonzaga several times during the semester to attend on campus classes.
"The Jesuit tradition of educating the whole person and the supportive, student-centered learning environment that I experienced at Gonzaga have had a lasting impact on me as a nurse, educator, and leader," Davidson said. "Shortly after completing my degree, a position as a clinical nurse specialist for geriatric services became available, and I would not have been qualified for this pivotal position without my MSN. I also began teaching in a baccalaureate nursing education program several years later."
After obtaining her MSN degree in 2001, Davidson had set her sights on academic nursing as the next step in her career and began looking into pursuing a PhD degree. As she met with various deans and program directors of PhD programs in Nursing, she noted that she "was struck by how antiquated and non-student centered the programs were."
"I have joked with Dr. Susan Norwood – who was my thesis supervisor that Gonzaga had spoiled me, and that I could no longer settle for a graduate program experience that was not student-centered," Davidson recounted. Fueled by her graduate experience at Gonzaga, she decided to return, this time as a doctoral student in the Leadership Studies (DPLS) program.
"Leadership was a core area that I wanted to explore and develop in, and the interprofessional nature of the program was very appealing," Davidson stated. "Once again – Gonzaga did not disappoint!"
In her doctoral journey, Davidson was introduced to the world of complexity science. In her research, she was able to utilize Complex Responsive Process as a novel lens to make sense of power dynamics and meaning making in the organizational context. She described her Gonzaga doctoral experience as "utterly transformational."
Since completing her PhD in 2011, Dr. Davidson has held a variety of academic and clinical leadership positions and has worked in both Canada and the United States. Currently, she serves as the Dean of Nursing for the Faculty of Nursing at the University of Calgary. Dr. Davidson continues to make significant contributions to nursing research, nursing curriculum and pedagogy, and to the science of leadership and healthcare innovation. Recently, her book Leadership for Evidence-Based Innovation in Nursing and Health Professions was rated 5 Stars by Doody's Review Service.
"I am so grateful for the transformational learning experiences that I had at Gonzaga," Dr. Davidson said. "It is a very special place."
---