Jennifer Garrity, NLH Program Director, certified as a Nurse Executive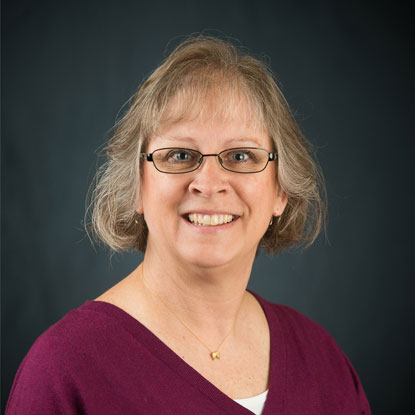 ---
Jennifer Garrity, MSN-Nursing Leadership in Healthcare (NLH) Program Director, is now a Board-Certified Nurse Executive (NE-BC). Garrity completed the American Nurses Credentialing Center (ANCC) examination and received her certification in 2019. The Nurse Executive certification highlights her level of leadership competency and expertise as a dedicated lecturer, advisor, and program director.
"I sat for this certification exam because I think it is important for students in the NLH track to understand that the program provides them with the knowledge and skills necessary to become a nurse executive," Garrity said.
Garrity is a 2012 graduate of the Master of Science in Nursing, Health Systems Leadership (now, the Nursing Leadership in Healthcare) program. She began teaching full time in the Department of Nursing in 2013. Garrity brings twenty-eight years of High Risk Perinatal Nursing into the classroom and clinical setting. Her expertise includes bedside, patient-centered, care as a Labor and Delivery nurse, and Nursing Leadership as the former Director of Labor and Delivery, Lactation, and Obstetrical services at Deaconess Hospital in Spokane.
Recently, Garrity was selected to participate in the Idaho Maternal Mortality Review Committee (MMRC), in the capacity of a Subject Matter Expert in the field of Obstetrical Nursing. This committee is invested in discovering contributing factors leading to maternal deaths in Idaho.
"I was immediately impassioned and felt called to serve on this committee," Garrity noted. "Only one RN is officially on the committee; however, it is a privilege to participate in the training and serve as an ad-hoc member and subject matter expert to the committee." Maternal rates in the US have significantly increased since 1990s and Idaho ranks 31st out of 50 states in maternal mortality.
"I hope students discover that the NLH program empowers them with the leadership tools to make an impact in healthcare," Garrity said.
The Nursing Leadership in Healthcare MSN program is designed to develop nurse leaders through the various stages of their career; from bedside to chief nursing, charge nurse to administrator, and is suited for those working in a variety of healthcare settings. The NLH mission is to empower nurses to lead in outpatient, inpatient, community, and public health organizations.
You learn more about the MSN NLH program here.
---