Dr. Kenn Daratha awarded the E18 Research Mentor Award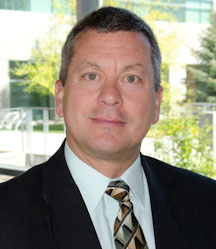 ---
Nurse Anesthesia's Dr. Kenn Daratha, FES, DNAP, has been awarded the E18 Research Mentor Award by the University of Washington School of Medicine. The E18 Research Mentor Award recognizes individuals for their dedicated mentorship of medical students in the conduct of scholarly work. The impact of the support upon student professional development is profound in the efforts to recruit academically minded physicians to learn, live and work in Spokane.
Daratha was recognized for his enthusiastic support and committed mentorship of medical students during their research projects. Students who work with Dr. Daratha have described him as a mentor who goes above and beyond his responsibilities and provides students with an invaluable learning experience. One particular student highlighted, "Daratha would also challenge me with questions regularly about both my poster and the scientific findings in order to help me prepare for the poster presentation. No amount of writing and thanks can really express my appreciation for all of his help and guidance."
Daratha said he is pleased to have been bestowed the Research Mentor Award.
"I truly enjoy working with talented and motivated UWSOM students," he said.
Daratha has been mentoring University of Washington School of Medicine students for years. "It is exciting for me to introduce our students to clinical research. We seek to answer clinical questions to improve patient care," Daratha noted.
---