The Fabric of "A New Season"
---
The composition of Alec Roth's "A Time to Dance" – which has been adapted for Gonzaga's debut production in the new Myrtle Woldson Performing Arts Center as "A New Season" – is orchestrated to showcase the moodiness of a land that experiences four distinct changes in atmosphere. Each movement mimics what happens in nature, from the bursting of blooms in spring to the slow descent of winter's first snow.
The music of "A New Season," however dramatic, is only one element of the production set to open April 25 in Spokane's newest performance venue. Nearly 30 student dancers will take to the stage for a magical interpretation of the score. As the visual element of the show, what will they wear?
Leslie Stamoolis, the costume designer and assistant professor of theatre and dance at Gonzaga, began answering that question about nine months before the opening performance was a mark on the calendar. Here, she shares the inspiration and process for designing and sewing 150 looks.
My process for designing this show began with the inspiration that our director, Suzanne Ostersmith, articulated: "A New Season" is meant to be a celebration of artistry, place and potential. It is a sweeping work for musicians, actors, dancers, and designers too, but it is deeply rooted here in Spokane. This show could not happen in quite this way anywhere else, because of our local poetry and this particular group of artists. (Read more from Ostersmith here.)
And so … I started looking to our region for inspiration: the Palouse, the Spokane River, and Riverside State Park. My palettes are based on the beautiful seasonal colors we experience here in eastern Washington.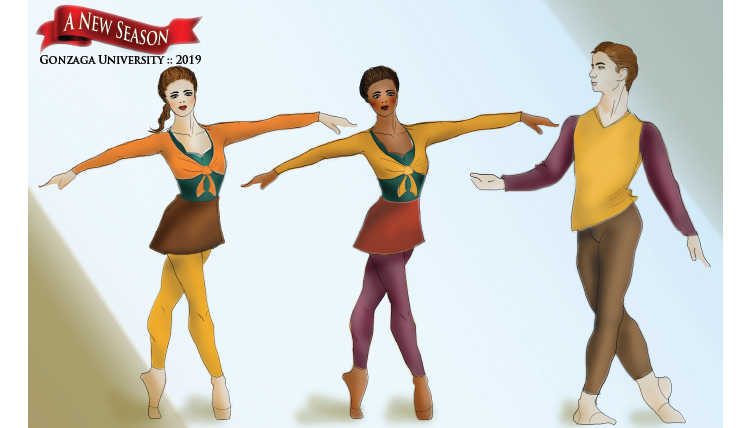 (Costumes designed by Leslie Stamoolis)
Beyond that, though, I wanted this show both to meet audience's expectations for a beautiful-looking dance piece, as well as to subvert their expectations for what traditional dance design looks like. We begin with lovely, uniform chiffon dresses and skirts in the spring movement, but we also see more pedestrian, varied looks in summer and autumn. There is also a progression through the piece that honors our benefactress, Miss Woldson, by dabbling in mid-century looks, her favorites, particularly in the summer piece, and then modernizing all the way to the abstract by the time we reach winter.
Our acting ensemble is designed to reach another goal altogether. We as a Gonzaga arts community want this building to be a public gathering place for our city and region, not just for our campus. So the nine acting ensemble members are deliberately designed to look like everyday people – students, community members – so that our audience will see themselves onstage as part of this large-scale celebration and exploration of the passing of time and new beginnings.
In a feat worthy of its own accolades, Stamoolis and three part-time seamstresses – assistant shop manager/draper Kim Heide and two student stitchers – brought every article of clothing from the design page into reality for the 40 different sizes and shapes of the dancers and actors who will wear them.
Her work is not only complementary of the vision for the show and representation of the region, but also created in a manner that emulates care for sustainable practices. Her research centers on finding more environmentally friendly and sustainable practices, and her findings on natural versus synthetic dyes were featured at the U.S. Institute of Theatre Technology Conference and named one of the top five projects.
"I'm pleased to be keeping the Spokane River a little cleaner by using only plant-based dyestuffs and naturally occurring salts, instead of the industry-standard synthetic dye chemicals," Stamoolis says.
In addition to this work, she is passionate about access to theatre opportunities for young participants. She has been part of summer stock programs for youth, and served as director of education at Cincinnati Shakespeare Company where she organized a large outreach program with in-school performances and workshops.


Learn more about "A New Season" and the Myrtle Woldson Performing Arts Center at gonzaga.edu/mwpac.