Theatre, Dance and Music Departments Collaborate On "Spring Awakening"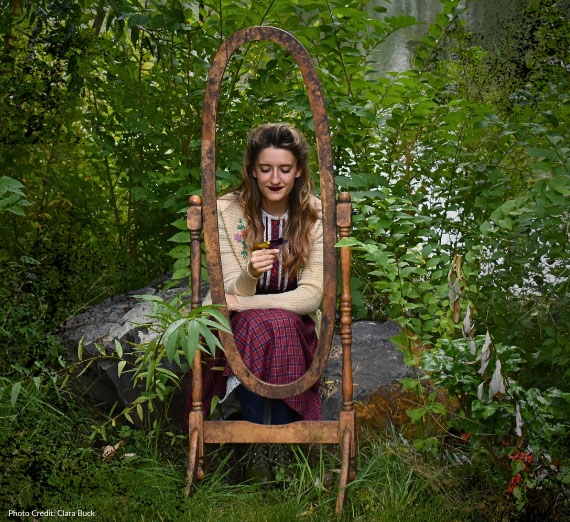 ---
On November 16, Gonzaga University Theatre opens a special collaboration with Gonzaga Dance and the Gonzaga Department of Music in presenting the coming-of-age rock musical "Spring Awakening."

Based on the 1891 play by Frank Wedekind, with book and lyrics by Steven Sater and music by Duncan Sheik, "Spring Awakening" follows a group of teenagers as they navigate their way to adulthood while the adults in their lives turn a blind eye to their desire and desperate need for knowledge and compassion.

"'Spring Awakening' is a timeless story about the tumult of adolescence," says director and choreographer Joseph Lyons-Wolf, an adjunct dance professor.
"Like young people across time, the characters experience intense emotional and physiological changes, for which the adults in their lives have left them unprepared. The show that unfolds is both cathartic and revelatory."
"For the creative leadership team and the students alike, it has been an enlightening and welcomed challenge to navigate the intricacies of this material. The show engages with topics like sex, abuse, and suicide. 'Spring Awakening' was created with the intention of sparking healthy conversations about difficult content."

Though the show is set in 1890s Germany, the messages are extremely relevant today. The lead Wendla Bergmann, played by senior communications studies major and theatre minor Rachel Gotvald, is searching for answers to questions of sex, adulthood and what it means to grow up. Though the content is mature, it is greatly relatable to young individuals trying to make sense of the ever-changing world around them. It is a rambunctious and thought-provoking show that takes on a lens of hope in light of the challenges that come with growing up.

"The messaging of the show centers around a thirst for knowledge, and a sense of hope that things will get better," Gotvald said. "The feeling of knowing you are missing something, but you are not sure what it is, really encapsulates what it is like to grow up. Joseph, the director, made sure to highlight that we choose to see the musical as hopeful. So much of the story is surrounded in frustration and rejection, so focusing on the hope and the fun of 'Spring Awakening' is what makes it so special."

To bolster the important message, a design team composed of professional designers from within Gonzaga and around Spokane, came together to create a dynamic production with stellar direction and design in all aspects of the show.

Audiences will be immersed in a design that is conceptual as well as rooted in time and place, inspired by the idea of doors and windows presenting both opportunity and barrier, and using butterflies found unexpectedly in autumn as inspiration. Scenic Designer Phil Male invited student actors to draw original graffiti-style artwork to represent their characters and incorporated their work into the final paint treatment. Costume Designer Leslie Stamoolis has created characters specific to 1890s Germany, offering an historical grounding in juxtaposition to the anachronistic music. Lighting Designer Maria Sorce and Sound Designer Bill Barton round out the environment and bring the show up to rock-concert standards, as the 19th century characters' inner worlds explode in an expression of modern music.
"'Spring Awakening' is honestly just such a fun show," Gotvald said. "The songs are amazing, and the dancing makes you want to jump out of your seat and join in. It is a great way to spend an evening right before Thanksgiving break."
"Spring Awakening" runs Thursday, Nov. 16-Saturday, Nov. 18 at 7:30 p.m., and Sunday, Nov. 19 at 2 p.m. at the Myrtle Woldson Performing Arts Center Coughlin Theatre, 211 E. Desmet Ave. in Spokane. Tickets are $18 for the general public and $15 for Gonzaga students, staff, and faculty, and available at https://bit.ly/TicketCenterTheatre or through visiting the Myrtle Woldson Performing Arts Center Box Office Monday-Friday 12 p.m.-5p.m., or by calling 509-313-2787. Tickets will be sold at the door, but are not guaranteed if the performance sells out.


Want to secure your tickets for "Spring Awakening?"