Sustainability: Campus Updates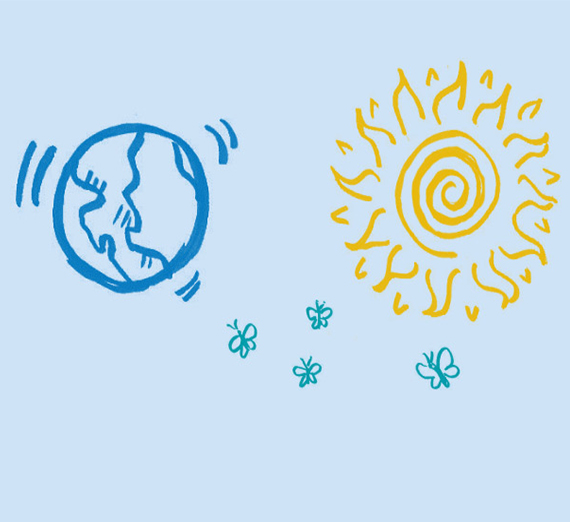 ---
All A-Buzz
When the sun comes out, students flock to the outdoor patio on the second floor of the Hemmingson Center to enjoy the weather. Herb and tomato beds surround the patio, and bees buzz to and from the apiaries on the corner. Opposite them is a 1,000-square-foot hydroponic greenhouse. It uses just 10 percent of the water that traditional agriculture uses, and yields more than 120 heads of lettuce a week, along with herbs, peppers and tomatoes – all used in Sodexo locations around campus, allowing students to enjoy truly local produce.
What $5 Can Do
A "green fund" approved by the Gonzaga Student Body Association is a $5 fee per student, per semester, that gives resources to a student-run group responsible for selecting sustainable efforts on campus. Previous projects have included the purchase of recycling receptacles and native plants earlier this academic year. The green fund, overseen this year by GSBA Sustainability Chair Soleil Rain ('21), allocated $3,370 to three projects: reusable dishware for the communications department; an anaerobic digestion tank (to be housed in the COG greenhouse) to help reduce food waste and generate renewable energy; and Trafixx, which promotes a "smart" traffic grid to increase commuting efficiency.
You can help! To contribute to student-led earth-friendly initiatives, visit gonzaga.edu/ReadersCare.
Two-Wheeling Around
The trendy, bright-green bikes and electric scooters that dotted campus and downtown Spokane last year likely will return for this summer, following further vendor exploration by the city. It was clear from the initial experiment that scooter fandom was closely tied to entertainment, while the practicality of saving on gas-powered transportation was secondary. Still, trekking around on a scooter has positive impact, namely: less single-occupant car use for errands. Gonzaga will likely partner with the city's selected vendor to provide them on campus again.
Real Food
Since 2014, Real Food Gonzaga has collaborated with ZagDining by Sodexo to work toward the goal of having 20 percent of food products offered at on-campus dining facilities be ecologically sound, locally sourced, humane and organic. Special focus is placed on humanely sourced meat and local produce, such as apples and carrots. A partnership with LINC Foods makes it easy for faculty, staff and students to take home locally produced fruits, vegetables, grains, legumes, meats, cheeses and eggs – all of which are delivered to campus once a week for ultimate convenience.
Let's CREATE
Jim Simon, director of the Office of Sustainability, unveiled a new committee this year called CREATE – Creation, Reflection, Experience, Action, Teaching and Engagement. This group of students, staff and faculty work together to support continuous improvement and the stewardship of the university's resources. James Angelosante, vice president for administration, says it's "an excellent opportunity for our campus to practice its values and create a more environmentally just community."
AmeriCorps to the Rescue
In 2018-19, three full-time AmeriCorps volunteers supported Gonzaga's Office of Sustainability. Carrie Herrman ('17) led the Employee Sustainability Ambassadors program to educate faculty and staff, plus a new community group to foster connections with neighborhood residents and businesses who share an interest in environmental stewardship. Chris Ultican ('18) amplified the Commute Trip Reduction program and GU connections with Spokane Transit Authority to encourage alternatives to driving alone. Alex Thomas has focused on communications to help educate the campus and community about waste-reduction strategies.
Powered by Sun, Wind & Water
"All of our electricity sources are now green," says Ken Sammons, director of GU's plant and construction services. "Avista Utilities is 48 percent hydro, 2 percent bio-mass (Kettle Falls wood-fired plant), 6 percent wind (Rosalia wind farm), and now 5 percent of our power comes from a solar farm outside Lind, Washington. We also purchase renewable energy credits (wind) that offset the remaining percentage of our electricity consumption." The first building on campus to sport solar panels is the Office of Sustainability. Gonzaga Renewables Investment Group raised more than $7,000 with the help of donors to 2018's Zags Give Day.
Student Sustainability Leadership Program
Here, students develop their leadership skills through the lens of sustainability. Participants are learning effective leadership techniques for leading small groups, completing individual projects, and advocating for change within larger organizations. Students increase their knowledge of a variety of topics, including waste management, water conservation and renewable energy.
Majoring in Environmental Services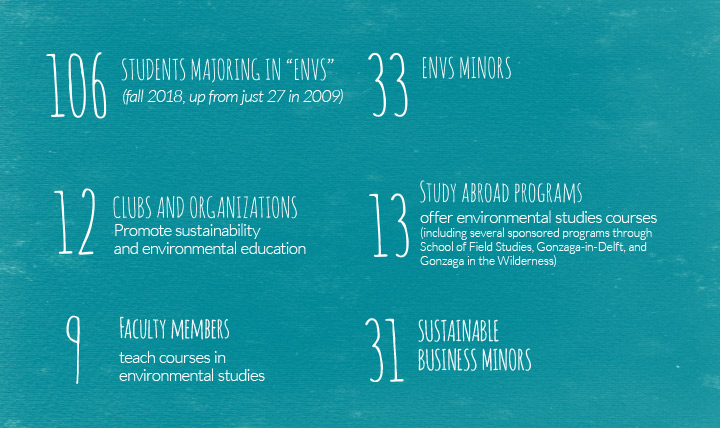 The Question of Divestment
During the 2016-17 academic year, the student-run Gonzaga Environmental Organization (GEO) held a number of forums to address issues of financial investment as they relate to a commitment to sustainability. The Gonzaga Student Body Association voted to support GEO's recommendation that the University divest (pull its investment funding) from holdings in fossil fuel companies, and several faculty members signaled their support. The Board of Trustees and Board of Regents created a task force to work with its investment committee to evaluate Gonzaga's endowment. To gather additional input from alumni and friends, the January 2018 issue of Gonzaga Magazine solicited feedback from readers.
In December 2018, the task force recommended – and the Board of Trustees agreed – that an intentional commitment to invest in companies that are implementing ways to reduce carbon
emissions and have sustainable business practices is more impactful and financially responsible than blanket divestment from fossil fuel companies and funds. Details are in the message from the President here.
Academics
Global Impact
Student Life
Sustainability
College of Arts & Sciences
Office of Sustainability
Environmental Studies
Gonzaga Magazine