Hot Topic
Addressing Climate Change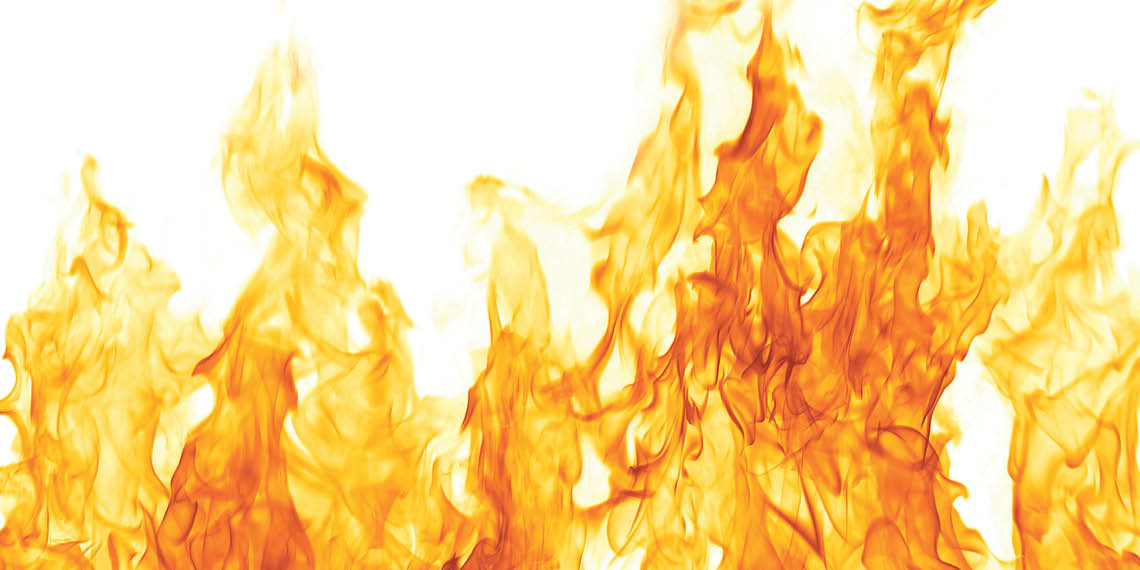 With a record-breaking stretch of triple-digit temperatures and low rainfall during Spokane's normally mild and wet June, plus continued extreme heat and smoke for the remainder of summer, the weather made a good case for climate change. But well before the heat wave depleted stores of air conditioners, fans and kiddie pools, Gonzaga had launched its new Center for Climate, Society and the Environment.

As the problem of climate change continues to grow, we become more urgent about figuring out a way to help," says Professor Brian Henning, founder and director of the Climate Center. "As scholars and teachers, we want to help students in our community and people in our region respond to the urgent challenge." Founded this year, the Climate Center began with a focus on supporting local K-12 educators who want to teach about climate change in their own classrooms. As part of its new Climate Literacy Project, the Center offers professional development workshops to help teachers in Spokane Public Schools and Catholic private schools to better understand issues and develop related lesson plans. A key theme of the workshops is to "make it local and keep it hopeful." Thanks to a recent $100,000 grant from the Washington State Office of the Superintendent of Public Instruction (OSPI), the Climate Center will hire undergraduate Gonzaga students to serve as climate literacy fellows trained to facilitate climate literacy activities with students in grades K-6.
Through the school partnerships, "We have the potential to positively affect many young people, which has a great long-term impact," Henning says. But schools are not the only area where the Climate Center will engage.
"Every single industry is concerned with climate change," said Jiana Stover, GU's science outreach coordinator. "Whether you're a business major, education major, biology major, a future doctor – climate change is touching every single category, so everyone has to be educated."
With that in mind, the center has a long-term goal of assisting municipalities in creating climate action plans. A Climate Toolbox, which tracks future temperatures given current emissions projections, will help in that endeavor. Supported by researchers from the National Oceanic and Atmospheric Administration, Henning and Spokane community members used the Climate Toolbox to create the Spokane Climate Project, which helps leaders and citizens in the region better understand the likely climate impacts if swift action is not taken to reduce climate pollution.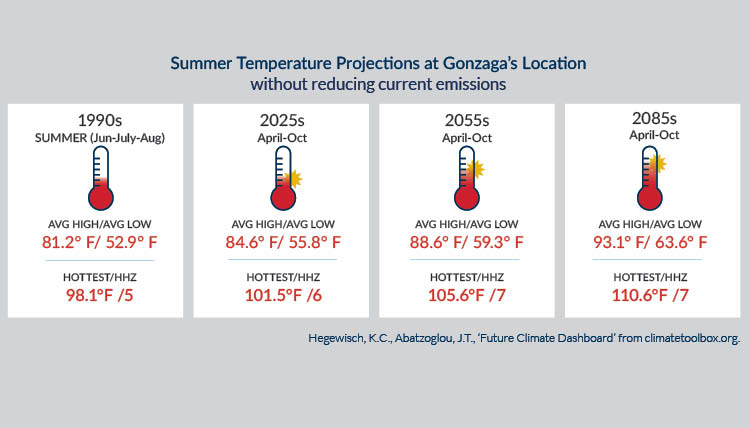 Also see: spokaneclimateproject.org.


4 Good Reasons to Change Course and Redirect Climate Change

- Leave a habitable, healthy world for future generations
- Diminish damage to poor communities (which are disproportionately affected)
- Improve natural habitats
- Reduce the negative global impact caused by the U.S. (the largest emitter of CO2 in the world)


ACROSS THE DISCIPLINES
Advisory board members are faculty from Gonzaga's College of Arts & Sciences, and the schools of law, education, business, leadership studies, and engineering and applied science. "Climate change is an interdisciplinary, intersectional problem. It involves an understanding of the science, but it also requires us to understand the cultural, social, religious, ethical, economic and political aspects of the challenge, as well," Henning says. "The center is open to all students and faculty for creative thinking.
"Climate literacy means having a holistic view, because it's not just science," Stover adds. "Part of the issue is rooted in science to understand what's happening, and the other part is rooted in ethics. What are we going to do to tackle the issue and how are we going to galvanize action?"
During the fall semester, the center will host a number of events, including the annual Spokane Candidates Climate Change Forum, bringing candidates for local office to campus to share their views with Spokane voters and students. Throughout the year, the center will host various scholars, activists and experts to give lectures on campus and online.
As an ethicist, Henning views the challenge itself – and the teaching of students to address societal ills – as a moral obligation. "Our mission calls us to prepare students to see and seek to resolve the challenges facing our world."
"The Center for Climate, Society and the Environment is a direct expression of Catholic social teaching," Henning says. "It is central to what we are as a Catholic, Jesuit, humanistic university."
As Pope Francis noted regarding ecological education and spirituality in his 2015 encyclical Laudato Si': On Care for Our Common Home, "A great cultural, spiritual and educational challenge stands before us, and it will demand that we set out on the long path of renewal."
Want to explore more from the Catholic perspective? Check out: LaudatoSiActionPlatform.org
ACCOMPANYING THOSE WHO QUESTION
An underlying challenge is the general skepticism that lingers around climate change. Here are some common questions Stover answers.
Q: Isn't it true that scientific consensus is lacking around the existence of climate change?
A: 97% of active publishing scientists agree that climate change is real and primarily caused by human activity.
Q: Isn't climate change just the Earth's natural cycle of warming and cooling?
A: Naturally occurring variations in the Earth's orbit around the sun – called Milankovitch cycles – correlate with at least 60% of global climate changes in the Earth's past. Where we are in our current Milankovitch cycle should be an extended period (thousands of years) of relative climatic stability, but our climate is anything but stable right now.
Q: If global warming is real, why do we have such cold winters?
A: Not all places are warming uniformly and the effects of that warming are variable. Even more severe winter storms can be caused by an increase in global average temperature. For instance, scientists believe the unusual winter storms that hit Texas and other regions in recent years are likely caused by warming temperatures affecting the jet stream that would typically keep cold arctic air at the poles.
Q: Even if climate change is real, is it really a threat to our livelihood?
A: We're talking about more than just quality of life. While it may be inconvenient for some not to enjoy the outdoors in summer or to wear a mask constantly due to wildfire smoke, for others it could have devastating health effects. We also could face a completely different form of nutrition because of extinction brought on by climate change. (Want processed algae sticks instead of that fresh salmon?)
Want to continue to learn about the Center for Climate, Society and the Environment?
Sustainability
Academics
Service & Community Impact
College of Arts & Sciences
Center for Climate, Society, and the Environment
Office of Sustainability
Academic Vice President
Environmental Studies
Gonzaga Magazine