UWSOM-GU Regional Health Partnership Highlights Innovation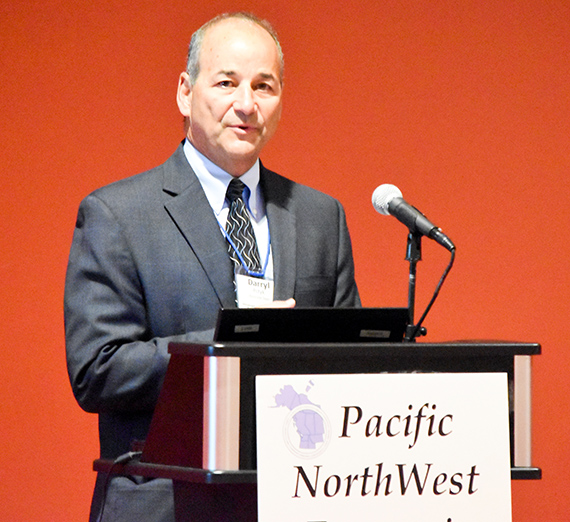 ---
Health innovation happens in a multitude of ways and many of those facets are at work in University of Washington School of Medicine-Gonzaga University Regional Health Partnership, thanks to creative and cooperative models that are driving advances.
That was the theme of a panel discussion at the recent Pacific Northwest Economic Region (PNWER) Summit in Spokane, led by Darryl Potyk, M.D., chief of medical education for the UWSOM-GU Regional Health Partnership.

"Health Innovations" covered a broad range of cutting-edge issues in the field, from telehealth, to high-tech research and infrastructure, to medical education. Potyk opened the session by noting innovation can happen in a number of ways, including curriculum development.

"We're going to talk about medical and healthcare innovation today, but ultimately this is what it comes down to: we're teaching doctors to take care of patients. The innovation and the technology is all going to help us, but this is the end product of what we do," Potyk said.

The nationally-recognized UWSOM teaching model has evolved over recent years to focus on aspects such as early clinical exposure, dedication to lifelong learning, and scientific discovery.

"Those are the things we're looking at, that our students are engaged in, along with what I feel is really important: service learning. Our students are actively engaged in the communities in which they live. They make a difference in those communities," said Potyk.

He sees those efforts as an expression of the principles that both institutions espouse.

"There is a lot of overlap between the shared values of the institutions. When I think about the partnership, it really does come back to the greater good of the community. Both universities are really focused on giving back to the community," said Potyk.

The UWSOM-Gonzaga model also includes innovative educational and clinical approaches, blending the humanities with medicine and exploring the connection from both disciplines. Potyk says it is vital, as research shows the demands of medical school can be taxing.

The Spokane-based UWSOM educators are addressing the challenge in other cutting-edge ways, such as the work of assistant dean Judy Swanson to incorporate visual arts education elements.

"She's working with people on the Gonzaga campus about visual learning strategies, and not only how we can gain an appreciation for art, but also use those strategies and attention to detail that you learn to actually help you learn medical details," said Potyk.

In the clinical and residency setting, the students in the Regional Health Partnership are connecting in a creative way. Before their rounds each day, they share a piece of art (a written, visual or musical piece) and then discuss how it relates to the work that they do.

"Some of the conversations are amazing," said Potyk, a member of the residency team. "The thing that's so gratifying about that is not only is it that we're talking about the big picture, but the students and residents love it. That tells you there's a need for it."

He says the practice may help to boost a pair of key areas that are sometimes challenged.

"We not only think it helps with empathy, but we think that it also helps with resilience," says Potyk. "It makes us step back and look at the big picture and, for lack of a better word, provides us with purpose. Why are we doing what we're doing and can we remember that purpose when it's really hard? I think that's what it does."

Among other speakers on the PNWER innovations panel were noted UWSOM cancer researcher Mary L. (Nora) Disis, M.D., who is working with Gonzaga University undergraduate students and Spokane-based medical students who are undergoing their foundational training at GU.

Other UWSOM speakers on the panel included David J. Tauben, M.D., an expert on the national opioid epidemic, and John D. Scott, M.D., Director of Telemedicine. Those in attendance included University of Washington President Ana Mari Cauce, Ph.D., along with fellow innovators in the healthcare field, and governmental policymakers.
– Jeff Bunch