Potyk Named Chief of Medical Education for UW School of Medicine-Gonzaga University Regional Health Partnership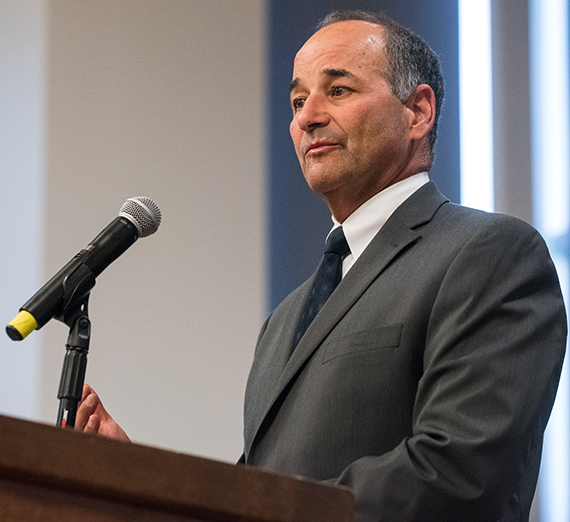 ---
The University of Washington School of Medicine-Gonzaga University Regional Health Partnership has announced that Darryl K. Potyk, M.D., FACP, has been named Chief of Medical Education for the partnership, and Associate Dean for Eastern Washington, for the UW School of Medicine (UWSOM).
In his new role Dr. Potyk will lead the medical school's operations and expansion in Spokane and eastern Washington for the Regional Health Partnership, overseeing all four years of UWSOM's medical education, and working with students in their collaborative volunteer activities. The position reports to Suzanne Allen, M.D., Vice Dean for Academic, Rural and Regional Affairs for the UW School of Medicine.
Dr. Potyk has been on the UW School of Medicine faculty in Spokane since 1994 and for the past four years has held the position of Assistant Clinical Dean for Spokane, responsible for the clinical training of third- and fourth-year students. In addition, Dr. Potyk has served as an Associate/Program Director for Spokane-based residency programs for the past 16 years.
"As we continue to grow our medical school in the Inland Northwest through our partnership with Gonzaga, we are so fortunate to be guided by Dr. Potyk's tenure, experience and leadership," said Suzanne Allen, "Dr. Potyk's dedication to excellence in medical education for more than 20 years is a key reason we have grown such a successful program in Spokane and eastern Washington. His experience in both graduate and undergraduate medical education is extremely valuable to our students, and there isn't anyone more qualified or committed to the mission of UWSOM to take on this critical new position than Dr. Potyk."
This appointment of the first Associate Dean outside of Seattle is another example of the longstanding medical education commitment UWSOM has made in Spokane. 45 years ago UWSOM started teaching medical students in eastern Washington with a first-year class of 20. Dr. Potyk says that "today, through the UW-GU Regional Health Partnership with a first-year class of 60 and celebrating its first anniversary this month, the UW has made a significant investment in the Spokane community and eastern Washington. I am proud to work for this organization in a new capacity, and to continue growing education and research in Spokane for the benefit of our students, faculty, and community."
Dr. Potyk was named Spokane County Medical Society's Physician Citizen of the Year for 2016, was recognized as the American College of Physician's Washington State Internist of the Year in 2009, and has been cited as a "Best Doctor" for his clinical expertise in Internal Medicine and Geriatric Medicine. He has been widely published in numerous peer review publications, including the American Journal of Medicine, Journal of Graduate Medical Education, Annals of Internal Medicine and the Journal of the American Geriatric Society to name a few. Dr. Potyk is currently working on a collaborative study proposal about improving pneumococcal vaccination rates in older adults.
About the UW School of Medicine
The UW School of Medicine has been rated as one of the top three medical schools in the world by the Academic Ranking of World Universities. With 31 clinical and basic science departments, the School's researchers and teachers make life-improving discoveries while training medical students, residents, fellows and allied health professionals to care for future generations of patients. The school is an entity of UW Medicine.
Visit
www.uwmedicine.org/schoolofmedicine
for details.
About the UW School of Medicine-Gonzaga University Regional Health Partnership
In 2016 the University of Washington and Gonzaga University formed a regional health partnership to continue, enhance and expand medical education and research in Spokane. The agreement makes Gonzaga a partner in the University of Washington's regional, community-based medical education program, WWAMI (an acronym for the states it serves: Washington [Seattle & Spokane], Wyoming, Alaska, Montana and Idaho), and sets in motion plans to advance health-related research, entrepreneurship and interdisciplinary health sciences teaching in Spokane.
Visit
www.gonzaga.edu/RegionalHealthPartnership
for details.