UW School of Medicine Names New Assistant Clinical Dean for Spokane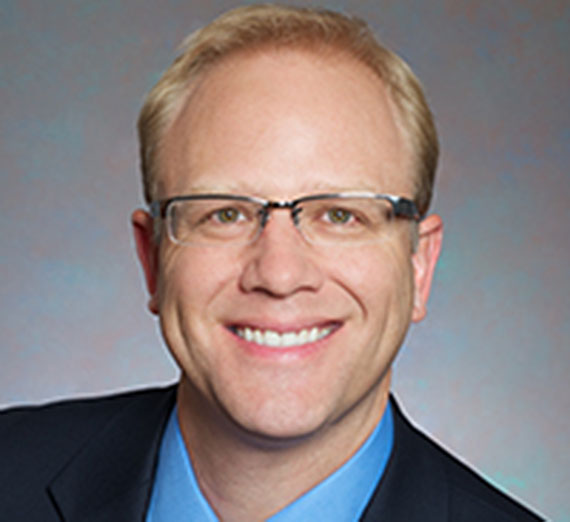 ---
Darin P. Eckert, M.D., has been named Assistant Clinical Dean for Spokane by the University of Washington School of Medicine (UWSOM), which partners with Gonzaga University in Spokane to help address the region's shortage of health professionals through medical education, research and innovation.
In this role, Dr. Eckert helps develop increased clinical opportunities for UWSOM Spokane students during the clinical training portion of their medical education—years three and four. He is also focused on developing clinical teaching capacity within Spokane's MultiCare Health System (Deaconess Medical Center and Valley Hospital/Rockwood Clinic) and the Mann-Grandstaff Veteran Affairs Medical Center.
Geoff Jones, M.D., UWSOM Assistant Clinical Dean for Eastern Washington has added to his responsibilities the further development of clinical opportunities within the Providence Health Care system as well as supporting other clinical training sites in Spokane. Drs. Eckert and Jones assumed their new roles effective October 1, 2022.
"I want more of our students to have the experience of caring for and learning from our patients and physicians right here in our local hospitals and clinics," said Dr. Eckert. "This new role allows me to develop our current clinical training sites, establish new partnerships and explore innovative clinical education models with our local healthcare systems and physicians so we can support more students in Spokane. I am excited to get started."
These new roles came about with the transition of Judy Swanson, M.D., who now serves as the Program Director for Spokane's Transitional Year Residency Program.
"Dr. Swanson has taught UW medical students in Spokane for more than 20 years and has been an excellent clinical dean," said Darryl Potyk, M.D., Chief of Medical Education for the UW School of Medicine-Gonzaga University Health Partnership, and UW Associate Dean for Eastern Washington. "We wish Dr. Swanson well in her new role and are glad that she will continue to teach UWSOM medical students in Spokane. We are confident that her legacy as an assistant clinical dean will be continued by Drs Eckert and Jones."
Both Drs. Eckert and Jones are graduates of the UW School of Medicine and both completed their residency training in Spokane. Dr. Eckert practices family medicine in Spokane, while Dr. Jones is a family physician in the rural communities of Newport and Grand Coulee, WA. Both have served in various roles for UWSOM, including in the School's unique Colleges System—a program that pairs medical students with faculty mentors throughout their four years of medical school. Dr. Eckert was also director of the Primary Care Practicum (PCP), teaching clinical skills workshops for second-year students. Dr. Jones has been involved in UWSOM's TRUST (Targeted Rural Underserved Track) program for the past decade.
In their new and expanded roles as Assistant Clinical Deans, Drs. Eckert and Jones will develop UWSOM's current clinical training sites, establish new partnerships and explore innovative clinical education models with Spokane and Eastern WA healthcare systems and local physicians so we can support a greater number of students.
"We've been training medical students throughout the WWAMI region for the past 50 years, and Spokane has always been one of our best training sites," said Dr. Jones. "The compassion and skill of our teaching physicians is truly incredible, and I am excited to work with our Spokane based physicians and to further integrate our rural and urban training sites."
# # #
About the UW/GU Health Partnership
The University of Washington School of Medicine and Gonzaga University formed a partnership in 2016 to advance the health of communities throughout eastern Washington through medical education and research. With a legacy of graduating innovative, community-focused students, the partners leverage their strengths and serve as part of a regional, community-based medical education program, WWAMI (Washington [Seattle & Spokane], Wyoming, Alaska, Montana and Idaho).
The UW/GU Health Partnership is expanding and enhancing top-ranked medical education in Spokane to improve the health and vitality of our region.