GU Undergraduates Gain Research Skills via UW School of Medicine Partnership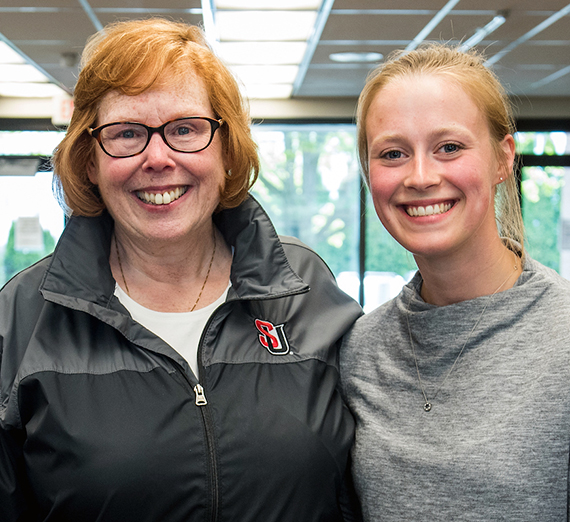 ---
(Above) Gonzaga student Eleanor Weisblat is working in the lab this summer with Nora Disis, M.D., renowned cancer researcher at the UW School of Medicine.
Gonzaga News Service
SEATTLE — The University of Washington School of Medicine-Gonzaga University Regional Health Partnership marks its third year of collaboration as five Gonzaga undergraduates build their biomedical research skills this summer at UW medical science laboratories in Seattle.
Courtney Law, Ph.D., who leads Gonzaga's efforts within the Partnership to expand and enhance medical education and research in the Spokane region, said this is yet another example of how the university partners are leveraging resources to advance medical education in the region. Three rising seniors and two rising juniors were chosen from 10 applicants for the career-expanding research positions that began June 18.

"I am most excited about the new experiences the students will have," Law said. "For some of these students, this is their first time in a graduate research laboratory, and it will be exciting to see how they adapt, what they learn and the new opportunities it will bring."

Law said the students were placed in labs with UW mentors — either graduate students, faculty researchers or postdoctoral fellows — based on their career interests.

John Slattery, Ph.D., vice dean for research and graduate education at the UW School of Medicine, who helped select the students, said his goals for the program are to help the students experience some of the most modern biomedical research in the nation, and to connect them with experts who can help advise them in their careers.

It is a first-year pilot program, and organizers and students alike offer positive feedback.

Navath Nhan, a rising senior and mechanical engineering major, is researching aspects of rehabilitation for patients with Parkinson's disease — exploring how they may benefit from new and emerging tools, including virtual reality.

"We are using motion-capture technology to record their walking movement while they perform dual tasks such as walking while doing the cognitive task of counting numbers backward," Nhan said.

"Afterward, we analyze the data to see if there are changes to the gait characteristic, such as their walking speed and swing speed."

Nhan hopes to pursue the study of medical technology and engineering in graduate school. While this is his first experience with biomechanics, anatomy and related fields, Nhan said his mentor, Valerie Kelly, Ph.D., assistant professor in the department of rehabilitation medicine, has taught him not only how to develop a research question but how to then collect and analyze data to illuminate possible answers.

"I've been having a lot of fun learning as much as I can right now," said Nhan, adding the program is providing him with a rich research experience and wonderful professional relationships.

Sam Schrader, a rising senior biochemistry major, is working on how the antibiotic-resistant bacterium Pseudomonas aeruginosa frequently communicates and interacts with similar bacteria, and what might be done to help people infected with it. This bacterium tends to impact those with a compromised immune system.

"This kind of research opportunity was really important for me because I work with similar bacteria in labs at Gonzaga and I was already somewhat familiar with this," Schrader said. "It's really good experience because I'm planning on going to medical school. Medical schools like to see that you've done research and you care about helping people."

Eleanor Weisblat, a rising junior and a double major in biology and Spanish, is researching colon cancer and testing how a drug reacts to cell cultures of tumors.

"This program is great because it's exposing me to a different side of medicine that I have never experienced," said Weisblat, adding she hopes to attend medical school to become a surgeon.

The students will showcase and describe their work during a poster session on Oct. 23 in Gonzaga's Hemmingson Center, alongside second-year UW medical students who will be reporting on their summer research projects in communities across the Pacific Northwest and abroad.

"It is most generous of Dr. Slattery and his colleagues at the UW School of Medicine to open doors for our students to gain this meaningful experience, and we are hopeful the program will continue to grow," Law said.
The UW School of Medicine-Gonzaga University Regional Health Partnership
In 2016 the University of Washington and Gonzaga University formed a regional health partnership to continue, enhance and expand medical education and research in Spokane. The agreement makes Gonzaga a partner in the University of Washington's regional, community-based medical education program, WWAMI (an acronym for the states it serves: Washington [Seattle & Spokane], Wyoming, Alaska, Montana and Idaho), and sets in motion plans to advance health-related research, entrepreneurship and interdisciplinary health sciences teaching in Spokane. For more about the Partnership, visit
https://www.gonzaga.edu/academics/regional-health-partnership
.
Media contacts
: Courtney Law, Gonzaga's director of the Regional Health Partnership, at (509) 313-5658 or
lawc@gonzaga.edu
; Kim Blakely, director of UW Medicine Strategic Marketing & Communications at (206) 685-1323 or
krb13@uw.edu
.