UW School of Medicine-Gonzaga Regional Health Partnership Forms Spokane Advisory Board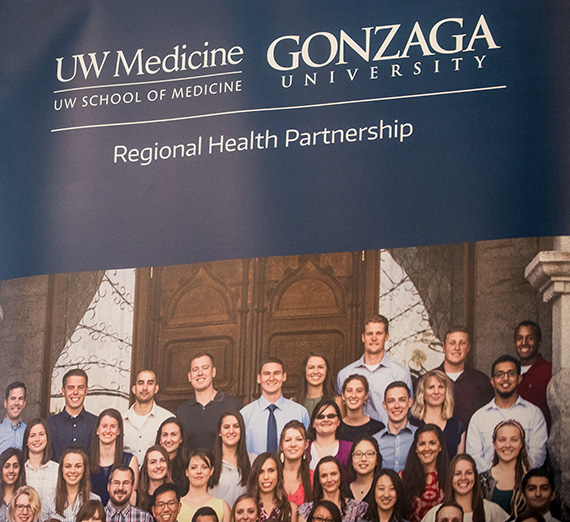 ---
SPOKANE, Wash. – Working with the community to identify opportunities and engage in collaborative solutions to improve eastern Washington's economy, the University of Washington School of Medicine-Gonzaga University Regional Health Partnership has assembled a group of business and civic leaders to offer guidance as it enhances and expands medical education in Spokane.
The Spokane Community Advisory Board will be chaired by Mike Wilson, retired CEO of Providence Sacred Heart Medical Center and Children's Hospital. The board includes:
Kristi Blake, president of Kristianne Gates Blake PS; director of Avista Corp.
Elaine Couture, regional chief executive for Providence Health Care of Eastern Washington
Betsy Cowles, chair of the Cowles Company and president of its broadcasting, insurance and real estate divisions
Clint Hauxwell, M.D., co-director, Foundations of Clinical Medicine of UWSOM; family medicine physician at the Rockwood Clinic and Providence Sacred Heart
Latisha Hill, senior vice president of Avista Development, and director of Avista Corp.
Kevin Parker, owner of Dutch Bros. Coffee, and former state representative
Jeff Philipps, president and CEO of Rosauers Supermarkets
Shelley Redinger, Ph.D., superintendent of Spokane Public Schools
Mike Senske, president and CEO of Pearson Packaging Systems
Francisco R. Velázquez, M.D., S.M., President and CEO of PAML, LLC and PAML Ventures
These board members were selected by the presidents of Gonzaga University and the University of Washington for their leadership roles in Spokane's business, health care and economic development initiatives. The board is expected to meet on a quarterly basis to provide guidance on strategic health-related and research initiatives.
About the UW School of Medicine-Gonzaga University Regional Health Partnership
In 2016 the University of Washington and Gonzaga University formed a regional health partnership to continue, enhance and expand medical education and research in Spokane. The agreement makes Gonzaga a partner in the University of Washington's regional, community-based medical education program, WWAMI (an acronym for the states it serves: Washington [Seattle & Spokane], Wyoming, Alaska, Montana and Idaho), and sets in motion plans to advance health-related research, entrepreneurship and interdisciplinary health sciences teaching in Spokane.
Media contact: Mary Joan Hahn, director of public relations, Gonzaga University; hahn@gonzaga.edu; 509-313-6095.