Spokane Top Choice in State for UWSOM Fall 2018 Class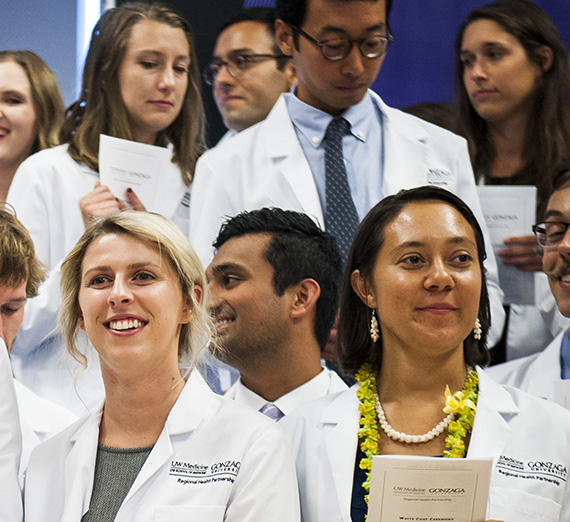 ---
Entire Class of Students Request
Spokane to Begin Medical Education
SPOKANE, Wash. — Interest and demand for attending medical school at the University of Washington School of Medicine, through a partnership with Gonzaga University, has outpaced Seattle. For the first time in nearly 50 years, the 2018 class of incoming medical students training in Spokane, 60 students — three times what it was five years ago — has chosen Spokane as their top location choice over Seattle.
Also for the first time, UWSOM has an alternates list for students — a waiting list — for seats in the Spokane class. For nearly 50 years, students from Washington state attending the University of Washington School of Medicine could opt to do their training in Seattle or Eastern Washington. Until recently, that meant 100 students were accepted into the Seattle class, and 20 students were accepted into the Eastern Washington class. For the majority of this time Seattle was the overwhelming choice of students; some students who chose Seattle were sent to Spokane. This new wave of enthusiasm parallels the medical school's two-year partnership with Gonzaga University. Since 2016, 120 UW medical students have begun the 18-month Foundations phase (basic science) in classrooms in the Schoenberg Center on the GU campus, and clinical training with physician mentors in offices and clinics throughout the city starting their first week of medical school.
"Spokane is a growing hub for medical education because the students feel supported by the community, medical industry and our partner, Gonzaga University, where they enjoy a vibrant campus experience," said Darryl Potyk, associate dean for Eastern Washington for the UW School of Medicine and chief of medical education for the UW School of Medicine-Gonzaga University Regional Health Partnership.
"Since the first class on our campus in 2016, the presence of these inspiring students has been conspicuous," said Courtney Law, Ph.D., Gonzaga's director for the Regional Health Partnership. "Our undergraduates are engaged with these emerging medical professionals, our faculty and staff are embracing opportunities with the students as well as with the medical faculty, and our community has been enlivened by the students' community service and engagement."
The involvement of over 800 practicing physicians and numerous clinical training sites across Eastern Washington has been vital to the medical school's success in Spokane, and this new distinction proves that incoming students are aware of Spokane's growing reputation as a hub in the healthcare industry.
Formerly, students who began training in Spokane, even if they initially wanted to be in Seattle, soon realized that there were many benefits to training in Spokane and the students had a great experience here. Today, with our partnership with Gonzaga, the word is out that Spokane is a fantastic place to study medicine, Potyk added.
About UW School of Medicine-Gonzaga University Regional Health Partnership
In 2016, the University of Washington and Gonzaga University formed a regional health partnership to continue, enhance and expand medical education and research in Spokane. The agreement makes Gonzaga a partner in the University of Washington's regional, community-based medical education program, WWAMI (an acronym for the states it serves: Washington [Seattle and Spokane], Wyoming, Alaska, Montana and Idaho), and sets in motion plans to advance health-related research, entrepreneurship and interdisciplinary health sciences teaching in Spokane.