Zag Grads Shine with Many Gifts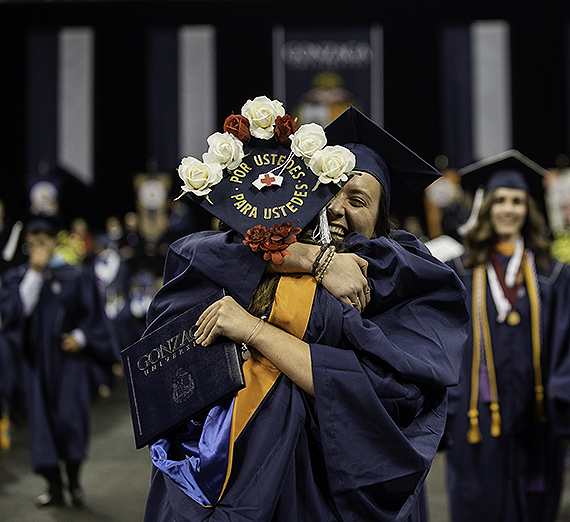 ---
SPOKANE, Wash. -- Following is a glimpse of some of the many outstanding students who graduated during Gonzaga University's 125th commencement exercises May 12-13.
Wisconsin's Abby Beck Bound for Mayo Clinic
For most people raised in Wauwatosa, Wisconsin, Gonzaga is not the first school on their list when it comes to choosing a college. For Abby Beck, however, Gonzaga has been the perfect home away from home for the last four years.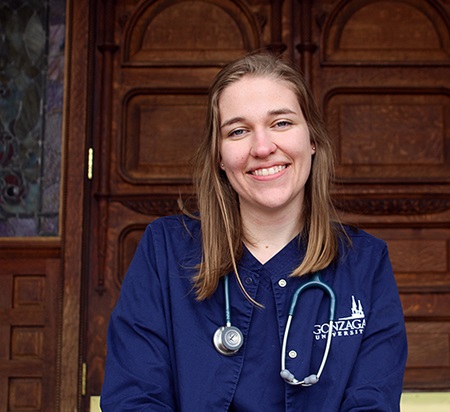 "My time at Gonzaga has not only shaped me as a professional, but also as a person," said Beck, who earned a bachelor of science in nursing and will move to Rochester, Minnesota, where she will be a nurse on the bone marrow transplant unit at the Mayo Clinic.
She also developed a passion for emergency medicine while completing my senior practicum.
"I hope to return to the emergency department at some point in my career. I also plan on pursuing my master's degree and I would love to teach nursing students someday," she said.
Beck has taken full advantage of the different opportunities on campus, including participation in the Center for Community Engagement as well as University Ministry.
"My experiences with CCE and the University Ministry broadened my perspective in a way that will allow me to better care for my patients in the future," she said.

Instructor Kaye Slater describes Beck as "an old soul" with "maturity beyond her peers."

"She is real, she is compassionate, she knows her limits, and she seeks to be more and serve others," Slater said.

While her time in Spokane is done for now, Beck knows that she will walk away from Gonzaga with more than a degree.

"I have found lifelong friends in the women I lived with, the people I studied with in class and the professors who taught me so much," Beck said. "I will be forever grateful for these four years in the Gonzaga community."
For Chris Brummer, Gonzaga Accounts for Success
A visit to Gonzaga as a high school junior to see his cousin, a Gonzaga student, convinced Chris Brummer that he wanted to become a Zag. Brummer, who earned a double major in accounting and business and a concentration in finance, figures he made the perfect choice.
Brummer, who was born and raised in Stellenbosch, South Africa, and speaks Afrikaans, first visited Gonzaga shortly after his family had moved to the Seattle area.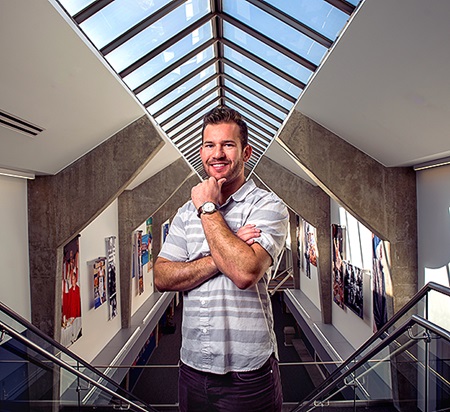 "I was completely blown away by how everyone seemed to know everyone else," Brummer recalls. "The campus had a completely different feel than other colleges I had seen. People were incredibly friendly, and there seemed to be the perfect balance between work and play."
Brummer counts the opportunity to study abroad through the Gonzaga-in-Florence, Italy, program during fall semester of his junior year among the highlights of his undergraduate experience.

"The entire experience was absolutely incredible. I traveled to 14 different countries, made fantastic new friends, and broadened my view of the world drastically," he said.

Brummer says Gonzaga is not for everyone but is ideal for students seeking "great balance in their lives." He offers this advice to prospective students:

"If you want a party culture, don't go here. If you want a sports culture, don't go here. If you want 'nerd' culture, look elsewhere," he said, observing that "Gonzaga students are friends with everyone. They work hard and play hard. And most importantly, they love Gonzaga almost as much as their moms."

What will he miss most about Gonzaga?

"Not being able to walk less than 100 feet to see my friends whenever I want. Being around your friends all the time is an incredible experience, as you have so much fun, but also learn about people in a deeper manner than you ever thought possible," said Brummer, who will work as a private bank wealth management analyst for JPMorgan Chase in Seattle.


Megan Carroll: 'Truly One of a Kind'
For many Gonzaga graduating seniors, this time of year brings the excitement of commencement -- a culmination of four years of hard work -- and the hunt for a job. For Megan Carroll, a dynamo who is earning a degree in journalism with an interdisciplinary arts minor in three years and has secured a full-time job, it's a tad different.

"Graduating is exciting in some ways because I am 21 years old and am going to do what I really want to do," said Carroll, who transitions from a part-time job at Spokane's KREM-TV to a full-time news position there. "It's also a little sad. I long for that last year everyone gets. That's been a little tough to process, but I'm overall excited."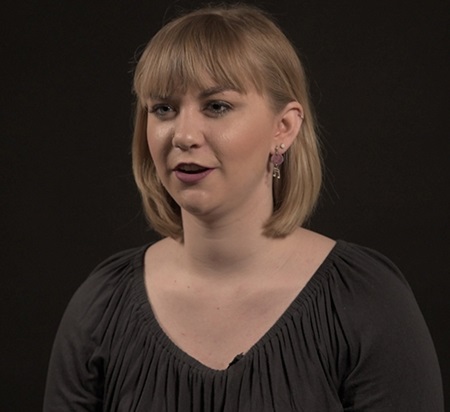 Carroll, who studied print journalism, will be a news producer for KREM, where she expects to be involved in a full range of digital and social media efforts along with newscasts.
"I never thought I'd go into TV," she said. "I thought I would go into web or print writing but there is a lot of writing involved with TV producing so I applied for the KREM job."
Carroll says Gonzaga has nurtured her love for music, theater, dance and journalism. A high school dual credit program and her no-nonsense focus on academics have facilitated her early graduation.
Suzanne Ostersmith, assistant professor and director of dance, describes Carroll as a gifted storyteller with an artist's sensibilities.
"She is truly one of a kind," Ostersmith said. "Many students have commented on how impactful her Senior Project in dance was for them to see. She took her written word, love of dance and the important subject of mental health awareness and created a truly resonant dance work. She will be missed!"
Carroll calls Ostersmith "a beacon of light and hope in my journey."
"Thanks to her, I've broken out of my shell and pursued art that's important to me and indicative of some tough personal experiences," Carroll said. "Her dedication and love have changed my life."
A member of the Gonzaga Concert Choir, she also appreciates Tim Westerhaus, director of choirs and vocal studies.
"He challenged me, encouraged me and showed me so much grace," said Carroll.
Despite her harried schedule, Carroll has found time to volunteer helping developmentally challenged adults through GU Specialized Recreation. Also, she served as president of GU Women's Chorus, and taught free lyrical ballet classes through the Boundless Dance Club.
Gonzaga's journalism faculty "have been integral in teaching me how to be a good journalist and how to interact with people," said Carroll, who also wrote news and feature stories for Gonzaga News Service for nearly two years, and wrote for Gonzaga Magazine. An internship for Spokane Faith and Values, an online publication, also helped her learn to cover multifaceted issues.
Carroll, who served as a writer and news editor for The Gonzaga Bulletin student newspaper, has always had an interest in writing and news but did not envision a journalism career until her senior year in high school in Las Vegas, Nevada.
"I love writing, but I also love meeting people -- unique, exciting people with wonderful or heartbreaking stories to tell," she said. "Then I get to tell those stories to a lot of people."
As she begins a new chapter in life, Carroll reflects on her life as a Zag. "I think I learned to be more compassionate at Gonzaga and I learned to really try to tune into others' experiences and figure out how I could play a role in helping people grow," she said. "Also, I have also grown in the things I love to do. Having people support me in that has cultivated a lot of things I enjoy in my life."
Gonzaga Fosters Kayla Gunther's Passion for Research
While Kayla Gunther carries many fond memories of Gonzaga with her after earning a bachelor's degree in biology with a research concentration, one particular recollection stands out. This memory relates directly to her discovery of a love for research.
Gunther's eyes sparkle as her mind flashes to a summer's evening following her freshman year. She was fortunate to have been selected to conduct research that summer on the mating behavior of wolf spiders at the Arachnids of the Inland Northwest Lab with biology Lecturer Steven Schwartz and students DeShae Dillard and David Dommermuth.
"It was 11 p.m. and we had just spent about three hours in the field at Slavin Conservation Area. As we hiked out of the forest area and into the clearing, you could see more stars than anywhere else in the Spokane area. Field nights were always fun and beautiful, as long as everyone remembered the mosquito repellent!" she recalls, smiling. "Having the opportunity to be a part of the AIN lab helped foster my passion for scientific research."
Gunther, from Kennewick, Washington, will gain more research experience this summer before applying this fall to graduate programs in biology. She recently was hired by the forestry department at Oregon State University to be part of a field team collecting data on the success of wildfire protection procedures in the Malheur National Forest.

Looking back on her time here, she said Gonzaga has lived up to her expectations.

"I wanted to be a Zag because of the great sense of community and high level of academic focus here on campus," she said. "Students here are very happy and friendly to one another, I never even feel unsafe or uncomfortable leaving my things out on a table if I need to. The students here have integrity and are generally very studious."

Gunther said Gonzaga's financial support -- including the Dean's Merit Scholarship, Gonzaga Science Scholars Grant, and the Gonzaga Grant - has been instrumental in her success.

Her best advice to prospective Zags?

"Make the most of it," Gunther said. "That doesn't necessarily mean that you need to join every club and go to every event but make sure you take advantage of the support that is available to you and work on exploring your interests and building up a skill set that you will take with you after graduation."

For example, she has found the biology department's weekly seminars engaging, informative and career-enhancing.

"They invite someone to come talk about their research, and I try to attend as many of these as I can since it is so readily available and interesting to me," she said, noting she will miss her friends and professors after graduation but intends to keep in touch with them as well.

"I have really enjoyed my time with these people," she said. "They are truly what makes Gonzaga so special."


Aspiring Physician Douglas Kempthorne Aims to Help
Douglas Kempthorne, who earned a bachelor's of science in biology, has grown accustomed to a highly disciplined life, which he knows will serve him well in his career plans to become a physician.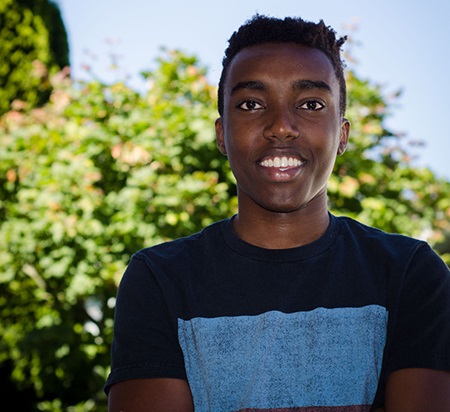 As a coxswain for Gonzaga rowing the past four years, Kempthorne, a Spokane native and graduate of Gonzaga Preparatory School, has awakened at 5:15 a.m. to practice "pretty much every day, Monday through Saturday, year-round," he said. "Most likely, as a doctor I'm not going to be sleeping much and will have to wake up for those early hours."
Kempthorne, who will apply for medical school this summer and hopes to become a pediatric surgeon or work in a family practice setting, said Gonzaga's Comprehensive Leadership Program also has had a significant impact on his life.

"CLP has allowed me to expand my view of the world and my perspective on leadership, and how to be a leader in everyday life," he said. "I have learned a lot about the difference between say a leader who everyone thinks of as a leader -- from authority and power -- and the other kind of leader who leads by example, and servant-leadership."

At Gonzaga, he says, he has acquired a set of tools to live "an introspective life" -- one for others.
"It's all about how you can become the best version of yourself to support and grow others around you," he said. His community service efforts as a student-athlete have been among his most meaningful experiences at Gonzaga.
"We are all so busy with our sports so it's fun to spend time giving back to the community and it's great to know you're making a difference on campus and off," he said. The Easter egg hunts at St. Margaret's Shelter, a transitional residence for women and children, were his favorite service experiences.
"We collected a bunch of candy and put it into Easter eggs and were invited to go hang out with families at the children's center. The kids love having us around and are so innocent, but obviously their families are struggling," he said. "It makes you think about how blessed you are and how so many people don't have the opportunities you've had."
Kempthorne also hopes to achieve the distinction of publishing scientific research he has done as an undergraduate. He is listed as a co-author on a manuscript submitted to the academic journal Nature Communications.

"The research is about the Zika virus and how lipids affect its replication," he said. "It was also submitted to the journal Nature Microbiology."

The research stems from hands-on laboratory research through a paid and mentor-led internship through the Oregon Health & Science University in Portland the past two summers. He was among a select group of students nationwide chosen to take part in the OHSU Center for Diversity & Inclusion Summer Equity Research Program.

Kempthorne also notes how he has grown to value Gonzaga's core curriculum.

"I think when I first came in I was upset that I had to take core classes, but as the years went on -- and now as a senior looking back -- I realize the liberal arts education and those extra core classes really added to and broadened my perspective," he said. "I look at medicine and health care differently because of it. Overall, it has made me a better person -- able to think critically, not take things for face value and realize there is always something deeper."


The Entrepreneurial Jacob Masters
As a student in Gonzaga's Hogan Entrepreneurial Leadership Program, Jacob Masters knew that he would thrive in an entrepreneurial environment. Thanks to hard work, networking, a business administration degree and a minor in entrepreneurial leadership, his wishes are coming true.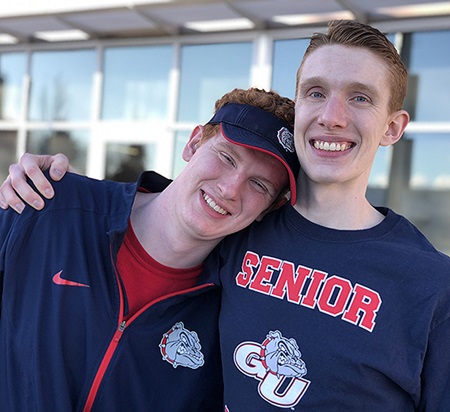 Masters, from Woodinville, Washington, will serve as a market analyst at GenPrime, Inc., a biotech company in downtown Spokane led by entrepreneurs Buck Somes, the chief executive officer, and Darby McLean, the chief operating officer.

Masters had the good fortune to be taught by McLean, a part-time professor in the Hogan program.

Benefitting from broad exposure to both large-scale corporations and small independent firms through professional internships, GU Business Treks and focused professional relationship-building, Masters is excited to work for a company that resonates with his roots in the Hogan program.

"GenPrime is one of those unique companies that is well-established within its industry yet still operates very much like a startup," Masters says. "Being able to work under Buck and Darby truly is an invaluable opportunity, and I look forward to learning from their shared experiences just as much as I look forward to fulfilling my job's responsibilities."

Masters, who also earned concentrations in finance and marketing, said his favorite part of being a Gonzaga student has been sharing a sense of commitment with the rest of the student body.

"I have come to realize that what unites us as Zags is a shared sense of passion and purpose for whatever subject, career, cause or purpose that an individual might feel called to pursue," he said. "Our underlying passions enable us to genuinely bond with one another, so much so that it has naturally resulted in the 'community' that Gonzaga University has become so famous for today."

Masters also has contributed significantly to the GU community as a leader in housing and residence life.
Olivia Rebro Brings Calm, Compassion to Nursing
Olivia Rebro, who earned a bachelor of science degree in nursing, is described by nursing faculty as a top student and a leader with exceptional people skills who has a bright future in pediatric nursing.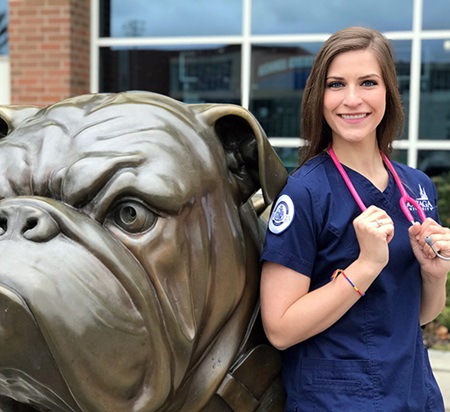 "Olivia is a highly self-motivated and giving individual. She has strong leadership skills in the classroom and clinical settings," said nursing Lecturer Carsen McGuire. "She has a beautiful ability to connect with children and their families. Olivia's presence is calm and compassionate. Her patients and their parents sense this, which brings peace to unpleasant experiences. She will do great things as a pediatric nurse."
The Kent, Washington, native will work in Washington, D.C.
"I will be working as a nurse in the nurse residency program at Medstar Georgetown University Hospital," Rebro said. "I will be working on the general pediatric unit, with focuses in hematology and oncology. Part of the unit is also devoted to epilepsy monitoring for both adults and children."

Looking back on her time at Gonzaga, Rebro said the University has provided her with more than an education.

"Gonzaga has provided me with opportunities not only to grow up, but to flourish as an individual, discover my life passions, explore my faith, and challenge my mind," Rebro said. "The friends I have made within the Gonzaga community are close to my heart, and I consider many of them my family. These last four years were priceless in my eyes, and I will always be thankful for the cultivating experience I received at GU."

Kaye Slater, nursing lecturer, describes Rebro as "a true leader who has only to realize her potential."

"She has been a calm powerhouse -- so professional, bright, engaged, and yet all without any need to seek or receive attention for her greatness," Slater said.


Cesar Ortiz Rios Engineers Bright Future
Growing up, Cesar Ortiz Rios always aspired to go to college. However, since no one on either side of his family had ever gone to college before, Ortiz Rios was less sure of most everything else associated with higher education. Earning a degree in mechanical engineering and a minor in mathematics, he is a role model for his entire extended family.

"My parents always told me I needed to go to college, but that's all they ever said," said Ortiz Rios. "They didn't know how to get into a college, how to apply, how it would be paid for, none of that. And I don't blame them for it. They were never taught any of that. I didn't even know any of that early in high school."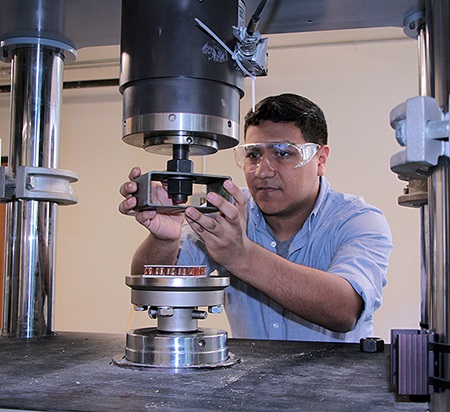 In 1992, Ortiz Rios' mother emigrated from Mexico to the United States where she met and married his father.
As a junior, Ortiz Rios and three other students assisted mechanical engineering Professor Patrick Ferro in a research project involving injection-molded ABS (Acrylonitrile Butadiene Styrene), a thermoplastic material known for its impact-resistance and toughness. His senior capstone project focuses on material sciences -- the design and discovery of new materials -- and is sponsored by the Boeing Co.
"My favorite part about Gonzaga's School of Engineering and Applied Science is how approachable the staff and faculty are as well as their commitment to their students' learning," Ortiz Rios said. "It's also easy to get involved in research if you talk to your professors, because they are always willing to encourage learning outside the classroom."
Gonzaga has also helped steer Ortiz Rios toward valuable career-enhancing opportunities off campus, including a 2016 summer research program involving industrial additive manufacturing processes, specifically selective laser melting -- a technology involving 3D printing and manufacturing -- through the Missouri University of Science and Technology's Research Experience for Undergraduates.
He recently co-authored a research article on selective laser melting published in the International Journal of Advanced Manufacturing Technology. This fall, he will return to Missouri S&T to begin a Ph.D. program in materials science and engineering. His research will involve additive manufacturing (3D printing) of metals.
"My hope for this is that I can develop an understanding of advanced manufacturing technologies like additive manufacturing so that they are one day considered to be viable manufacturing processes for other industries," said Ortiz Rios. "I'd also like to end up working as a university professor in my later years."

Ortiz Rios has been involved in many activities, including with the GU Robotics Club and the Materials Advantage Club. He is president of Gonzaga's chapter of Tau Beta Pi (Washington Delta).

"I've seen the School of Engineering and Applied Science clubs grow and reach new heights. We wouldn't have grown so much if it wasn't for the support of Dean Stephen Silliman and the other faculty," he said.

As the first person to graduate from college on both sides of his family, Ortiz Rios has brought his family great pride. Though, he admits that this success has brought him unexpected responsibilities and pressure -- especially as the oldest child (he has a younger brother and sister).

"I'm an example to not only my siblings, but also to all of my cousins," Ortiz Rios said. "I came to college not just for myself but for everyone back home. I came because I felt that I could be an example of how anyone could not only be admitted to a four-year university but could also succeed beyond that. That's the expectation I set for myself: that I need to be more than I am for others. It is perhaps the weightiest pressure I feel as a first-generation student."


Claire Standaert Goes to Germany as Fulbright Scholar
Growing up, Claire Brynne Standaert spent six years living in Germany as her parents were stationed in two cities there while working for the U.S. Air Force. In September, Standaert returns to Germany, this time as the recipient of a Fulbright U.S. Student Program scholarship.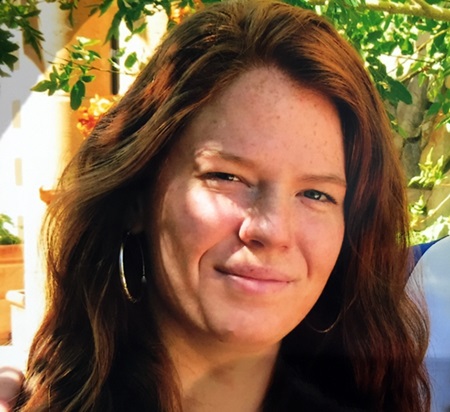 A double major in English (writing concentration) and political science with a minor in German, Standaert will work as an English teaching assistant at a school in Hamburg through June of 2019. She also plans to develop an English newspaper at the school. While this may seem like a tall task for a recent college graduate, Standaert is undaunted. She attended a German school previously in the second and third grades, speaks the language, and has a background in journalism -- having served as news editor for The Gonzaga Bulletin.
From her experience, Standaert expects to be able to navigate any cultural challenges.

"When I lived in Germany before, America was in the middle of the Iraq War so there was a little tension between Germans and Americans," she said. "Going into it this time, I am more aware of my role as a global citizen. This time, I'm not just sitting on the sidelines but am actively pursuing mutual understanding. So that's going to be a challenge -- an exciting challenge."

The prestigious scholarship program offers research, study and teaching opportunities in more than 140 countries to recent graduates and graduate students. It was founded "to help create mutual understandings between the U.S. and foreign countries on issues such as peace and diplomacy," Standaert says.

The program also embraces the word "goodwill" -- a term Standaert finds especially compelling.

"I remember last summer when I finished my internship I was back home and I was thinking 'What do I do now?' I really wanted to be involved in something international, building goodwill. I had heard about Fulbright a long time before and I was afraid I had missed the application date, but thankfully I didn't."

Standaert sought out English Professor Patsy Fowler, who assisted students interested in the Fulbright program, to help her with her application. She also credits English Professor Jeff Miller, German program Director Ute Perz and Cindy Perry, assistant in the office of mission and ministry, with her success.

Before coming to Gonzaga, Standaert spent one year at Vassar College in Poughkeepsie, New York, where she was a member of the soccer team. She developed a passion for the sport as a child in Germany.

"The Germans absolutely love soccer," she said. "Every day at lunch break we would go outside and play soccer. I was the only girl on the boys' team. That was one of the coolest experiences of my life because it taught me grit and community."

In addition to her time in Germany, Standaert has also lived in Panama and spent time in rural Kenya as part of a volunteer effort for One World Medical Mission in which she helped collect, transport and distribute shoes for orphans.

"I feel like living abroad has enriched my life," Standaert said. "Just knowing that I've been to different places and I've met people I wouldn't have met having not gone there."

Standaert's professional development includes service as a tutor at the Gonzaga Writing Center and for the Gonzaga Saturday Literacy Program, volunteer efforts with Hospice of Spokane and Gonzaga's "Smile" youth-mentoring program, and internships with the U.S. House of Representatives, Architects of Achievement -- an educational consulting and strategy firm - and the Pacific Northwest Inlander weekly newspaper.

After this Fulbright experience, Standaert will assess her options.

"Professionally, I want to seek opportunities, whether it be governmental or non-governmental international organizations to continue building peace and community," she said. "And of course, that stems from my meaningful childhood experiences in Germany."


Brahiam Villanueva Finds Passion for Writing
Brahiam Villanueva says he found his passion for writing at Gonzaga after throwing himself into multiple endeavors.

Among his many involvements, Villanueva served on Gonzaga's Board of Regents, worked with the immigrant-rights advocacy group the Washington Dream Coalition, competed in the mock trial program, and edited Reflection, Gonzaga's journal of art and literature, with poetry, short fiction, photography, artwork, and more.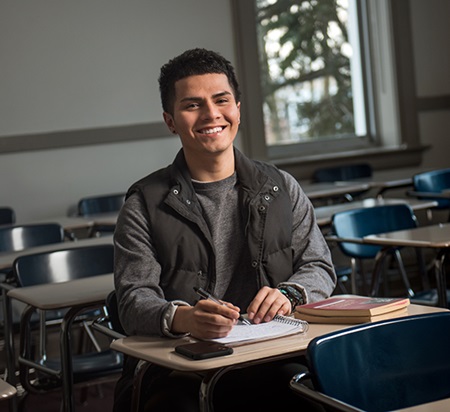 Recognizing his literary ability, his writing professors nominated Villanueva to attend the 2017 Port Townsend Writers' Conference.
Villanueva captured first place recently for both fiction and poetry in Gonzaga's annual Michael & Gail Gurian Writing Awards. His best piece of advice to all incoming students? Try new things -- lots of them.

"I couldn't have learned so much had I been afraid of trying new things," said Villanueva who was inspired to attend Gonzaga by alumna Mariel Rodriguez ('14) a triple major, Gates Scholar and -- like Villanueva -- a first-generation college student from Moses Lake, Washington.

"I always thought Gonzaga must be an awesome place full of interesting and independent people because she herself was a very productive, hard-working person. Growing up I didn't know very many other people who had attended college," Villanueva said. "I remember Mariel was raising money for the earthquake that devastated Haiti in 2010, and I associated her altruism with Gonzaga and decided I wanted to be in a school that attracted people like her. I wanted to be a Zag so I could work alongside people who shared her spirit."

Villanueva says his favorite moment at Gonzaga occurred near the end of his first semester when he was feeling overloaded with his involvements in academics and activities. Ironically, it was through an involvement that he discovered he truly belonged at Gonzaga.

He was the only GU first-year student selected to attend the Ignatian Family Teach-in for Justice in Washington, D.C. The event brought students from Jesuit colleges and universities nationwide together in the pursuit of faith, justice and solidarity -- including advocacy on Capitol Hill. The experience convinced him to stay at Gonzaga.

"We visited the offices of Congress members during the last day of our stay, advocating for immigration reform -- an issue that is very personal to me," he said. In those few days, Villanueva discovered that he needed to reach out to others for help.

"Asking for help was hard for me then," he recalls. "I learned I needed to trust people and open up to those around me who wanted the best for me. I also learned how much other students at Gonzaga wanted me to succeed, and I decided I would take the steps necessary to have four successful years here."

He vividly recalls the flight back to Spokane and his thoughts about returning to Gonzaga.

"I really felt like I was returning to a second home, a campus full of people with distinct interests, people who I was really excited to learn from and grow with. I remember that after that trip I really wanted to be the person I would become after four years at Gonzaga," he said, expressing gratitude for financial aid that allowed him to attend.

"Growing up, I always saw my mom work really labor-intensive jobs for minimum wage or very low pay. I knew that when it came time for me to go to college I would be on my own, and while my savings and the many jobs I held over the last four years helped some, I am very grateful to all of the people who made my education possible," he said. "I never really felt alone at Gonzaga. I always knew I had the support of so many people who wanted to see me graduate."

He received bachelor's degrees in history and English with a concentration in writing and plans to move to either Seattle or the San Francisco area to work and pursue a professional fiction writing career.
Lindsey Wheat Aims to Leverage Law to Serve Others
Lindsey Wheat, from Inkom, Idaho, hopes to pursue a career as a public defender after graduating from Gonzaga Law School. After taking the bar exam, she will serve a clerkship for U.S. District Court Judge Robert H. Whaley in the Eastern District of Washington.

"Whatever happens, I know I want to have a lifelong career in public service law. I would like to spend my time helping others who have found themselves in circumstances which render them incapable of helping themselves," said Wheat, who earned a bachelor's degree in political science and a minor in history from Idaho State University.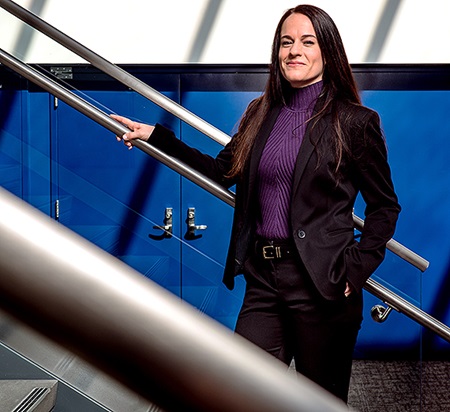 Wheat says she chose Gonzaga Law in part because of its commitment to public service.
"I have always wanted to help people, and their mission seemed to align with mine," she said. "When I visited, I fell in love with Spokane -- the river, the downtown, the beautiful campus. I was charmed. I knew Gonzaga was where I wanted to be."

Wheat credits Inga Laurent, assistant professor and director of the Externship Program, for her ability to teach students the skills they need in their future work.

She also has high praise for local attorneys John "Jay" McEntire and Colin Prince, who serve as adjunct professors.

"They teach the most practical classes I have ever taken. Their criminal procedure class gave incredible insight into what day-to-day cases are like when you are a criminal attorney. I learned so many valuable lessons that I will take with me throughout the rest of my career," she said. "I wish I'd had the opportunity to take more classes like theirs throughout my academic career."

She also credits Brooks Holland, associate dean for academic affairs, whom she calls "the perfect person to have in your corner. He cares about the students and about the school. He does his best to help all those in need and keep the school running smoothly."

Steve Roberts, Wheat's internship supervisor at Federal Defenders of Eastern Washington and Idaho, and her coach for National Moot Court competition, became an important mentor.

"I would be nowhere without Steve," she said. "Moot court was an incredible experience. It made me a better writer and speaker. I truly enjoyed my time on the team."

In addition to the faculty and staff, Wheat said she will miss the friends she has made through Gonzaga Law.

"The friends I have made over the past three years have truly become my family," she said. "I will miss all of the relationships I have been able to create and grow during my time at Gonzaga."