Where Bulldog Alley and Memory Lane Intersect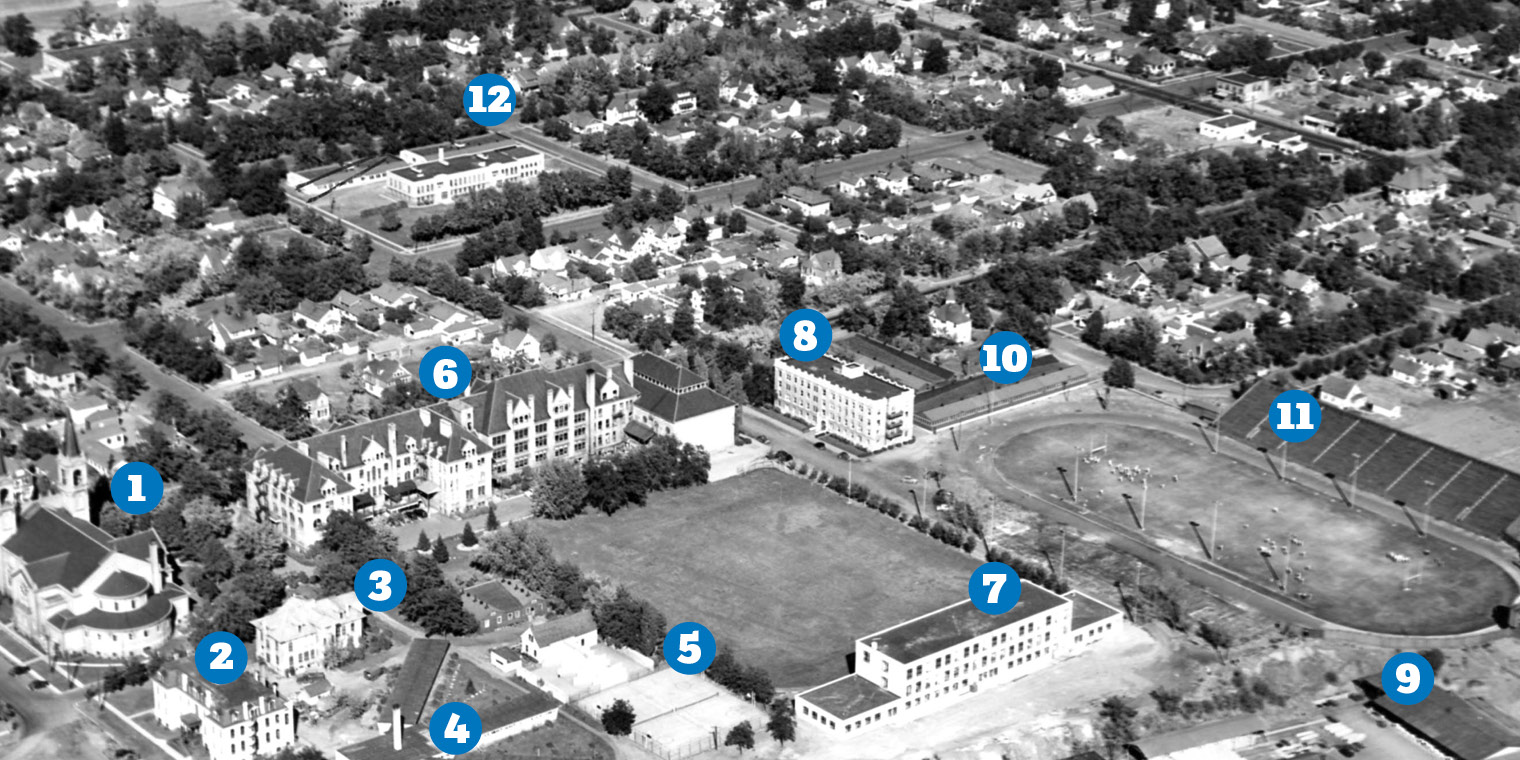 St. Aloysius Church (1911-present)
Original Administration Building (1887-1963), replaced by Jesuit House
Goller Hall (1908-1970), burned down
Campion Hall Barracks (1947-1958)
Original tennis courts
College Hall (1898-present)
Dillon Hall (1948-present); now Herak Center
DeSmet Hall (1925-present)
McGoldrick Lumber Co.; PACCAR and Bollier centers today
High school barracks (1947-1954); Aluminum Jesus/Welch Hall today
Football stadium (1922-1949); Foley Field and Center today
Webster School (Gonzaga HS 1941-45, then Law School 1963-2000); now Corkery Apartments
A Journey through Time with Dale Goodwin
When I first stepped foot on Gonzaga's campus as an employee 41 years ago, it unveiled to me myriad scenes and emotions I had never explored. I grew up in Spokane but had only ventured to campus a couple of times – a Paul Revere and the Raiders concert in 1968 or '69 at the still-new-feeling Kennedy Pavilion, and Boys' State in summer 1973, when I laid my weary head down every night in a room of fabled Catherine-Monica Hall.
Back then, I had no plan to be here this long nor did I understand the profound impact this place and its people would have on me and my family.
My first office here was in the Kennedy Pavilion, third floor, a mass of concrete and pumice block walls with hanging ropes to the north where mountaineers like Bob Loomis ('85 J.D.) would do their workouts. I was sports information director and my office, the largest one I ever had here, looked out through sloping windows to the basketball court below. Everyone wanted to stop by and see my view. The Athletic Department moved into Kennedy in 1965, a building that was named for the only Catholic president to that point, John F. Kennedy, and was dedicated by his brother Edward.
Kennedy Pavilion included a swimming pool to the west, and in 1987 the new Charlotte Y. Martin Centre featured a field house, and a glassed atrium made for indoor passage between the gym, pool and field house. It provided a perfect spot for a reception with my bride, Mary "Scooter" O'Neill ('84), following our wedding on Pecarovich (baseball) Field in August 1989. The main pavilion was modernized, and this is where men's basketball began its current 24-year streak of NCAA tournament appearances amid the deafening cheers of the crowds reverberating off the tight walls at each end of the court as the old bleachers shook mercilessly.
In those early days, only a parking lot, sagebrush and tumbleweeds separated Martin Centre from the tree-enshrouded north bank of the Spokane River. The U.S. Postal Annex sat to the south at the river's bend until 1998 when construction began on the new Law School building, and in 2005, on the Patterson Baseball Complex.
After seven years in Athletics, I moved to the Administration Building, which in the early 2000s received a significant makeover while maintaining its historical character, under the watchful eye of Campus Architect Mac McCandless. He was also the guy who helped design and oversee construction in 2012 of the Grotto at the west end of the Ad Building, inspired by the grotto at Notre Dame where he had been a student.
By the time I became the University's public relations director in 1989, my favorite greasy burger joint, Pakies, was gone from the corner of Sharp and Standard, and the busy Boone Avenue thoroughfare became the Johnston Family Mall, a beautiful addition to campus, serving as a conduit from east to west, and bridging the barrier from north to south sides of campus. This was Trustee Elizabeth Hanson's baby. Her family's donation was integral in bringing a scattered campus together.
In 2007, the Administration Building became College Hall to give the University's largest college/school its own home as the other schools had their own places. Business had Jepson, Engineering had Herak, Education had Rosauer, etc. But after the Jesuits moved into the Della Strada Jesuit Community residence in 2017, Jesuit House became a home for the humanities, and the College of Arts and Sciences' main office.
During my 22 years working alongside five presidents — Father Bernard Coughlin, S.J., Harry Sladich, Father Ed Glynn, S.J., Father Robert Spitzer, S.J., and Thayne McCulloh — I saw campus change from what seemed like black-and-white to living color. Old buildings were torn down and bright new structures replaced them. Grounds became greener, and the south rim of campus blossomed with Foley Library (1992), the Jundt Art Center and Museum (1995), the McCarthey Athletic Center (2004), the John and Donna Luger Soccer Field (2007), PACCAR Center for Engineering and Applied Science (2008), a completely renovated and expanded Jepson Center (2008), the Myrtle Woldson Performing Arts Center (2018), and the John and Joan Bollier Family Center for Integrated Science and Engineering (2021).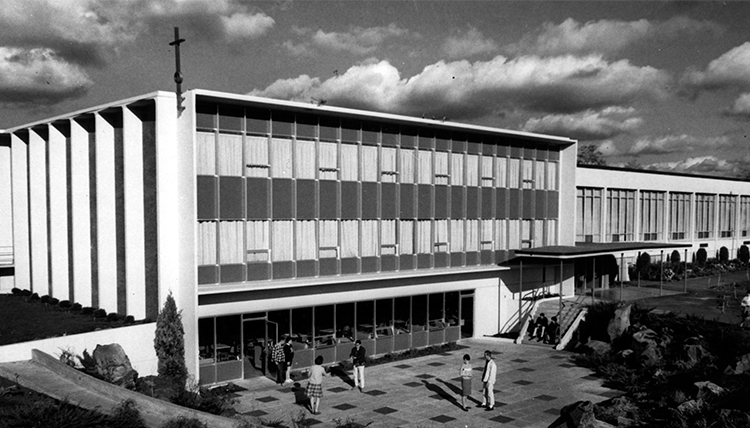 The center of student activity for decades was the COG, shown above in the 1960s. Today, the hub of activity is the Hemmingson Center, shown below just as it was opening in 2015.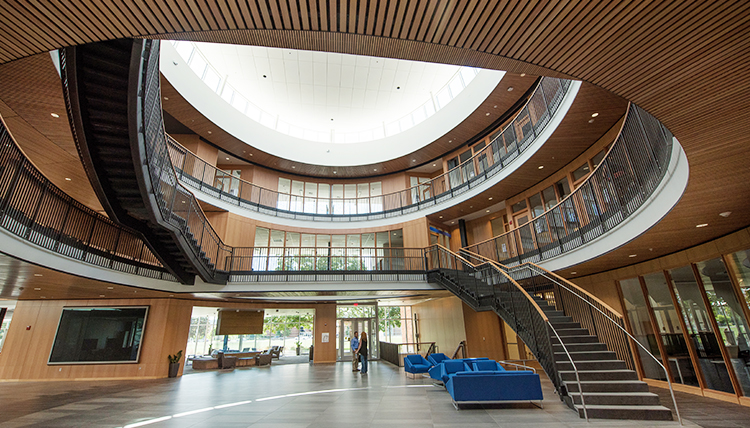 The original COG lived a useful life for nearly 55 years, but in 2013 was demolished to make way for the John J. Hemmingson Center for student activities, gatherings large and small, and a new version of the COG with delectable offerings from around the world. Those who ate in the former COG cannot believe the choices available today in the new version. Hemmingson has become the center of campus life. And it even houses a Starbucks, a common place for students, faculty and staff to gather nonchalantly most mornings.
Before Hemmingson construction began, the University built a 650-space parking garage, which became home to the greatly expanded Zag Shop (bookstore). The east side of that structure we call the BARC (Boone Avenue Retail Center) housed campus dining for two years while the new COG was being created. Now, staff offices for University Advancement and Marketing and Communications occupy that creatively engineered space. That's where I now park my tush, telling your stories.
This quick campus tour doesn't begin to chronicle all the changes that have occurred since I arrived 41 years ago, like all the new student housing that's gone up, including the last one, Coughlin Hall in 2009, named for my mentor, longtime friend and Gonzaga legend. Student activity spaces have significantly increased, including the Rudolf Fitness Center (2003), the Stevens Center for golf and tennis (2014) and the artificial-turf-covered Mulligan Field (2006). (Thank goodness, no more muddy paths to class for those living in CM and Madonna halls.)
Each academic area has its own space, including the Human Physiology department, which just moved into its new home in the University of Washington School of Medicine-Gonzaga University Health Partnership building, catty-corner across Spokane Falls Boulevard to Coach Steve Hertz Field, which this fall converted from natural grass to artificial turf to allow for play almost year-round.
All the changes have been with one goal in mind: Make Gonzaga better for students. My time here is ebbing, but I am confident that students today and in the future will be drawn by and accommodated with some of the best facilities, green spaces and top educators around. For in the end, it's what happens inside these structures that make Gonzaga such a special place. Zags, you know what I'm talking about.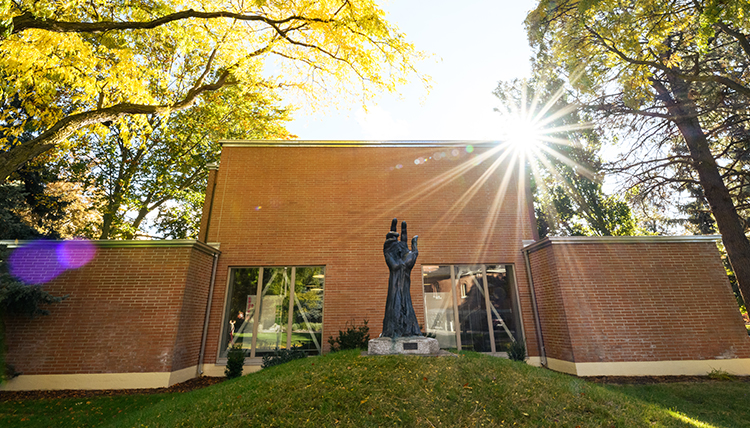 Above: the former Jesuit Residence is now the Humanities Building.
Most Beautiful
Zags everywhere know how gorgeous the Gonzaga campus is. Now, more of the world knows it, too. Condé Nast Traveler named Gonzaga among the "56 prettiest college campuses in America" in 2022.
If you'd like a campus tour with historical perspective, I'd be happy to give you one
Alumni
Student Life
Gonzaga Magazine