Remembering the Start of a 20-Year Zag Tournament Run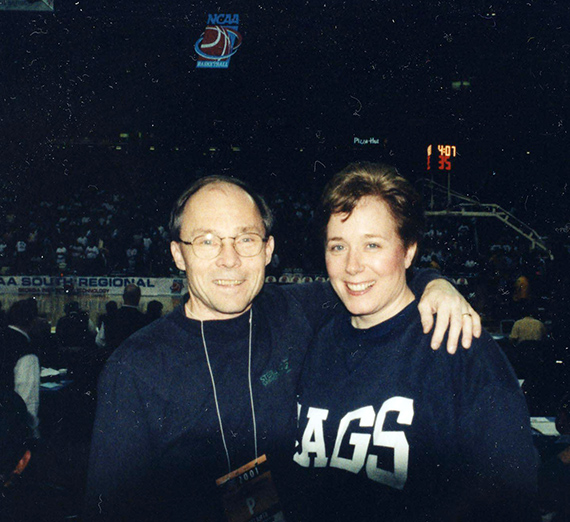 ---
It's almost an afterthought among current Gonzaga fans to celebrate the 20th anniversary of that amazing run to the Elite Eight of the 1999 NCAA Men's Basketball Tournament that ignited a streak of consecutive tourney appearances that now stretches into its third decade. But Spirit didn't want to let the occasion pass without a reflection on those two weeks in March, 20 years ago, that remains as meaningful today as it was then to a Zag Nation that was only beginning to build at the end of the century.
My wife, Mary ('84), was a week away from delivering our second child, Brook ('21), and there was no way I could make the trip to Phoenix for the Regional NCAA Men's Basketball Tournament games, March 18-20. So we sat together in our family room with our almost-5-year-old, Ben ('16), and watched as Gonzaga defeated Florida on a most dramatic Casey Calvary tip, and advanced to the Elite Eight.
We would lose by 5 to eventual national champion Connecticut in that next game, but the indelible mark the Zags left on Division I basketball that March has not worn thin in two decades. This year's tournament will be 21 straight for the Bulldogs, fourth longest current streak of NCAA appearances behind a few teams you may have heard of: Kansas (29), Duke (23) and Michigan State (21).
I remember feeling so overwhelmed with pride that Saturday afternoon, despite the loss. Proud of each one of those student-athletes who had represented our beloved Gonzaga so well, and their coaches – Dan Monson, Mark Few and Bill Grier – the guys who had built that amazing team. With a huge lump in my throat, I drove to campus. It just seemed like that was the place to be. To my surprise, so did an estimated 1,500 other loving Gonzaga fans. We assembled in front of Crosby Center and the Bing statue, and streamed northbound down DeSmet alley to the east circle of the Administration Building (now College Hall). It was packed. News sets from all three Spokane TV stations, who had been camped out on our campus for the past week, were there to capture it all.
There was no program, no trumpets blaring or cheerleaders chanting. There was just "together." The mayor, a county commissioner, judges, civic leaders, alumni, supporters, students, faculty and staff. All of us, in one spot, to share our great joy in this team. We must have milled around for more than an hour before the crowd started to dissipate, talking about the previous game, the missed shot by Quentin Hall and the steamroller-like charge to the bucket and put-back by the mighty Casey, with 4 seconds left. And how time stopped for those 4 seconds, every Zag fan around the world holding their breath until the clock rolled to 0:00, in what seemed like slow motion.
We're into our third straight decade of NCAA tournament success now, with nine Sweet Sixteens, two other Elite Eights and one championship game added to our resume. But no one who was around since 1999 will forget that Cinderella season, and the Zag love we all shared. God bless our University.