Gonzaga to Greet UW Medical Students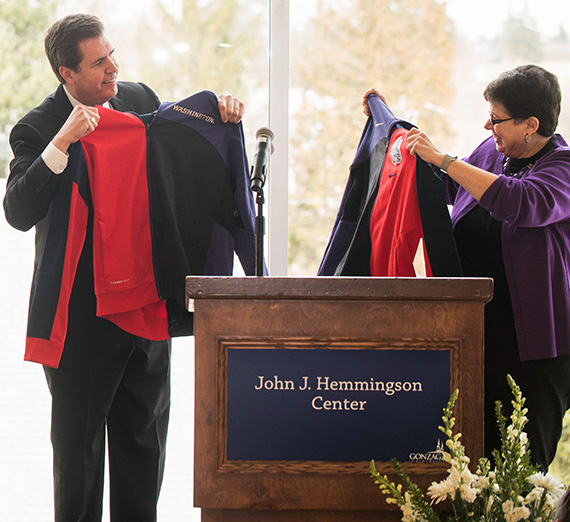 ---
SPOKANE, Wash. – As students begin the 2016-17 academic year, the University of Washington School of Medicine and Gonzaga University will welcome the largest-ever entering class of medical students in Spokane. In August, 60 first-year medical students will head to dedicated facilities on the GU campus – also a first – to begin their medical training.

With Gonzaga involved, 50 of the 60 first-year medical students listed Spokane as their first choice to begin their medical training — the highest percentage of students to do so in the history of the multistate medical education program operated by UW. The program, which goes by the acronym WWAMI (for Washington, Wyoming, Alaska, Montana and Idaho), has been in operation for more than 45 years.

The increase in the Spokane class size to 60 entering students is a result of new funding last year from the Washington state Legislature to the UWSOM which added 20 medical school students in Spokane. Additionally, 40 UWSOM second-year medical students – the first class to experience the school's nationally recognized new medical school curriculum – will continue their education on the GU campus. Along with these 100 students experiencing innovative classroom training, hundreds more UWSOM medical students complete third- and fourth-year clinical training in physicians' practices in Spokane and surrounding communities.

"This is a significant milestone in our commitment to educate the next generation of health professionals for Eastern Washington and the state," said Ana Mari Cauce, president of UW. "The growth in our Spokane class is a testament to our new partnership with Gonzaga, the excellence of our UW School of Medicine faculty and incredible support from the state and the Spokane medical community."

"I am so excited to be attending the UW School of Medicine this fall at my undergraduate alma mater, Gonzaga University!" said Sharon Udher, soon-to-be first-year medical student at the UW School of Medicine. "My mom is a doctor in Spokane, and I've watched her help patients from all walks of life, and through the toughest times in their lives. I think being a doctor will be a beautiful experience, and I feel well prepared for medical school because of the excellent education I received at Gonzaga. A bonus is I can do my training in a community I love – Spokane!"

In February the UWSOM and GU announced they had established a regional health partnership to continue, enhance and expand medical education and research in Spokane with a shared goal to foster community and economic vitality in Eastern Washington.

"We enthusiastically welcome the 60 incoming medical students and 40 second-year medical students to the Gonzaga campus this fall," said Thayne McCulloh, president of Gonzaga. "Our faculty are excited to participate in medical education with their UW School of Medicine colleagues. The partnership between the UW School of Medicine and Gonzaga University continues the long tradition of educating doctors in Eastern Washington, and represents an opportunity to make an impact for the entire Inland Northwest."

"We are very excited to welcome 60 medical students to Spokane this fall – especially as we move into our new home in the Schoenberg Center on the Gonzaga University campus," said William Sayres, MD, assistant dean, UWSOM, Spokane. "This year, there was overwhelming interest among UWSOM applicants to attend medical school in Spokane and the class is impressive. The incoming students come from diverse backgrounds and have demonstrated strong commitment to service. The word is out – Spokane is a terrific place to attend medical school!"

For 25 consecutive years, UWSOM has maintained the No. 1 ranking in the nation in family medicine and rural medicine training, and for 22 out of 23 years has earned the No. 1 ranking in primary care training in U.S. News & World Report's lists of the nation's top graduate and professional-school programs in the country. In addition to leadership in primary care, family medicine and rural medicine, UWSOM faculty also compete for more than $1 billion of research funding per year and their research is devoted to improving the communities they serve.

The UW School of Medicine has provided medical education in Spokane and Eastern Washington for 45 years through a five-state, community-based medical education program called WWAMI. Today, more than 500 faculty in 18 communities throughout Eastern Washington serve as educators and mentors for UW medical students. This year, the UW was selected by the American Medical Association as one of 20 medical schools to join a national consortium to create the medical school of the future.