Highlights from Gonzaga's 125th Commencement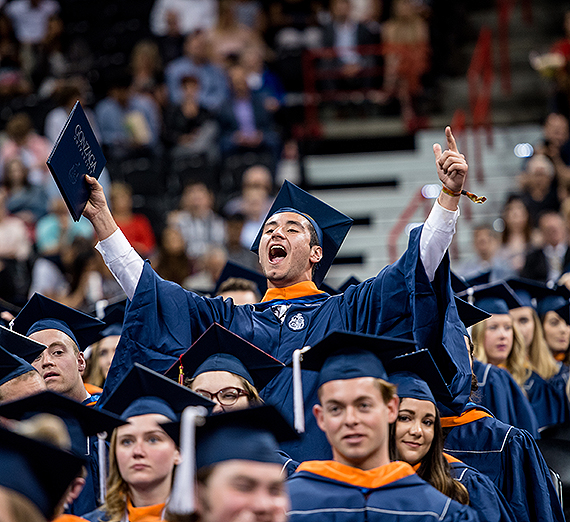 ---
SPOKANE, Wash. -- Gonzaga University conferred 2,083 undergraduate, graduate and law degrees (estimated) at its three 125th commencement exercises May 12-13, including: 1,151 bachelor's degrees, 770 master's degrees, 64 doctorates, and 98 law degrees. Following are highlights.
View additional coverage, photos and features at Commencement
Undergraduate Commencement, May 13
In his keynote address, Walla Walla, Washington, native Andrew Dwonch ('99) told the audience at the Spokane Arena that he struggled to find his peace during the first two years of college. Then, while studying at Gonzaga in Florence, a Christmas break spent bike riding through the Holy Land awakened him to new perspectives.

"I now saw engineering -- grounded in compassion -- as a form of prayer," said Dwonch, who returned to finish a degree in civil engineering that he has put to use in Albania, Serbia, Iraq and Lebanon, building schools, roads, bridges, health clinics and water systems. But what Dwonch had seen in the Holy Land never left his mind and in 2006, he turned his attention to humanitarian and recovery assistance for victims of conflict in the Middle East.

Dwonch -- who received an honorary Doctor of Laws degree from Gonzaga at the ceremony -- told the graduates that when he was in their spot 19 years ago, he didn't realize how empowered he was to make a difference.

"We get to consciously decide how to interact with the world. Whatever your profession, recognize that you already possess transgenerational power. Build a more peaceful and just world for all of us and for generations to come," he said.
Law School Commencement, May 12
Sen. Catherine Cortez Masto (D-Nevada) delivered an inspiring address, highlighting her journey of "firsts" and sharing nostalgic memories of her days at Gonzaga Law School.

Cortez Masto ('90, J.D.) -- who received an honorary Doctor of Laws degree -- is not only the first Latina elected to the U.S. Senate and the first woman elected to that body from Nevada but is also the first in her family to earn a law degree.

"It's one thing to make history being the first, but it also means that I now have a seat at the table to be a voice for those who are underrepresented (and) to ensure that the door I walked through to get here is open even wider for others to follow," said Cortez Masto in the ceremony at the McCarthey Athletic Center.

U.S. District Court Judge Rosanna Malouf Peterson received the Gonzaga Law Medal in recognition of her exceptional lifetime commitment and distinguished service of justice through the practice of law. This marked the final commencement presided over by Dean Jane Korn, who will continue to teach at the law school. She was acknowledged for her service by President Thayne McCulloh.
Benjamin Awuku Asare, graduating with a Juris Doctor, delivered the student address.
Graduate Commencement, May 12
Fr. Leo J. O'Donovan, S.J., said that while the proliferation of nuclear power is a definite threat to our world, the growing number of refugees and displaced people poses no less of a peril.

"By the end of 2016, 65.6 million people were forced to be displaced worldwide, and that number continues to increase," Fr. Donovan told graduates in his keynote address for the ceremony at the McCarthey Athletic Center. "That number is nearly the same as the entire population of Great Britain."

As director of mission for Jesuit Refugee Service/USA, Fr. O'Donovan works to spread the organization's message worldwide, and assist with fundraising and strategic planning. The organization is the major refugee outreach arm of Jesuits in the United States and their institutional ministries, mobilizing their response to refugee situations worldwide.

The president emeritus of Georgetown University, who served as president from 1989-2001, Fr. O'Donovan received Gonzaga's highest honor, the DeSmet Medal, for his lifelong work serving others.