Moments of Clarity: Andy Dwonch ('99) to Grads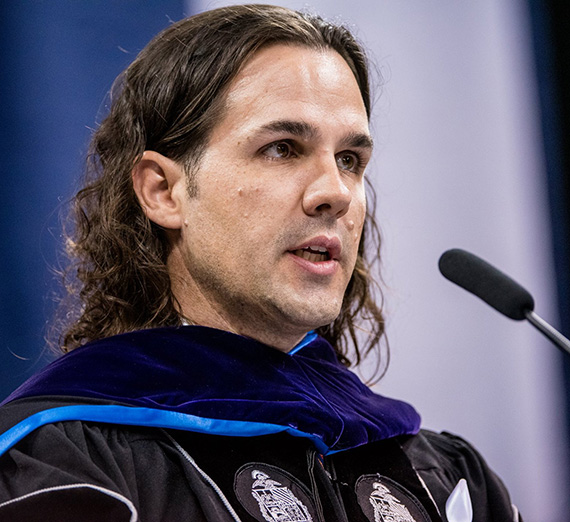 ---
The 2018 Undergraduate Commencement Keynote Message: Andrew Dwonch ('99), mission director in Palestine for Mercy Corps, a global non-governmental, humanitarian aid organization
A native of Walla Walla, Andrew Dwonch ('99) arrived at Gonzaga University thinking he might want to be a baseball player or an astronaut, or maybe an engineer like his dad. After his freshman year, he began to wonder about those plans. During his sophomore year, the social justice aspect of the Jesuit mission deepened his questioning and his direction. In his third year, the greatest impact on his formation took place while studying abroad in Florence under the tutelage of Father Bruno Segatta.
Father Bruno, Dwonch's spiritual mentor, encouraged him to consider the wisdom of a popular Rolling Stones song: "You can't always get what you want. But if you try, sometimes you might find, you get what you need."
Still, Dwonch says, "I couldn't find my peace."
Then, over Christmas break, he and classmates took a trip to the Holy Land, biked through slums, crossed the Nile, hiked to the top of Mount Sinai. And there, in Egypt, he says, "I was jolted awake."
It was a particular experience while pedaling through a remote – and very poor – village that broke Dwonch out of his confused and questioning state.
"Little boys ran to cheer us as we passed, overjoyed by the sight of a bunch of foreigners on bikes. I was confused. How could they be so happy? And why was I so unsatisfied? It was an 'aha!' moment."
Dwonch says he returned to Florence a changed person, looking up and around, following Fr. Bruno's advice to learn to savor moments.
That experienced shifted Dwonch's perspective on his engineering studies to one that focused on people in poverty. "I wanted to help level the playing field for those born into different circumstances," he said. "I now saw engineering – grounded in compassion – as a form of prayer."

He returned to finish a degree in civil engineering that he has put to use in Albania, Serbia, Iraq and Lebanon, building schools, roads, bridges, health clinics and water systems.

But what he had seen in the Holy Land never left his mind and in 2006, he turned his attention to humanitarian and recovery assistance for victims of conflict in the Middle East. Referencing Palestine and Israel's unrest, Dwonch noted, "The conquest now unresolved for 70 years has left children on both sides suffering the consequences. There are tens of thousands of people with no prospects for meaningful work."

His work to support the technology industry in Gaza is an effort to create a brighter future, but he knows that only addresses the symptoms. "Without political will, nothing on the ground will change and people will continue to suffer."

To the graduates in their caps and gowns, Dwonch said that when he was in that spot 19 years ago, he didn't realize how empowered he was to make a difference. "We get to consciously decide how to interact with the world. We have the power to choose our own life paths," he said.

"Whatever your profession, recognize that you already possess transgenerational power. Build a more peaceful and just world for all of us and for generations to come."

— Kate Vanskike-Bunch
2018 Undergraduate Commencement Notables
The 125th Commencement of Gonzaga University conferred degrees on 1,070 graduates.

Academic Awards
• The Garrigan Award – the highest scholastic record through all four years. Katherine Phillips (right) earned a B.S. in computer science, summa cum laude, while also serving as a tutor.
• The Senior Class Award – the highest scholastic record for this year. Ashley Just (left), who earned a B.S. with honors, combined her loves of dance and philosophy while working with middle school students.
Remarks from President Thayne McCulloh
"Through your intellectual gifts, habits of heart and mind, all the experiences you've had, you are prepared to go out and make this world a better place. Use your imagination and your influence to repair brokenness in your communities, your relationships, the world. Use your voices to speak on behalf of those who cannot speak for themselves. Be a beacon for those who have lost their way. Inspire others to dream as well. And stay connected to us and to each other. You never know where along the journey you may need to be that person essential to helping someone through a dark and difficult moment."