Jisike: A Nigerian Message of Strength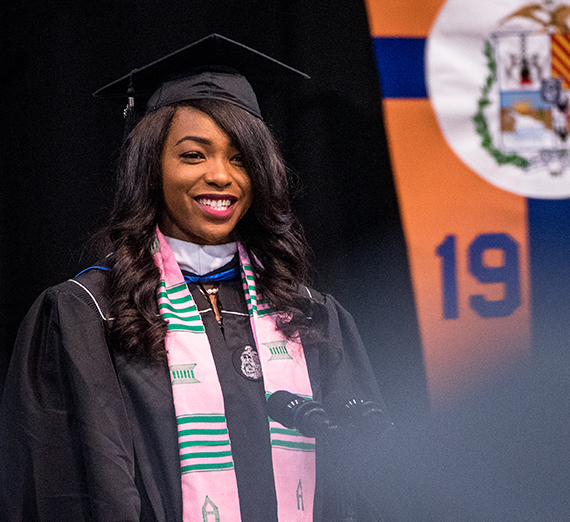 ---
By Nneka Enemkpali, master's in organizational leadership
On December 26, 1976, my father, then a young man, said goodbye to the country he called home for 21 years. He left behind the familiarity of his community and the comfort of his loved ones. Before he boarded the plane that would take him from Enugu, Nigeria to Chicago, Illinois, my father met the gaze of his father. With an outstretched hand, my grandfather – Japhet Enemkpali – shook his son's hand which, unbeknownst to either of them, would be the last time. He left his son with this parting word…JISIKE.
JISIKE stems from the Igbo people, an African tribe located in Nigeria. When used, at its essence, this word offers strength to its recipient. It acknowledges the inevitable presence of hardship and sparks the necessary strength needed to persevere through any foreseeable obstacles.
Just like my father, each of us has a story that unveils why we occupy these very seats. My story is a continuance of what my parents, began when they immigrated to the United States several decades ago.
Through their sacrifice, my parents afforded me this very opportunity, including the opportunity to be addressing the distinguished graduating class of 2018. Congratulations, we are now proud owners of the second most expensive piece of paper we will ever own.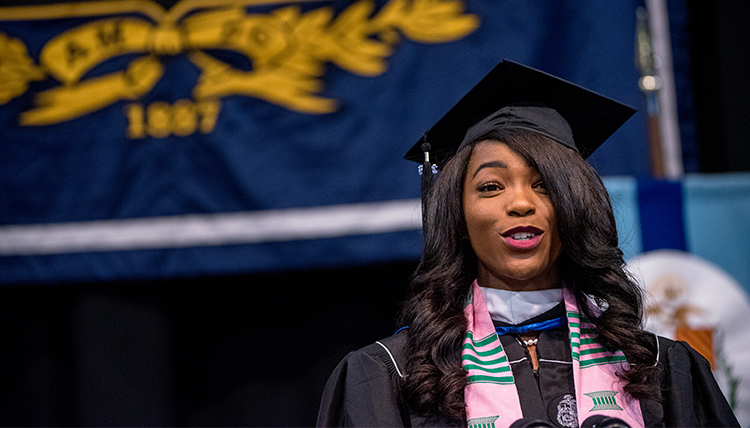 As I reflect on my experience here at Gonzaga, I recognize the uniqueness and necessity of stories like mine. Two years ago when I made the decision to move to Spokane, I did so knowing that I would be exploring the depths of what it means to be uncomfortable.
I'll never forget my first conversation with someone willing to candidly lay out what life would be like for a young African-American woman in this community. He told me – and I quote: "Ain't no black churches. Ain't no black people. And if you looking for black love, you ain't gonna find it here." I appreciated his blunt honesty and I quickly learned that he was right, there were not many people of color here in Spokane.
Initially, finding community was a struggle for me. I then realized Community, is defined as a "feeling of fellowship with others." For some, community can be found every night across campus at Scotties (RIP). For my Virtual Campus students, there's no greater space to commune than on our online discussion boards as we go in circles thanking our classmates for their "contributions to the conversation."
Through finding our community, we discover the power created when we walk in our purpose. You see, walking in purpose becomes inherently easy when we commit our trust onto something greater and as a Christian, for me, that was trusting God and putting him first. Our education here at Gonzaga has provided clarity and equipped us with the necessary tools needed to explore in depth how our passions align with our God-given purpose.
Though our experiences may differ, they are all interconnected to what makes this University's story. We've studied abroad; experienced the one-of-a-kind atmosphere of game day in the Kennel; we've managed our families and careers, while still completing our demanding course load.
During my course in servant leadership, there was an essay by Lane Baldwin that I enjoyed. He stated "Servant leadership is building that communal consensus" – the idea that we must all be willing to serve one another at some capacity. My community here at Gonzaga has equipped me with the tools to act out the servant led lifestyle – and one day I'll have the ability to impact the community my parents left behind in Nigeria.
In this very moment, exempt of social class, gender, and race, we have all been privileged with the opportunity to pursue and obtain an education. I urge each of you to go forth to your respective stations of purpose with the commitment to see the need and meet the need of others less privileged.
As we delight in the completion of this chapter in our lives, none of this could have been done without our inner circles that represent our why. Take a look around. We are immersed in a room full love and surrounded by individuals whose greatest desire was to support OUR dreams on OUR academic journey. Our families, professors, academic advisors, and our fellow zags that sit to the left and right of us-this is OUR community.
Be settled by the fact that you will always have a home here at Gonzaga. Learn to use your knowledge, talents, and passions to engage your communities. I believe in you. Gonzaga believes in you. JISIKE.