Sen. Cortez Masto Challenges Law Graduates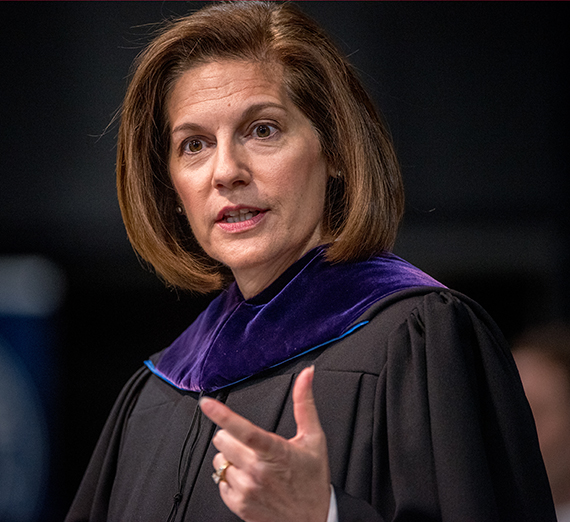 ---
The 2018 Gonzaga University School of Law Commencement was held on a brilliant Saturday morning at McCarthey Athletic Center.

Senator Catherine Cortez Masto (D-Nev) delivered an inspiring address, highlighting her journey of being a "first" and sharing nostalgic memories of her days at the university.

Cortez Masto ('90, J.D.) is the first Latina elected to the U.S. Senate and the first woman elected to that body from Nevada. She is also the first in her family to earn a law degree and was just the 50th woman elected in over 200 years of the Senate.

"You know, it's one thing to make history being the first, but it also means that I now have a seat at the table to be a voice for those who are underrepresented (and) to ensure that the door I walked through to get here is open even wider for others to follow," said Cortez Masto. "… A lot of people ask me, what does it mean to be a first? I tell them, each first is a 'broken barrier.' It's an open door. Never be afraid to be a first. Never be afraid to take that initial step."

Masto told the graduating class that while there were differences in her experience during an earlier era on campus, the mission and values of a Gonzaga Law education remain consistent.

"Remember your oaths. Remember your ability to bring someone else's voice forward – and remember that your own unique perspective as stewards of the law is so important," she said. "… Remember the education you received here, the commitment to service you're embarking upon, and our shared responsibility as stewards of centuries of tradition. Hold onto those values that were instilled in you here."
The Class Student Speaker was Benjamin Asare of Sacramento, Calif. Asare is a graduate of the United States Military Academy at West Point. He is currently a Captain in the U.S. Army and will become a Judge Advocate General.
Acknowledgements & Awards
President Thayne M. McCulloh bestowed a Doctor of Laws degree upon Cortez Masto for her embodiment of Gonzaga's values of service, justice, professional excellence and lifetime of work.
U.S. Federal District Court Judge Rosanna Malouf Peterson (pictured below) received the Gonzaga Law Medal for her contributions to the legal community on the local and state level. The medal is bestowed by the School of Law upon deserving individuals who have distinguished themselves in the service of justice. Peterson taught at Gonzaga and was director of the externship program. She was nominated to the federal bench in 2010 by President Barack Obama and was unanimously confirmed.
Two other students were honored during the ceremony: Dean's Academic Achievement Award winner Kristopher Morton of Spokane; and Dean's Pro Bono Award winner Lindsey Wheat of Inkom, Idaho.
Professor Ann Murphy was selected by the Class of 2018 as the faculty speaker.
The 2018 graduating class was the final under Dean Jane Korn, who will continue to teach at the law school.