UWSOM-GU Partnership Presents 'The Opioid Epidemic'
---
SPOKANE, Wash. - David Tauben, M.D., renowned pain expert and University of Washington School of Medicine clinical professor in the Department of Anesthesia and Pain Medicine, and Chief of Pain Medicine at the UW, will discuss 'The Opioid Epidemic' at 6:30 p.m., Thursday, April 19 at the Historic Davenport Hotel in downtown Spokane.

The free public event is the second in a series of free public lectures presented by the UW School of Medicine-Gonzaga University Regional Health Partnership.

Dr. Tauben will present on how, over the past 20 years, the use of prescription opioid medication to relieve chronic pain has grown nationally at an alarming rate. The opioid epidemic is hitting especially hard in smaller communities. Dr. Tauben will share his thoughts on the treatment of chronic pain and what patients need to know.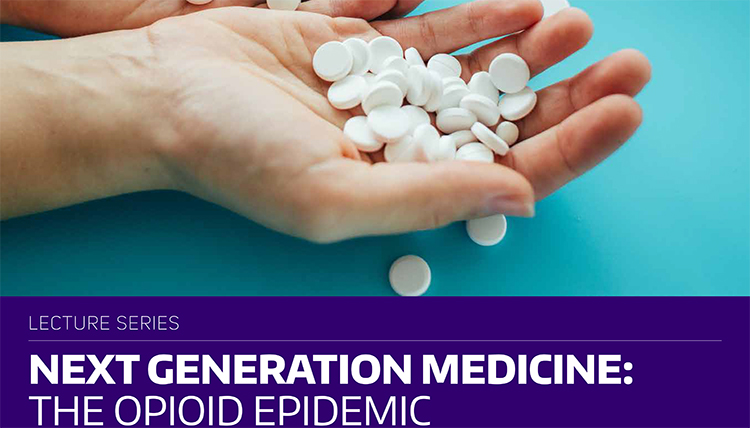 "Patients who receive opioids for chronic pain are at risk for developing adverse effects of long-term opioid use, such as an increased pain sensitivity, dependence and tolerance, and for some individuals even problems with addiction," says Dr. Tauben. "Chronic exposure to opioids can sometimes turn someone who has no background of addiction into someone who begins to crave the drugs. It's critical that we continue to find new ways to help people manage their pain without opioids, and for those who have already been on opioids long-term, to work with them and provide continuing effective and safe pain management."
"We are very fortunate to bring Dr. Tauben to Spokane to talk about this pervasive epidemic," said Darryl Potyk, M.D., the Partnership's chief of medical education. "This is a great opportunity to hear from and to interact with one of the country's top experts in pain medicine."

Opening remarks will be made by Dr. Potyk, UW School of Medicine associate dean for Eastern Washington, and Courtney Law, Ph.D., director of the Partnership.

Admission is free and open to the public. Registration requested at uwalum.com/nextgenmedicine.
About the University of Washington School of Medicine
The University of Washington School of Medicine (UWSOM), founded in 1946, is a public medical school for a five state (WWAMI) region: Washington (Seattle and Spokane), Wyoming, Alaska, Montana and Idaho. Its faculty conducts basic and clinical research, cares for patients and trains new physicians, biomedical scientists and allied health professionals. Its regional education program, WWAMI, is a national model for community-based training of physicians for rural areas and for other populations lacking adequate medical services. The medical school is ranked by U.S. News & World Report as the country's best in primary-care education. It is also the nation's #1 public university for receiving National Institutes of Health funding. And from all sources combined, the UWSOM receives more than $1 billion each year in research funding. Visit
uwmedicine.org/schoolofmedicine
for details.
Follow us on Twitter: @UWMedicine
Find us on Facebook: facebook.com/UWSOMWWAMI
About the UW School of Medicine-Gonzaga University Regional Health Partnership
In 2016 the University of Washington School of Medicine and Gonzaga University formed a regional health partnership to continue, enhance and expand medical education and research in Spokane. The agreement makes Gonzaga a partner in the University of Washington's regional, community-based medical education program, WWAMI (an acronym for the states it serves: Washington [Seattle & Spokane], Wyoming, Alaska, Montana and Idaho), and set in motion plans to advance health-related research, entrepreneurship and interdisciplinary health sciences teaching in Spokane.
Visit gonzaga.edu/RegionalHealthPartnership for details.


The UW School of Medicine-Gonzaga University Regional Health Partnership would like to thank our sponsors for helping to make this Next Generation Medicine lecture possible: