Next Generation Medicine Webinar Features Anne Browning, Ph.D., May 27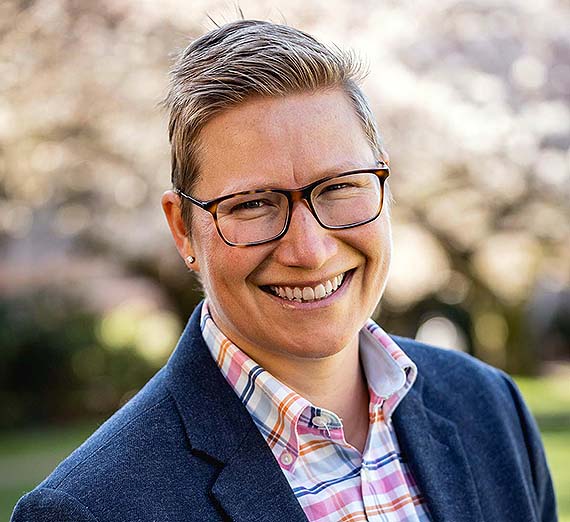 ---
'Well-Being and Resilience During COVID-19'
The Next Generation Medicine Lecture Series welcomes Anne Browning, Ph.D., assistant dean for Well-Being for the UW School of Medicine, founding director of the University of Washington Resilience Lab, and Affiliate Assistant Professor for the UW College of Education. She will be presenting, "Well-being and Resilience During COVID-19," on ways we can counter grieving the loss of normalcy and anxiety and develop coping skills for dealing with uncertainty. This free webinar will be held on Wednesday, May 27, at 6 p.m. PDT.

The effects of the COVID-19 pandemic on our way of life, economy, and the health and safety of ourselves and loved ones has negatively impacted many people's sense of security and well-being. According to a recent poll by the Kaiser Family Foundation, nearly half (45%) of adults in the United States report that their mental health has been impacted due to worry and stress over the virus. And as the pandemic continues these feelings of despair will likely increase as measures to slow the spread — physical distancing, business and school closures, and shelter-in-place mandates — can create increased feelings of isolation and may contribute to financial distress. Just as we aren't advised to sprint the first mile of a marathon, we need to learn how to pace ourselves so that we can breathe and go the distance.

"As the macro stressor of COVID-19 is all around us, the micro stressors in our everyday environment suddenly affect us even more; our fuses are shorter and our emotional reserves are taxed," says Browning. "Recognizing our own emotional reactions to what is happening around us — big and small — allows us to pause and choose our response."

Browning regularly gives talks to audiences in education, non-profit, and corporate settings integrating themes of resilience, neurobiological responses to stress and failure, emotional intelligence, and self-compassion that culminate in ways to foster compassion and resilience.

The Next Generation Lecture Series is presented by the UW School of Medicine-Gonzaga University Regional Health Partnership with the support of the following partners: Providence Health, MultiCare, Harborview Medical Center, UW Population Health Initiative, Spokane County Medical Society and Spokane Regional Health District. This lecture will be delivered as a webinar due to social distancing and the stay-at-home directive.

This webinar is free and open to everyone. Online registration is required at UWMedicine.org/nextgenmed. For more information, please contact Kim Blakeley at krb13@uw.edu.
The UW School of Medicine-Gonzaga University Regional Health Partnership
In 2016 the University of Washington School of Medicine and Gonzaga University formed a regional health partnership to continue, enhance and expand medical education and research in Spokane. The agreement makes Gonzaga a partner in the University of Washington's regional, community-based medical education program, WWAMI (an acronym for the states it serves: Washington [Seattle & Spokane], Wyoming, Alaska, Montana and Idaho), and set in motion plans to advance health-related research, entrepreneurship and interdisciplinary health sciences teaching in Spokane.

Visit www.gonzaga.edu/RegionalHealthPartnership for details.