Zag Grads Represent Wide Array of Gifts, Ideals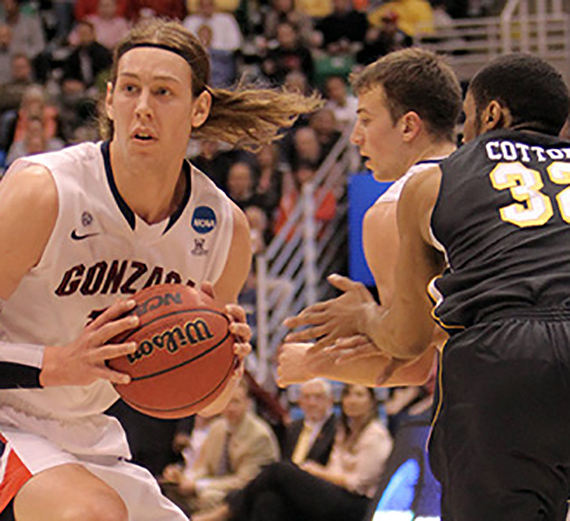 ---
(Above) Kelly Olynk, an All-American on the court and in the classroom, took part in Gonzaga's commencement Sunday, May 12. GU student-athletes excelled in school this academic year as 40 percent earned at least a 3.5 GPA; 50 student-athletes made the Dean's List (3.5-3.69 GPA) and 52 made the President's List (3.7-4.0).
Gonzaga News Service
SPOKANE, Wash. — Gonzaga University celebrated its 120th commencement exercises May 10-12. Following are briefs about the distinguished honorees, and some of the University's outstanding graduates. The ROTC Commissioning led the ceremonies Friday, May 10 in St. Aloysius Church. The Law School Commencement was held Saturday morning, May 11 in the McCarthey Athletic Center, featuring as keynote speaker famed defense attorney Judy Clarke, who has gained a national reputation for her superior advocacy for defendants in high-profile cases. Clarke and retired GU law Professor John Morey Maurice received honorary doctor of laws degrees. The Graduate Commencement began Saturday evening in the McCarthey Athletic Center; Rev. Peter Balleis, S.J., international director of the Jesuit Refugee Service, delivered the keynote address and received an honorary doctor of laws degree. Gonzaga President Thayne McCulloh delivered the keynote address at the Senior Commencement, Sunday morning, May 12, in the Spokane Veterans Memorial Arena. Felix Aripa, elder of the Coeur d'Alene Tribe, received an honorary doctor of laws degree at the Senior Commencement.
OUTSTANDING GRADUATES
Gabe Castellanos: A Profile in Courage
Blinded by a diabetic coma as a high school freshman, Gabe Castellanos came to Gonzaga from Brophy College Preparatory School in Tempe, Ariz., four years ago to study computer science. In the process he has developed his gifts of music as a guitar-playing singer and songwriter who inspires others. Castellanos was featured on an episode of the television series "The Real Winning Edge," which features high-performing youth in arts and sports who have faced and overcome significant challenges. One of thousands of nominees, Castellanos was chosen for his musical ability to serve as a role model. A student member of Gonzaga's Board of Regents, Castellanos received a Bachelor of Science in Computer Science during the Senior Commencement on Sunday, May 12 at the Spokane Arena. In addition, he completed the Comprehensive Leadership Program, and is a member of the Multi-Cultural Honor Society and Upsilon Pi Epsilon, the international honor society for computing and information sciences.
Student-Athletes to Collect Degrees
The 2012-13 academic year was marked by many firsts for Gonzaga, particularly in men's basketball as the Zags achieved the school's first No. 1 ranking, first 30-win season (32-3) and first No. 1 seed (in the West) into the NCAA Tournament in their 15th-straight trip to the Big Dance. The women caught fire as well, earning their fifth-straight NCAA Tournament appearance. The inimitable Mike Hart, who shared Gonzaga's Male Senior Athlete of the Year honors earlier this spring with Elias Harris, received a Master of Business Administration degree in the Graduate Ceremony on Saturday evening.
Eight Gonzaga hoopsters received bachelor degrees in Senior Commencement ceremonies Sunday (May 12) at the Spokane Arena.
Kelly Olynyk, a consensus first-team All-American in basketball and a Capital One Academic All-America first-team selection, received his Bachelor of Business Administration degree. The 7-foot forward completed his undergraduate accounting major in December (2012) with a 3.53 grade-point-average and has since been working toward an MBA degree. Gonzaga is the only NCAA Division I school with two men's basketball players who have earned both first-team All-America and first-team Academic All-America honors in the same year since 2001. Gonzaga's Dan Dickau was the previous Zag to earn the dual honors in 2002. The others who have accomplished the feat are: Shane Battier, Duke, 2001; Emeka Okefor, Connecticut, 2004; and DJ Augustine, Texas, 2008. Olynyk burst on the scene this season after redshirting the 2012 season and re-tooling his game. In April, Olynyk announced he would forego his final year of eligibility and enter the NBA Draft.
Center Sam Dower received a Bachelor of Arts degree, forwards Guy Landry Edi and Elias Harris each received a Bachelor of Education in Sports Management, and guard David Stockton received a Bachelor of Business Administration degree. Stockton and Dower will return to play for the Zags next season and will begin graduate school. For the Zags' women, guard Meghan Winters received a Bachelor of Arts degree, guard Taelor Karr, the WCC Player of the Year, received a Bachelor of Business Administration degree and guard Haiden Palmer received a Bachelor of Education in Sports Management degree. Palmer returns for another season in the fall as well. Golfer Victoria Fallgren, Gonzaga's Female Senior Athlete of the Year, received a Bachelor of Arts degree Sunday.
Diplomas in the Morning, Baseball in Afternoon
Six Gonzaga baseball players picked up their diplomas Sunday morning before playing in their last home game in the afternoon; the graduates were shortstop Steven Halcomb, pitcher Tyler Olson, catcher Travis Forbes and outfielders Clayton Eslick, Billy Moon and Alex Bonczyk. The Zags clinched the WCC regular-season title May 4 with a 6-1 win over Santa Clara. They are the No. 1 seed entering the WCC Championship Tournament in Stockton, Calif., May 23-25.
Gamboas Have Helped Gonzaga SMILE
While Gonzaga is well known for basketball and academics, students and alumni are equally familiar with its dedication to service. For the Gamboas, service at Gonzaga has been a family tradition.
On May 12, Nicholas Gamboa, from Boise, Idaho, received a Bachelor of Science degree in biology. His siblings — Christina and Joseph — were student mentors and group leaders for Gonzaga's Self-Esteem Mentors Increasing Life's Excitement, or SMILE, throughout their four years here. Nicholas has spent much of his time the past four years serving the Spokane community as a SMILE leader. SMILE is part of Gonzaga's Center for Community Action and Service-Learning. Students mentor youth from eight area elementary schools. Each week, mentors lead children in lessons through stories, games, and interactive discussions. The lessons help children develop a positive self-identity. Service is not the only area in which Nicholas aims to follow in his siblings' footsteps. Christina, a 2008 alumna, will graduate from the University of Washington School of Medicine in June. Their brother Joseph, a 2010 alumnus, is approaching his second year at the University of Utah School of Medicine. Nicholas also plans to pursue medical school. Fall of 2013 will mark the first time since 2004 that a Gamboa hasn't been involved in SMILE. However, the Christina, Joseph and Nicholas Gamboa all know Gonzaga's dedication to service will continue.
Act Six Scholar, National Leadership Award Recipient
Thuy-Anh Vo, a member of Gonzaga's first graduating class of Act Six scholars, is one of only 21 recipients of the College Women's Leadership Award — a national award for social activism and political engagement. The national award honors social activism and political engagement and recognizes emerging young leaders. Recipients of the award represent a diversity of political and social interests. Sugati Publications has chosen to honor these exceptional college women student leaders to highlight the commitment, aspirations and potential of women in politics and social change. This theme, changing the future of politics, is also the focus of an upcoming book, "51%: Women and the Future of Politics" to be released later this year. The book features exclusive statements from Rep. Nancy Pelosi, D-Calif., former Sen. Olympia Snowe, R-Maine, and many other women leaders. Vo and the other award recipients and honorable mentions also will be recognized in the book as "young women to watch in the future."
The Act Six Leadership and Scholarship Initiative at Gonzaga is a unique urban leadership program that cultivates young scholars to develop their passions as emerging leaders and to apply their diverse talents to serve their communities. In addition, Vo completes Gonzaga's Comprehensive Leadership Program, and is a member of Phi Sigma Tau, an international honor society open to all Gonzaga students who've completed a minimum of 12 philosophy credits and have met grade requirements. While a student on the Washington Semester program at American University in Washington, D.C. last year, Vo worked on federal legislation to enable Amerasian children to obtain American citizenship. She also did an internship with the Hebrew Immigrant Aid Society.
Betty Horak Graduates — 70 Years After Finishing High School
Betty Horak received her Bachelor of General Studies Degree on May 12, 70 years after graduating from high school. The 88-year-old is the oldest individual ever to earn a bachelor's degree from Gonzaga. When she was young, Horak says, women didn't have a lot of options. "When I grew up, if you did go to college you became a nurse or a schoolteacher," she explained. "Otherwise you became a beautician or an office worker. Or if you didn't get that far you scrubbed somebody else's floors." A lifelong Spokane resident, Horak worked as the office manager for the Long Lake Lumber Company. Upon retirement, she decided to do all the things she hadn't had time to do previously. She took ballet lessons at 70, voice lessons at 75, and in 1998 enrolled as a Zag.
Law School Commencement Launches New Career for Mike Waters
Mike Waters' graduation from Gonzaga Law School on May 11 launched a new career, but not his first. Waters came to law school after 10 years as a pilot and flight instructor, a fellowship at Harvard Kennedy School, and a career as a policy analyst for the Congressional Budget Office in Washington, D.C. A U.S. Naval Academy graduate, Waters handled issues ranging from NASA to Veterans' Benefits for the CBO. He was driven by a desire to transition to the private sector, to move to Washington state, and to "get more fully involved in the law and policy arenas." In law school, Waters also served as respected peer tutor within the Academic Resource Program. Now, Waters says, he "looks forward to getting back to work, and focusing on not money, but on clients in the private and public sector."
From Custodian to Law School Graduate
Anthony Martinez's relationship with Gonzaga began much differently than other 2013 law graduates. In 2006, he began working as a custodian at Gonzaga and took on a full load of academics to earn a bachelor's degree in 2010, his bridge to law school. "Considering law school has always been a dream, I jumped at the opportunity," Martinez said. In 2012, he was offered a job with a local attorney while attending law school was able to appear before the Washington State Supreme Court and take part in creating a legal precedent in the state. "I will be pursuing a career as a criminal defense attorney with the hopes of handling more appeals and ultimately helping those wrongly convicted and incarcerated," he said.
Hunt Whaley Fights Back from Near-Fatal Accident to Earn Law Degree
Hunt Whaley had always planned to attend law school. In 1996, he graduated from the University of Hawaii and took what he had thought would be a 2-year break to teach and work on a parasail boat in Saipan, Micronesia. While there, however, Whaley was involved in a near-fatal motorcycle accident. Seventeen years after receiving his undergraduate degree, Whaley received his law degree from Gonzaga on May 11. While his 27 surgeries have left him with some physical limitations, Whaley, his wife and their two young children will celebrate his graduation and his new job with the City of Spokane. "I have thoroughly enjoyed my three years in law school, am thrilled that they are now reaching an end," he said. "I am immensely looking forward to entering the legal profession in my home town."
DISTINGUISHED HONOREES
Honorary Degree Recipient, Senior Commencement
Felix Aripa
One of two remaining native speakers of Coeur d'Alene, Felix Aripa works to transmit the language and culture of his forebears so younger generations may employ these stores of knowledge and understanding to serve their people, the region, and crucial principles of humanity. He and his family have long married Coeur d'Alene tribal customs with Jesuit traditions. In fact, his ancestors not only anticipated the Jesuits' arrival, they invited the Jesuits to this area. Currently, Felix Aripa teaches and consults for the Coeur d'Alene tribe in multiple ways, including through the language revitalization program. He works as an adviser for a multitude of programs and projects that serve the interrelated constituents of his tribe, the region, and the environment. Felix Aripa has received many awards and much praise as a Coeur d'Alene elder and environmental and social justice advocate.
Honorary Degree Recipient & Speaker, Graduate Commencement
Rev. Peter Balleis, S.J.
Rev. Peter Balleis, S.J., has made it his mission to reach out to those who have been driven from their homes and forced to become refugees. In 1994, he became regional director of Jesuit Refugee Service in Southern Africa and coordinated responses to refugee crises in Rwanda and Angola. He went on to serve the Society of Jesus in 2000, raising and distributing funds to support Jesuit missions worldwide. Since 2007 he has served as the international director of Jesuit Refugee Service, coordinating responses to crises more than 50 countries, serving men and women of all religions in a spirit of charity and justice. In this capacity, he has fostered a hope-filled future by empowering displaced persons through educational opportunities, especially for young girls. "Education," he says, "is a key in combating the evil of hatred, violence, and war."
Honorary Degree Recipient & Speaker, Law School Commencement
Judy Clarke
A graduate of Furman University and the Law Center at the University of South Carolina, Judy Clarke has a most distinguished record as a defense attorney. She is equally renowned as a passionate foe of the death penalty, and is known for her willingness to defend individuals shunned by society. Her defense of those facing capital crimes aligns with the teachings of the Catholic Church on the sanctity of life and human dignity of all persons, embodying the Jesuit, Catholic and humanistic values upon which Gonzaga University is founded.
Honorary Degree Recipient, School of Law Commencement
Professor John Morey Maurice
Gonzaga School of Law Professor John Morey Maurice's academic accomplishments as a student have been recognized in prestigious scholarships; Fulbright, Wilson and White House Fellowships; and Phi Beta Kappa membership. His public service includes as a member of the Spokane Civil Service Commission; president of the Board of Federal Defenders of Eastern Washington and Idaho, as well as of The Inland Empire Association of Phi Beta Kappa. All of his ventures into the world of law ultimately served to prepare him for what his students would identify strongly as his true calling: law professor. Since 1975, he has spent nearly four decades teaching generations of Gonzaga law students. He has imprinted sound basic and advanced principles related to the intersection of law and business. Over time, he has shared his insights in many learned publications and has served as associate dean. Professor Maurice created both the Thomas More Scholarship Program and the Florence Summer Program, which takes Gonzaga law students overseas to learn about international law.