Homelessness & Leadership, Top Topics for Alumni Academy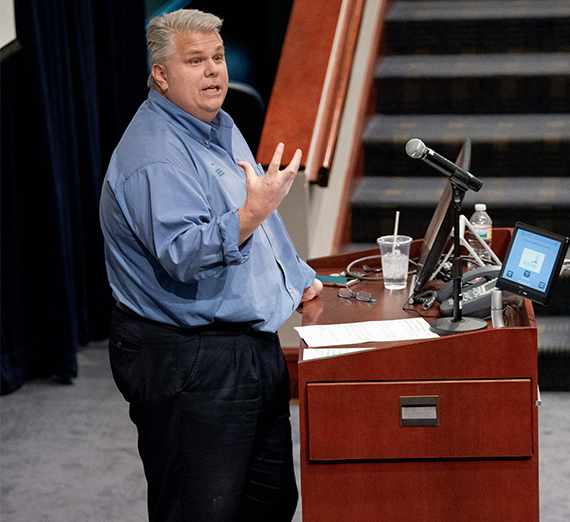 ---
Alumni Weekend 2018 featured a series of speeches titled Alumni Academy. Speakers highlighted what a Gonzaga education looks like today, and what it can do for students preparing to enter the workplace. The event was free to both alumni and current students. Here are recaps of two presentations from the weekend.
Rob McCann: A Shepherd Living with the Sheep
By Madeline Hueske ('19)
"While I give this speech, someone in Spokane is becoming homeless."
This powerful statement, made by Catholic Charities CEO Rob McCann, highlighted the importance of working to solve homelessness in the city.
McCann's presentation dealt with the issue of homelessness and how best to solve it here in Spokane. The key word is solve, not end, according to McCann. "We are never going to end homelessness, but we can solve it by making sure that every human being is sleeping, eating and bathing indoors." House of Charity, a 24/7 emergency shelter operated by Catholic Charities, provides these needs to 400-500 people experiencing homelessness every night.
There is substantial opposition to the work House of Charity is doing, because clients are accepted in any state, as long as they respect the facility and employees. According to McCann, 85 percent of the individuals seeking services are dual-diagnosed: they suffer from both a mental illness and substance abuse. "People tell me that I'm enabling these people by feeding and sheltering them, and I tell them they're absolutely right," says McCann. "But what I say is that everyone deserves dignity, regardless of what they're struggling with. It's a very Jesuit ideal."
McCann is no stranger to Jesuit education. He spent his entire academic career, from kindergarten through his Ph.D., at Jesuit schools. While an undergrad at Fairfield University, McCann traveled to Ecuador on a service trip. He credits this transformative experience for "ruining him" – he dedicated the rest of his academic and professional career to helping those in need.
Catholic Charities takes a unique model when it comes to solving homelessness. Its housing-first model, which has been proven to keep people more stable, provides each facility with psychiatrists, substance abuse counselors, social workers, and retired nuns, who go door-to-door passing out cookies and checking on residents.
"Neighbors of House of Charity complain that it bothers them to see all the homeless people loitering around outside the building. I understand that, but I tell them that it hurts those people a lot more to be homeless," says McCann. His experience shows that it costs only $11 to house someone overnight at House of Charity, as opposed to the thousands of dollars for a night in jail or in the hospital.
Gonzaga students comprise a large portion of the volunteers at House of Charity. It can be overwhelming, but McCann is constantly impressed with the compassion Zags show. "Something about the Jesuit education informs these students of how to behave in this environment," he says. He cites Pope Francis, who said that we should live close to the marginalized, going into communities and being like shepherds living with the sheep.
McCann believes talking – truly talking – about homelessness is the best way to solve it. Assuming the issue is too big is starting the process with a negative. "We have to listen to each other and listen to the people we are trying to serve to tackle the problem, but with a little upstream thinking, contemplation can turn to action," he says.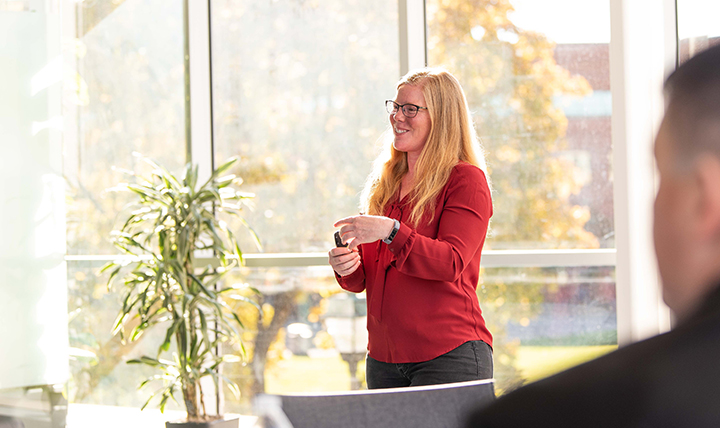 Carolyn Cunningham: Preparing Our Future for Lives of Leadership
By Ian Davis-Leonard ('20)
Gonzaga Associate Professor Carolyn Cunningham used a game, Kryptonite, to have those attending her Alumni Academy lecture analyze their own leadership shortcomings, whether that be a fear of rejection, vulnerability or failure.
Entitled "Preparing Our Future for Lives of Leadership," her talk brought together both graduates and students of the University's School of Leadership Studies.
"Leadership is not about people in power," Cunningham said. "It comes from diverse locations."
Emma Gonzalez, a survivor of the Marjory Stoneman Douglas School shooting in Parkland, Florida, and leader of the March for Our Lives, served as an example of the expanding roots of leadership. In the wake of the February 2018 shooting, the 18 year-old Gonzalez gained national notoriety for her activism at gun-control rallies in Florida and across the country, as well as for her appearance on the cover of Time magazine and with other large media outlets.
Attendees were implored by Cunningham that they, too, could be the next leaders.
"It is really important for us to realize that half the time [leadership] is just taking the risk," said Teresa Zetwick, a 2015 graduate of GU's Communication Leadership program. "It is important to realize that it could be us (called upon to take the reins)."
"We all suffer from many of the same fears, whether you are entry level or senior level," Zetwick said. "I've learned from the Communication Leadership program to take the chance and face your fear."
Cunningham teaches in the Communication and Leadership Studies department, a part of the School of Leadership Studies, which just recently morphed from the former School of Professional Studies.
Cunningham's presentation was one of four offered to visiting alumni during their reunion. The others were "An Introduction to Effective Negotiations" with Ken Anderson, dean of the School of Business Administration; a guided tour of the Rodin exhibit by Paul Manoguerra, curator and director of the Jundt Art Museum; and a tribute to the School of Education on its 90th anniversary, presented by Rob McCann, a two-time GU alumnus and CEO of Catholic Charities of the Spokane Catholic Diocese. All were designed to engage alumni in the Gonzaga education experience once again.