Federal Funding Advances Work at Gonzaga Family Haven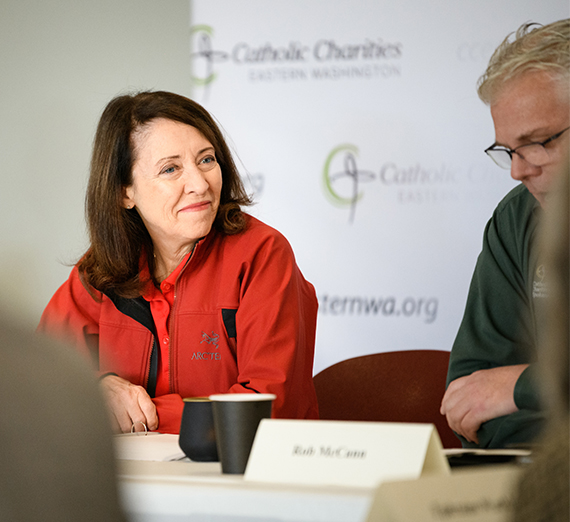 ---
SPOKANE — Washington Sen. Maria Cantwell visited Gonzaga Family Haven Monday to see how new federal funds will strengthen and leverage existing programs to help families who have moved from experiencing homelessness to residing in the new affordable housing community.

Gonzaga University's work at Gonzaga Family Haven has received $576,000 in direct federal funding from the U.S. Department of Health and Human Services to enhance specialized, wrap-around programming and services for the Haven's residents. Cantwell was vital in helping secure the funding, and her visit to the Haven included a tour of the property and a meeting with various organizations partnering to not only offer housing, but a wide array of services to help residents successfully navigate their way into the future.

Representatives from project lead Catholic Charities Eastern Washington (CCEW), Gonzaga Preparatory School, Spokane city government, Head Start and others joined Cantwell and GU's John Sklut, Molly Ayers and Bailley Wootton to discuss how Gonzaga Family Haven can become a model for similar projects across the country.

Jerrica Ford is just the sort of success story all involved would like to replicate many times over. She arrived as a resident with her husband and children, and having a solid housing situation allowed her to start working full-time at the Haven, first as the assistant property manager, and now as property manager. The child care offerings allowed her husband to pursue higher education while she worked, and the partnership with Gonzaga Prep allows the couple to dream of their children attending a school that would have been utterly out of reach for them not long ago, she said.

Working at the Haven, Ford gets to see other families following the same path.
"The families here are really grateful," Ford told the group Monday. "They're taking advantage of all we offer."
Beyond child care, residents have access to case management, parenting support resources, after school and summer youth enrichment programs, and much more. These programs are offered by CCEW and other partners, including Gonzaga University, Gonzaga Prep, Head Start and more.

"You're integrating the families here into the community in a much more aggressive way than other places like this," Cantwell noted after hearing how the various partners in the Haven work together with residents. "I really don't know any other example like this, it's a very holistic approach."

The Haven, home to 73 families, is a supportive housing community located in the Logan neighborhood of Spokane. A collaboration among Catholic Charities Eastern Washington (CCEW), Gonzaga University, Gonzaga Preparatory School and St. Aloysius Parish and other community partners, the Haven is home to 166 children whose families are seeking to stabilize their lives.

At Monday's meeting, Gonzaga Family Haven Community Director Peg Haun-McEwen noted that the youngest resident is just five days old.

"That young mother would not have been able to bring that baby home if she didn't live here," Haun-McEwen said. "She was homeless."

Offering programming for the betterment of everyone from the smallest baby to teens and parents is key to making the Haven a different kind of housing project. Rob McCann, CEO of CCEW, has helped build housing for those in need across the region for years, but noted Monday "we've never built one like this," adding that he hopes including child care and more community partner resources in every project going forward can become a reality.

That, naturally, is why funding is key, and why Cantwell was on hand Monday to discuss the housing crisis and the country's need to "wake up and catch up" when it comes to building low-income housing. The federal government is "looking for a model," she said, "a pathway for people" to make progress in their lives, to enter the workforce, to have a foundation to take care of themselves and their families. The Haven could be just that model, and that's why she's proud of the investment of the $576,000 to serve the Haven's residents.
"We are extremely grateful for this support, which will strengthen and broaden Gonzaga University's efforts to make a meaningful impact with the families at Gonzaga Family Haven," said Thayne McCulloh, president of Gonzaga.
"The funds augment significant investments already made by the founding partners and open doors for meaningful and lasting change. We are extremely grateful to Sen. Maria Cantwell and everyone who has made these resources available for Gonzaga Family Haven families."   

"For families working to break the cycle of poverty and homelessness, supportive housing developments like Gonzaga Family Haven are a lifeline to long-term stability," Cantwell said. "These funds deliver services that improve residents' daily lives and open up life-changing opportunities. I'm proud to have helped secure this federal investment for Spokane families." 

Ayers, assistant dean for GU's Center for Community Engagement, and Sklut, senior advisor to President McCulloh for external and government relations, submitted the request to Cantwell.    

"We are so grateful for this vital support," said Ayers.  "Our community stands ready to do everything we can to help these families on their road to stability and independence."  

The Haven has a robust set of amenities and services already in place, including on-site family needs assessment and care coordination, after-school tutoring and academic support programs, reflection and community spaces, a community garden and kitchen, and more.  

"Family stability is core to our mission," said McCann of CCEW. "At Gonzaga Family Haven we are thrilled to have amazing partners walk with us to help families thrive."

The additional funding will enhance client-driven services and support CCEW's goals of providing families:   

• Long-term stabilization through housing, case management, mental health services, legal aid, and financial counseling 

• After-school and summer educational enrichment activities for youth focused on long-term academic success and educational attainment 

• Programs that contribute to the whole-family health, and seek to reduce health disparities through access to healthcare, healthy meals, support for parents, and wellness programs 

• Women's leadership programs that advance education and employment pathways through essential skills workforce development

• Community events and programming aimed at strengthening social connection and sense of belonging, key social determinants of health 

"Gonzaga Family Haven is changing the lives of families who have experienced the trauma of homelessness and family separation," said Sklut. "Through this innovative partnership we are providing families with a safe place to live and access to services that help them make lasting improvements to their wellness and stability. Our goal is to break the cycle of intergenerational poverty for these neighbors."  

Breann Beggs, president of the Spokane City Council, emphasized the importance of the Haven's focus on programming that will be greatly aided by the federal funding Cantwell championed Monday.

"The first solution for people who don't have housing is housing," Beggs said. "The secret sauce for this project is not just housing, it's services — services curated to individuals."

The partners expect to share what is learned with other programs and to identify best practices that can be disseminated broadly throughout Spokane and the nation. 
Explore more about Gonzaga Family Haven