Civic Connections Provide Rich Community Partnerships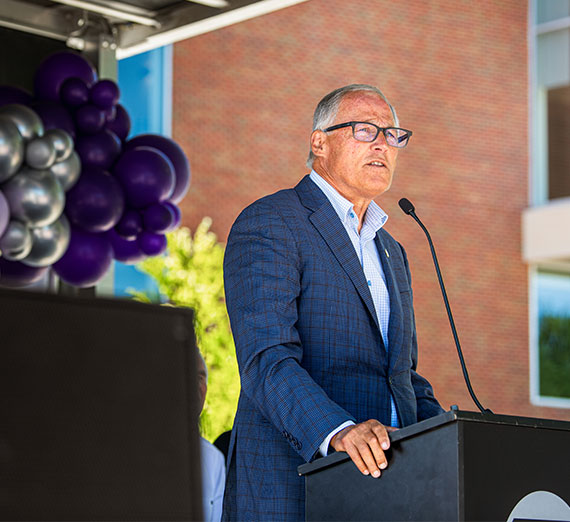 ---
Woven into the fabric of life in the Spokane community, Gonzaga University contributes expertise and vital support to a variety of civic endeavors through signature projects and innovative partnerships. Here are some of many interdisciplinary initiatives.
Together with Catholic Charities Eastern Washington, Gonzaga Prep and St. Aloysius Parish, the Haven provides housing and essential support services for more than 70 formerly homeless families. With a safe place to live, and access to services that help them make lasting improvements to their wellness and stability, the Haven aims to build community and break the cycle of intergenerational poverty for residents. It also allows students to practice what they're learning in classrooms, such as nursing students offering vaccines and sports physicals.
GU's Institute for Climate, Water and the Environment is a leading voice on the impact of climate change regionally. Members led studies of the 2021 heat dome that claimed 19 lives in Spokane County (119 across the state), and with funding from the National Oceanic and Atmospheric Administration has mapped urban heat islands in Spokane. The center works with the Spokane Regional Health District to develop "Beat the Heat" information to help keep residents safe during extreme heat, and with The Lands Council to engage students in planting trees in neighborhoods with few natural sources of shade.
Since 2016, GU and the University of Washington School of Medicine have advanced health care education for better access throughout the region. GU's School of Leadership Studies has provided training to health professionals through the Partnership, and the School of Health Sciences works with UW faculty, staff and students on research and innovation projects focused on rural and community-based needs.
Gonzaga's place-based initiative is strategically focused on improving outcomes for youth and families in Northeast Spokane. Built on more than 30 years of experience, the initiative involves students, faculty and staff in experiential learning opportunities while engaging in shared community development. With a focus on improving whole health, expanding access to educational opportunities for youth and adults, and building an engaged campus and community, the initiative works in partnership with Northeast neighbors and a number of local organizations. From developing business plans and workforce development to youth programming, Gonzaga's faculty in Business Administration, Engineering, Health Sciences, Leadership Studies, Education, and Arts & Sciences contribute to the building of community capacity while providing students with transformative learning opportunities.
The new STA City Line, which features all-electric, state-of-the-art, zero-emission vehicle technology and high-frequency service seven days a week, runs through GU's campus, connecting Spokane's urban core with historic Browne's Addition to the west and Spokane Community College to the east. Recent renovations to the Don Kardong Bridge across the Spokane River ensure safe and growing pedestrian access to the Centennial Trail. With funding from the National Endowment for the Humanities, faculty members Greg Gordon and Katey Roden continue working on the new Children of the Sun Trail along the growing north-south freeway. Rhonda Young from the School of Engineering and Applied Science engages students on Spokane's expanding Bicycle Master Plan.
This story originally appeared in Gonzaga Magazine as part of a feature on community engagement titled "We Belong to Each Other." Check out more stories from this piece.
---