Bloomin' Blumen: A Campus Kids Success Story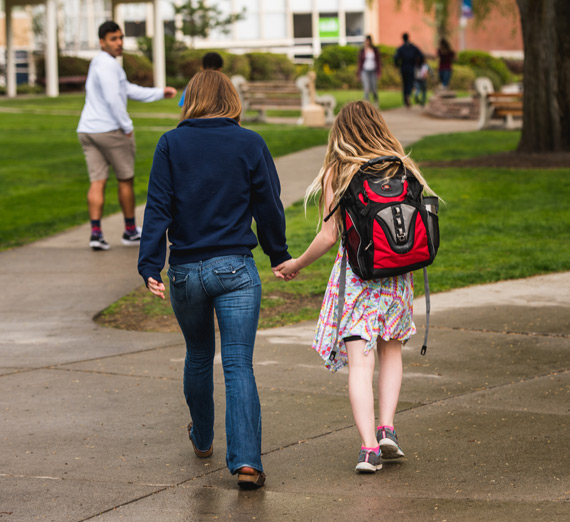 ---
Lynn Blumen was a very shy fourth-grader at Stevens Elementary School when she was chosen to take part in Campus Kids through Gonzaga University.
She describes herself as beyond socially awkward at that point in her life, and anytime she tried to participate in an activity or answer a question in class, she bungled her attempt and her anxiety soared. She took up violin and loved playing music, but didn't want anyone to hear her play "and mess up."
Then one day during a Campus Kids visit to Gonzaga, her GU student mentor Kate took her and her violin to a vacant auditorium.
"Kate encouraged me to practice and play, and so I did," Lynn said. "She helped me realize that it doesn't matter if people hear me mess up, they will appreciate that I am playing. That was one of the major lessons I learned from Campus Kids, which helped me become a more functional person.
She spent three years in the Campus Kids program and bloomed.
Blumen's family moved to Texas, where Lynn flourished in middle and high school, participating in cheerleading, Future Farmers of America raising show pigs and serving as state delegate, volleyball, track and field, and band.
Her passion for music and playing in the marching band led to lasting friendships.
After graduating from high school in a class numbering more than 1,000, she enrolled at Texas A&M-Corpus Christi, earning a degree in biology. She graduated cum laude in the Honors Program.
Propelled by her newfound confidence, Lynn pursued a master's degree at Old Dominion University in Norfolk, Virginia, in Ocean and Earth Sciences.
Now she is blooming as a wife, mother and research scientist.
"Everything here is going great," Lynn says. "I work with a group of people willing to help each other, working as a team. There's not just one task. We all do it all. A good mesh of individual responsibility and teamwork, which I really enjoy," Lynn says.
In a letter to Gonzaga Campus Kids a few years back, Lynn thanked the organizers and her mentors for helping her to become the person she is today.
Thanks, Lynn, for letting us tell your story.
Join the Gonzaga Campus Kids program and shape a child's future through mentorship, academics, and fun activities. Make a lasting impact today!
This story originally appeared in Gonzaga Magazine as part of a feature on community engagement titled "We Belong to Each Other." Check out more stories from this piece.
---