Table Talk: Feeding Giants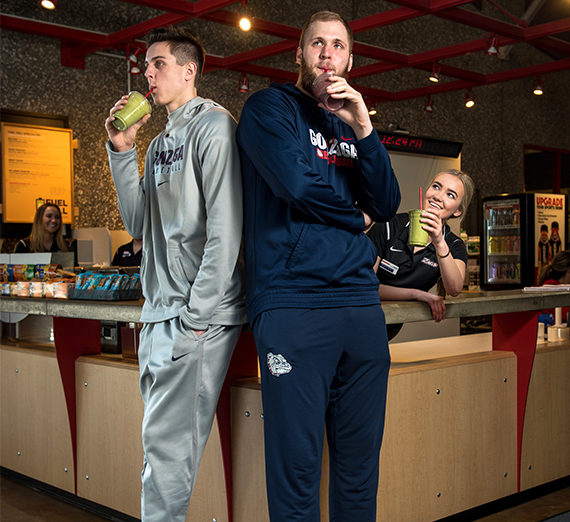 ---
Coming off extensive rehabilitation for his back injury, men's basketball senior Przemek Karnowski and incoming freshman sensation Zach Collins, both 7-footers, had significantly different nutritional needs.
Karnowski sought to regain fitness following his extensive time off. Collins came in needing to add muscle weight to prepare for the goliaths he had never faced in high school.
So athletic trainers, strength and conditioning coaches, team physicians and nutrition service providers came together to build nutrition programs for both. The results: Karnowski's revitalized fitness helped make him one of the pre-eminent West Coast Conference centers and Collins added significant strength to make a strong case for WCC freshman of the year.
A few years back, the NCAA deregulated rules on food and nutrition. Gonzaga's assistant athletic director for student athlete health and wellness, Bill Drake, says, "Over the past several years, universities have gotten much better at ensuring proper nutrition for their athletes."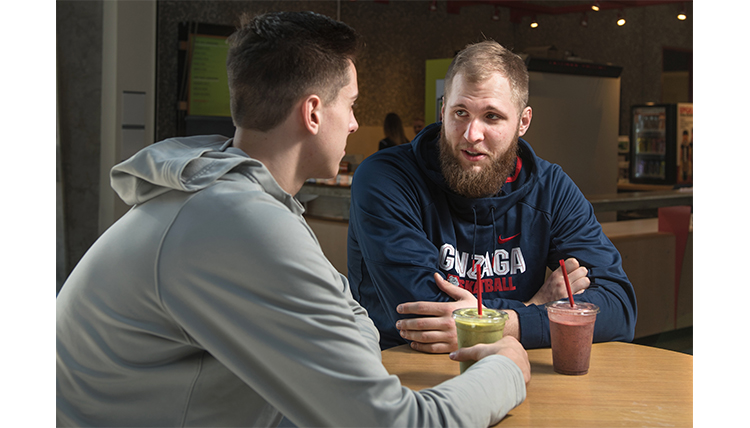 Endurance athletes were some of the first to figure out the value of proper nutrition to fuel their bodies. The NFL and NBA further enlightened us as to what is possible at the college level. It's not that difficult. "If we eat the right things we feel better, perform better, our body systems function in the right way," Drake says.
Nutrition education of our student athletes is another important step, he adds. "So we plan to introduce them to smartphone nutrition apps, offer them in-service education, help them define nutrition goals, and in some cases, take them to grocery stores with a registered dietitian who teaches them how to shop and prepare food in easy and efficient ways.
"We want a 'food first' philosophy, and then add in safe and effective supplementation to make sure student athletes receive the nutrition they need to support their bodies under extreme exertion, like vitamin D or calcium, to prevent injury and support proper health," Drake says.
The Fuel Cell is a smoothie bar in Rudolf Fitness Center, where anyone, including student athletes, can stop by and get a nutrition-packed smoothie before practice or between classes. Some athletes have prescribed smoothies prepared and waiting for them.
"Student athletes take their food and sleep very seriously. We want to arm them with knowledge to make healthy choices, providing good treats along with natural sugars found in fruits and vegetables," Drake says.
Learn about the new Volkar Center for Athletic Achievement, which has a nutrition center.
---