The Music Issue - Symphonic Students
---
Stories by Megan Carroll, Sidnee Grubb and Kourtney Schott (all class of '18)
Photos by Zack Berlat ('11)
Artivist on the Rise:
Monica Elenes ('18)

"I realized I could sing when I was 9 years old. That was the first time my brother and I had written a song," says Monica Elenes ('18). "I kept pursuing music and figuring out what it meant to be a singer."
Elenes is a transfer to Gonzaga from South Seattle College, where she mentored the Emerald City's rising young hip-hop artists. "Regardless of what people think hip-hop is now, it's based in this culture of understanding that every day is a constant fight and music will help get you through it," she says.
She calls herself an "artivist" – an activist and artist. After graduation, she hopes to employ her political science knowledge as a policy advocate for underrepresented students and arts education in public schools.
Watch her in action here.
Making Some Noise:
Luke Westermeyer ('17) and Austin Hagel ('20)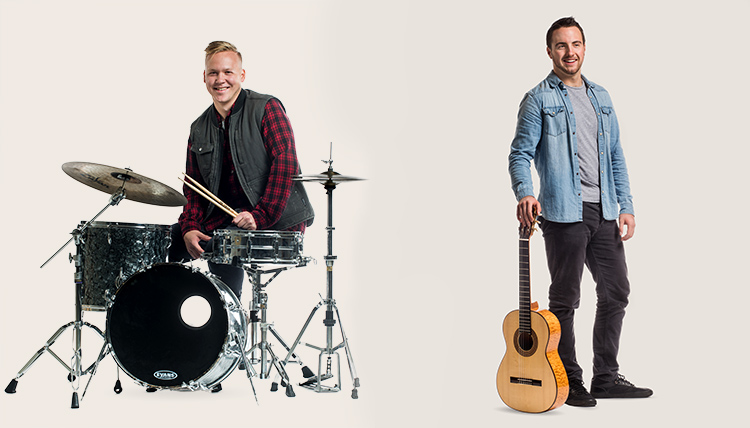 Austin Hagel's ('17) love of music began with a middle school idolization of '80s rock and metal icons: Scorpions, Judas Priest, Megadeth. "I knew that electric guitar was going to be a huge part of my life," he says. Already equipped with a bachelor's in economics, Hagel is working toward a degree in guitar performance. Although he hasn't yet started his own Iron Maiden revival band, he has enjoyed some major accomplishments: a gold medal in guitar solo in the 2016 Musicfest Northwest competition and playing to a full house at the Bing Crosby Theater.

Luke Westermeyer ('20) – according to music department faculty member David Fague – is "already as good as most professionals in town." He isn't a music major, but performs in the Bulldog Band and jazz ensembles and is perhaps most noted for the "Dorm Room Desk" show he records with fellow Desmet Hall resident '20 Peter Gray. Together, they gig at Spokane jazz events, play house parties and record original compositions in their dorm room, in the fashion of NPR's "Tiny Desk."

"It's going to be really interesting to see what these two do," says Fague.
Music That's 'Going Places'
Joe Panchesson ('18) and Megan Shultz ('18)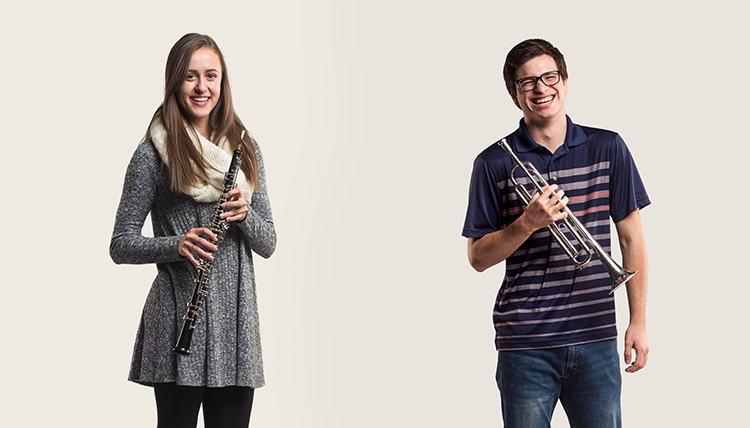 Joe Panchesson ('18) and Megan Shultz ('18) make music. They sing, they play, they dance. Notably, they conduct.
"The oboe is the hardest instrument in the wind ensemble. I tried to make a reed with Shultz once and it was a disaster. She's amazing for being able to play it," Panchesson says.

Their friendship is as steady as a metronome. Shultz depended on Joe's mentorship during her first year as Bulldog Band conductor. Panchesson depends on Shultz to keep time when his busy schedule has him off beat. The two not only share a rehearsal room, they share an appreciation for the rich collaborative nature they find in GU's Music Department, from the chamber groups to the wind ensemble and the jazz combos. No music student exists in a bubble or a clique. Shultz says she's surprised by the lack of exclusivity among musical organizations. "There's so much crossover. Most students in the wind ensemble eventually join jazz, or choir, or Bulldog Band. We're just united and together, all the time."
Panchesson finds value in another element of the program that's been key to his experience: the prestige. "It comes from the sheer talent of the faculty and the standards they impose, despite our department's small size."

Panchesson chose Gonzaga over larger programs because of the unique opportunities offered in the conducting minor and the chance to be interdisciplinary, without sacrificing advanced musical development. He claims these have met the expectations of a conservatory experience. Plus, he gets to study both environmental science and trumpet.

Shultz has been sure since her first day of fifth-grade band; Music education would be her career. At Gonzaga, she has more opportunity and greater individual time with her mentors, especially Robert Spittal, director of bands. She and her peers also learn together in their chamber groups as they become leaders in their own right, experiencing the harmony of independence and collaboration musicians encounter in their careers.

"Gonzaga's Music Department is going places," says Panchesson. "One day when our music program is top five in the country I'll be able to say, 'I went there.'"