The Music Issue - Pep Band Thunder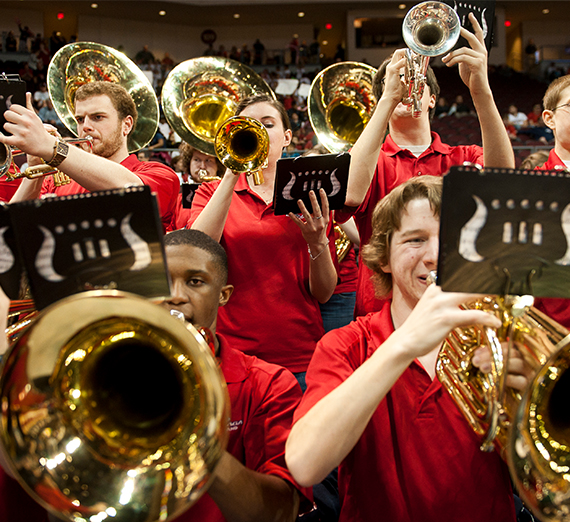 ---
Feel the Thunder
By Sidnee Grubb ('18)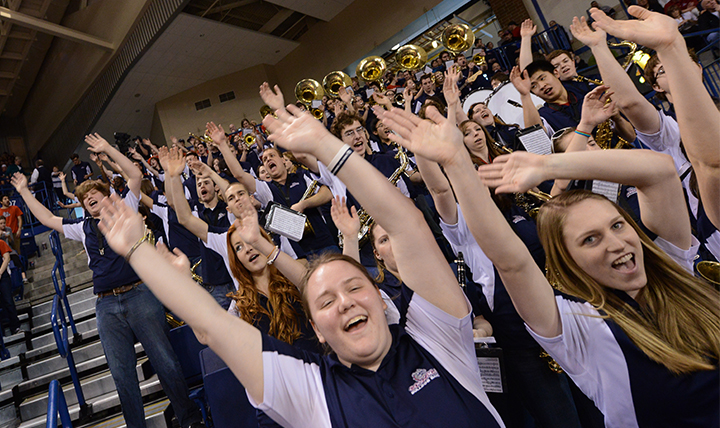 Envision the Kennel. The band is boundless energy, stationed off the triangled corner of the court's baseline. As the game clock ticks down to :00, the last Zag shot tickles the twine and swishes through the net as the Bulldog Band erupts with the opening strains of the Bulldog Fight Song. Hearts melt with pride at the the closing words: "With Jesuit pride, Defend the true blue and white, Fight on to Victory!"
This is how Pep Band student directors Megan Schultz ('18) and Joe Panchesson ('18) "feel" basketball season. From their perspective, every basketball fan can discover new energy through Pep Band offerings as the Kennel gets crazy on game nights. One needs only to ask a season ticket holder how much quieter the Kennel is over winter break when the students are not at the games.
"When conducting Bulldog Band, the stakes are high. The pressure is on. The clock is ticking," says Panchesson. The pep band fills those moments when coaches call the team off the court to regroup, but the band better not be playing when the buzzer sounds to restart the action. There are seconds to begin and end each song with precision.
Although the Bulldog Band has been keeping time since 1994, it wasn't until the sweeping success of the 1999 season that the value of the band was noted for its ability to keep the crowd hyped through every tense moment and big celebration. According to Bulldog Band Director David Fague ('00), since then, "The Athletic Department has made sure we have everything we need, every single year."
In return, Bulldog Band brings the volume, thunderous at times, complemented by Kennel Club chants and cheers of the pep squad.
The Bulldog Band's heart is true. The adrenaline musicians put into every men's and women's basketball game resonates much the same as the magic felt by the players – a feeling of euphoria and triumph.
Follow the Bulldog Band on Facebook.
Medley Man: David Fague ('00)
From his days as a student musician at Gonzaga to playing in jazz groups and leading student performance groups, David Fague ('00) is a gift that has no finale.
He "gigs" in the Spokane community practically every weekend, 90 performances a year with a variety of ensembles, from top-40 covers to country and jazz.
Most conductors don't wear hats, but as a full-time senior lecturer of music, director of four jazz combos, two 18-piece big bands and the beloved Bulldog Band, Fague is stacked with them. For 13 years, he's been teaching in the classroom, rehearsing bands and having a good time leading the Bulldog Band. When Gonzaga hired Fague in 2004, his first priority was to poll those game-day experts, the Kennel Club. "I want to play what you want to hear," he said. Fague was able to pick up the pace, due, in part, to his extensive performance career.
He dreams for all his students to have the best time of their lives playing their instruments, learning the skills necessary for any professional musician to keep their passion alive post-graduation, and - no matter their musical ability to experience the excitement of music.
Don't Miss This!
"Gonzaga Traditions" includes memories of Madonnastock, Big Bing Theory and more - including a list of favorite Northwest music venues and ensembles.