Bulldog Band Adds Hype to Gonzaga Basketball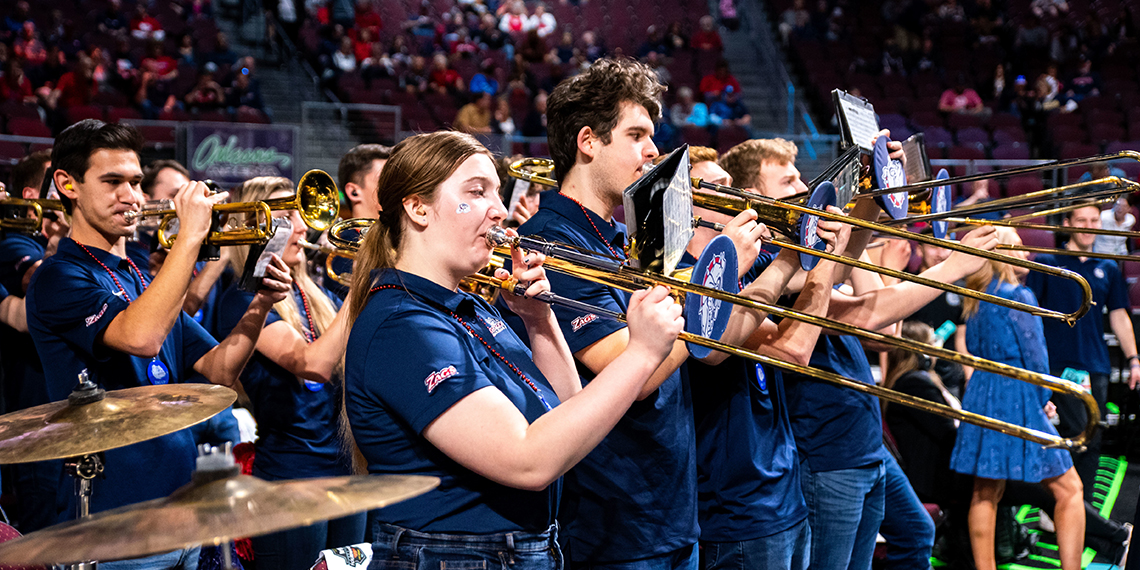 Anyone who has attended a basketball game inside Gonzaga University's McCarthey Athletic Center knows why the place hums with energy. It isn't just the thrill of seeing a team that's consistently in the top ranks; it's the head-nodding, foot-stomping, trombone-swaying, drum-banging action in the band section.
Earlier in the 2022 basketball season, Bulldog Band electric bassist Sara Clark ('23) met me with a warm smile outside McCarthey Athletic Center, where fans enjoyed the sunny February afternoon while waiting in line to watch the women's basketball team face off against Loyola Marymount. Clark had just finished rehearsal with the Gonzaga Symphony, which was preparing for its Monday night concert. We passed through security under the stadium, filing through cheerleaders and band members.
We entered the court and hiked up to the band section behind the home hoop. Clark pointed to each row of the band and named the sections of instruments, highest to lowest. Woodwinds, then the platformed electric bass and drum set section, baritones and mellophones, then trombones, trumpets, sousaphones and baritone saxophones. At the head of the band stood business administration major Sara Whelchel ('22) on a pedestal, conversing with fellow bandmates.
Whelchel directed her attention to the band and Clark warned me, "It's about to get loud."
The trumpets erupted into melody and were met with the crash of percussion. The student section responded immediately and moved along to the tune.
Clark is a junior studying music education, though she is one of only four music majors in the band, which averages around 100 members. It's her third year as a member, though only her second year playing due to the band's hiatus last year during COVID-19.
"I wanted to be a part of a band that was really involved in the games and the experience," Clark said. She had played for her school band in high school, but said the school spirit couldn't compare to the Kennel.
"I think one of my favorite memories happened my freshman year, where someone proposed to their partner after the half-court shot, and then the band played 'Hey Baby,'" she said.
Clark said the band community is constantly changing. Unlike many college pep bands, members aren't required to come to every game. "So if someone shows up, they want to be there … because of this, I think our Bulldog Band community is a positive place, and that our goal is to have fun at the games," she said.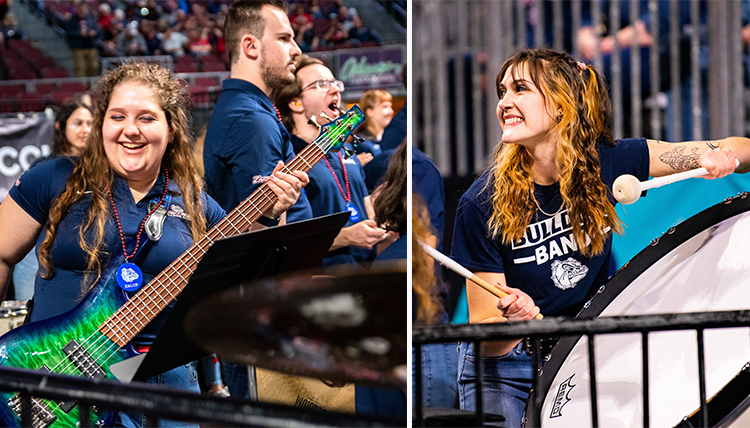 Trumpet player Britton Erickson ('22), who has played since his freshman year, tells every member that the band is what you make of it. Members have only two two-hour rehearsals to prepare for the season.
Despite the short timeframe for practice, the band delivers high spirits in the student section both at home and during the WCC and NCAA tournaments. Erickson recalls one Vegas tournament tradition, where the Gonzaga band members challenge musicians from their greatest basketball opponents to a bowling competition Sunday night at midnight.
"None of us are any good," Erickson said, but "the band always wins no matter the score. Win or lose, we're there to have a good time," he said.
"We're there to have fun, and if we can play good music and make people laugh, that's a second well-spent," Erickson said.
The Bulldog Band is open to any Gonzaga student who can read music, according to Clark. Students can take a fall class that provides access to a Bulldog Band instrument, and lessons to play them. There's no cost to be involved, and the band gets free pizza after every game.
See other stories about basketball spirit at Gonzaga.