Holly Fahning of the Bulldog Band Shares Insight on the Kennel and the Classroom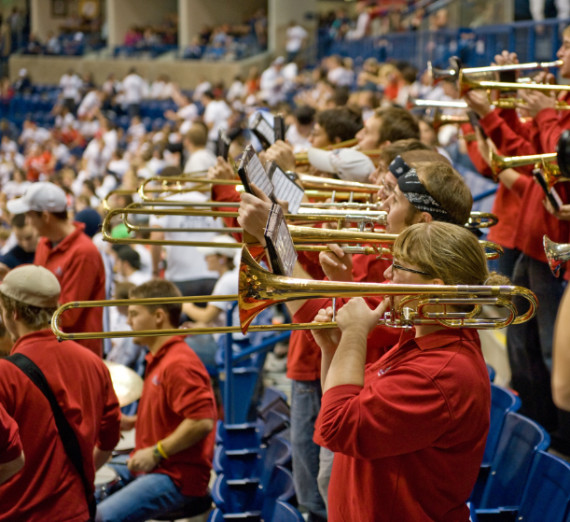 ---
When Holly Fahning, Bulldog Band tenor saxophonist, isn't playing in the Kennel cheering on the Zags, she's a biology student preparing for her post-graduate career in the field.
Fahning has played the tenor sax for over ten years and knew being in Bulldog Band was something she had to pursue when coming to Gonzaga her freshman year.
"In Bulldog Band, there's always good music and good people. We have such a fun time watching the Zags play and it's even better to see the Kennel go crazy after a win," said Fahning ('22).
Fahning is on the frontlines of every big win the Zags make and contributes to the student and fan experience in the Kennel.
"Bulldog Band has an important role in the Kennel. They keep students and fans singing and dancing while watching the Zags. The Kennel wouldn't be nearly as fun without the band," says student Lexi Horton ('22).
The Bulldog Band shows up for the Kennel by dedicating their time and talent to each rehearsal and game, making the fan experience memorable for anyone who steps foot in the Kennel.
"I'd like to think that the hours of practice and amount of energy the Band brings to each game influences each person's experience in the Kennel. But it's all worth it to see the Kennel loud and rowdy during a game," said Fahning.
Amidst the COVID-19 pandemic, the Bulldog Band rehearsals have stopped until NCAA regulations are announced with certainty. However, members have been brainstorming ways to adapt to possible NCAA regulations and get the band back in the Kennel.
"I miss playing in the Kennel so much. I'm looking forward to the day when we can play again and bring all that energy back to games. Even if we have to adapt, it'll be worth it to have music there. It makes all the difference," said Fahning.
On top of Fahning's contribution to the band, she's a dedicated student finding her passion within the ecological realm of biology. The summer after her freshman year, Fahning stayed on campus to do undergraduate biology research about an invasive species of grass alongside biology Professor, Julie Beckstead.
"At Gonzaga, all research goes to undergraduate students instead of graduate students so I got exposure to a type of biology that I wouldn't have had exposure to otherwise," said Fahning.
She attributes her new-found passion for plants and ecological studies to her research experience and opportunities Gonzaga gives to undergraduate students in this field. Because of this, after Fahning graduates, she hopes to pursue a doctorate in biology, preferentially related to ecology and plants.
In her career, she hopes to continue researching ecological species and provide knowledge to the public about her findings to encourage investment in the scientific community.
"The ultimate goal is to discover something so interesting that paves the way for other discoveries in the scientific community. I think that'd be so rewarding," said Fahning.
Coming to Gonzaga to pursue her studies was an easy choice in her heart, but in her head, she knew the financial burden could be taxing. As someone who is paying for most of her tuition on her own, Fahning had to take into consideration the financial implications when picking a university.
"I wouldn't have been able to come to Gonzaga without my scholarships. It wouldn't have been financially feasible without them. They were make or break in my college decision," said Fahning.
Gonzaga's scholarships are the reason that Fahning can attend GU, pursue her career goals in biology and show up for the Kennel in Bulldog Band every game.
"Sometimes I think about where I'd be if I went somewhere else, but I can't imagine it. I've had such great experiences and opportunities which reaffirms that Gonzaga is the place for me," said Fahning.
Zags show up for each other, the community, and the world.