The Music Issue - Gonzaga Traditions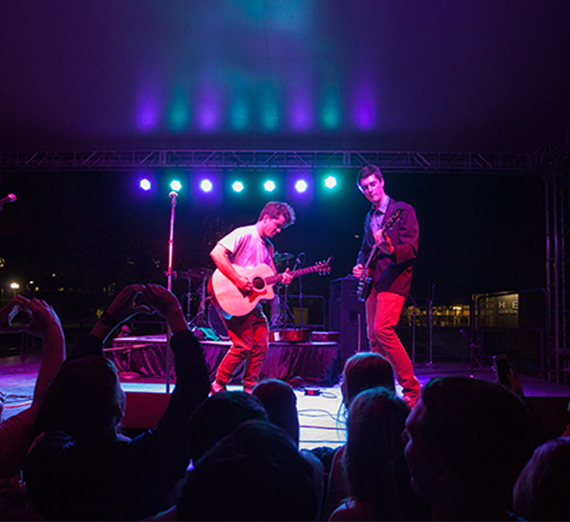 ---
Madonnastock Memories
Woodstock. Lollapalooza. Telluride. Coachella. Sasquatch. So many music festivals have become part of our pop culture. Perhaps most memorable to Zag alums is Madonnastock, a tradition created by Madonna Hall residents.
More than 1,200 student activities, events and programs take place on campus each academic year, but Madonnastock is one for the history books, says Senior Director for Housing and Residence Life Dennis Colestock. Madonnastock began as an event planned by the resident assistants of Madonna Hall, the historical home of the first female students of Gonzaga.
"Maddy-Stock," as some alums called it, first took place on the Madonna patio, then the site of today's Mulligan Field, on the narrow lawn in front of Catherine-Monica Hall and Madonna, and eventually on the open field at the corner of Hamilton and Springfield where student bands could rock out for passing traffic.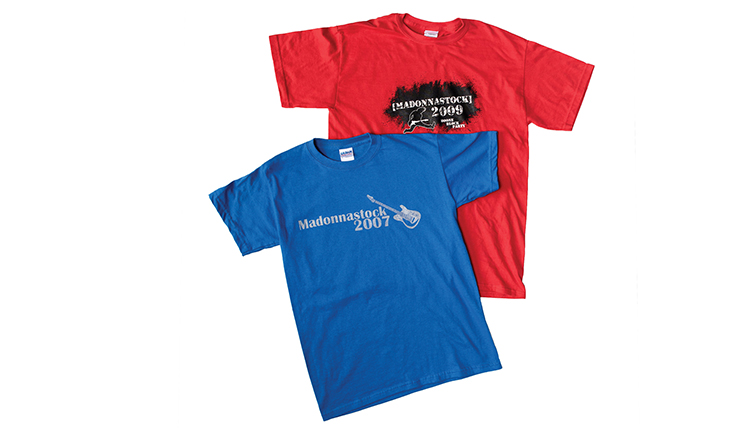 The level of commitment and planning required of Madonna staff was intense. Michelle Wheatley ('07) and Luke Lavin ('08) (both of whom now work in University Ministry) built the stage and slept on it overnight to keep watch over their creation. Todd Dunfield ('00), RD of Madonna, remembers the neon orange staff shirts they had to wear to find each other in the massive crowd, and how many students it took to staff the event the year Madonnastock headlined GEL weekend.
For Siri Herzog ('02), who helped plan and execute the festival in 2001, "It was all an awesome blur. I had no idea what I was getting myself into and I honestly have no idea how we funded it," she says. "But I remember the last band – I think it was called The Midnight Rollers – was a huge hit."
More recently Madonnastock has morphed into new things, both by name (Spochella and now Springfest) and by organization. Today, it is orchestrated by Student Activities and takes place on Herak Quad, where students also enjoy free food, games and activities. The familiar chorus remains, though – the ushering in of summer weather with great music and dancing barefoot on
the grass.
Share the Memories
Check out photos of these once lost and recently found commemorative t-shirts from the good ol' days of Madonnastock madness. Share your own fond memories of music at Madonnastock with editor@gonzaga.edu.
No Instruments Allowed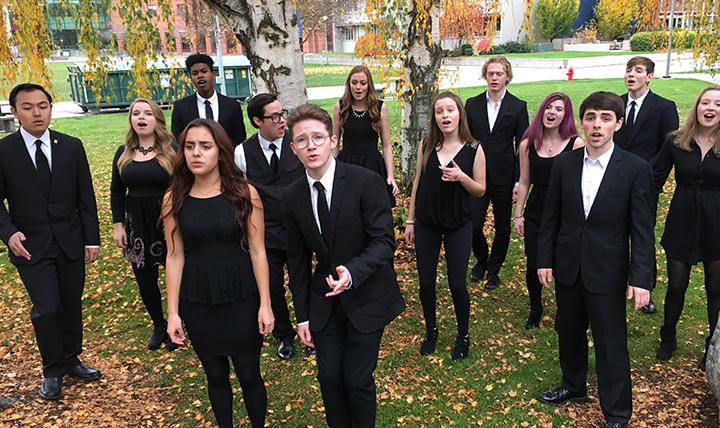 Big Bing Theory (BBT) began nearly 20 years ago as a group of friends gathered to sing the national anthem at basketball games. But over the years the student-led acapella BBT has appeared on stages, recorded CDs and sung in musical videos. Today 16 members make music with just their mouths. BBT directors '19 Melissa Davies and '19 Frances Minigan say that all of the group's arrangements are original mashups of popular songs. Eager fans can catch live performances both on- and off-campus, and anyone who has heard BBT will tell you – they sure know how to make music.
A Candlelight Christmas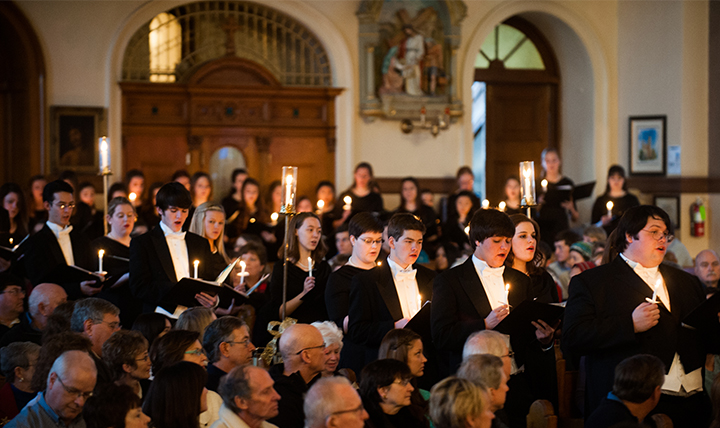 Sweet melodies from the combined Women's, Men's and Concert Choirs mark the holiday season in the annual Candlelight Christmas Concert. The event held in St. Aloysius has been a beloved tradition for decades.
Northwest Favorites
We asked for your favorite festivals, concerts and venues. Here's a sampling of what we heard.
Concerts/Venues
Dave Matthews Band at The Gorge
Northwest of Nashville at The Bartlett (Spokane)
The Big Dipper (Spokane)
Martin Woldson Theater at the Fox (Spokane)
The Neptune Theatre (Seattle)
Jazz Alley (Seattle)
The Showbox (Seattle)
The Gorge (Central Washington)
Bands/Ensembles
Mama Doll
Spokane Jazz Orchestra
Soul Proprietor
Tommy G
Folk Inception
Safar
Sessionz Smooth Jazz
Big Bing Theory
Stagecoach West - ('69) Peter Arthur and ('69) Jim Braukmann began in the basement of the old Cog and just celebrated 50 years of playing music together.
Travis Thompson
Lemolo
The Head and The Heart
Macklemore and Ryan Lewis
WASHINGTON FESTIVALS
Northwest Folklife
Festival (Seattle)
Elkfest (Spokane)
Upstream Music Festival &
Summit (Seattle)
Watershed – Country Music
Festival (The Gorge)
Deck The Hall Ball (Seattle)
Bumbershoot (Seattle)
Musicians on Scholarship

$263,000
That's the amount of scholarship gifts contributed to Gonzaga music students in the 2016-17 academic year. Thank you to all who support our talented musicians and future educators through endowed scholarships named for these beloved individuals and families:
Jo Merwin
Lyle W. Moore
Marjoy Halvorson
The Haws Family
Want to help make music with a gift? Visit Ways To Give or call 800.463.6925.
Or learn more about how to apply for music scholarships here.