Gonzaga Dancers Leap into Interdisciplinary Collaboration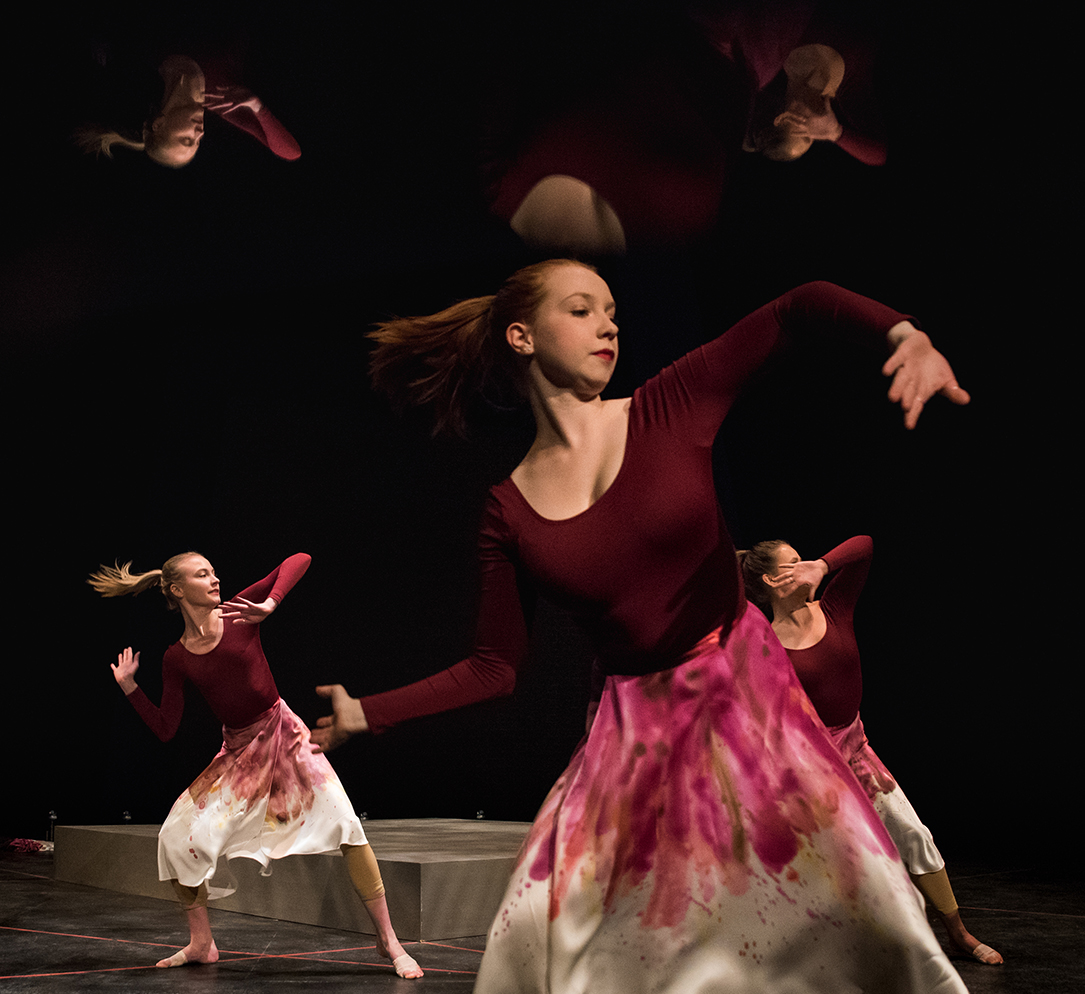 ---
By Megan Carroll
Class of 2018
Gonzaga News Service
SPOKANE, Wash. – With the opening of Gonzaga University's Myrtle Woldson Performing Arts Center on the horizon, Suzanne Ostersmith, assistant professor and dance program director, felt inspired to create the University's first repertory dance company.

"I have hopes that the dance program is going to continue to expand, especially with the new performing arts center," Ostersmith said. "This company is a natural bridge between the program we have now and the program of the future."
Ostersmith began rehearsals in September. She originally planned for a simultaneous unveiling of both the Woldson Center and dance company in fall 2018, but an opportunity with biology Professor Brook Swanson shortened the timeline.
'Beautiful Weapons' Debuts
"Beautiful Weapons," a 40-minute performance combining the dance company's work and Swanson's evolutionary biology lectures, made its Gonzaga debut on Dec. 1 in the Magnuson Theatre. The performance will tour the region this winter and spring with engagements (so far) including: Jan. 26 at St. George's School (2 p.m., Founders Theater) in Spokane; Feb. 2, Eastern Washington University in Cheney (4 p.m., Music Performance Recital Hall); Feb. 9, Central Washington University (5:45 p.m., Hertz Auditorium); Feb. 16, Whitworth University (3:15 p.m., HUB Multipurpose Room); March 2, University of Montana in Missoula (4:30 p.m., Music Recital Hall); and April 19 (4:30 p.m., Gonzaga's Magnuson Theatre).
The presentation stems from a project in the first-year seminar taught in the current and past fall semesters by Ostersmith and Swanson titled, "Art and Science of Dance." In that class, students created a dance piece explaining a scientific concept.
"The students' learning of the subject in the Art and Science of Dance was deepened by embodying their research and having to communicate it to a community in an artistic form rather than just talking about it. We were really excited by the results," Ostersmith said.
Swanson describes the performance as a presentation of science through art and art through science with a goal of fostering interdisciplinary thinking among both scientists and artists.
"The content is an exploration of biodiversity, examined both through research and through dance," he said. "We examine comparative biomechanics and the relationship between form and performance. Finally, we look at how interacting selective pressures lead to different solutions to life's challenges, and eventually to diversity."
Ostersmith's selective company includes six dancers from varying academic disciplines and years in school. It rehearses six hours per week, and Gonzaga dance faculty Pamela Erickson and Karla Parbon assist with technique development. In rehearsal, company members learn to express different animals' movements through dance and integrate Swanson's scientific feedback.
"My vision for this company is to raise the bar through dance excellence and vigorous training," Ostersmith said.
Olivia Sands, a business major with concentrations in finance and marketing and minors in dance and leadership, serves as student company coordinator and leads rehearsals every Sunday. She also assists with costume creation, logistics and marketing materials alongside dancing in the company.
"I really liked the idea of starting a new project and taking dance to the next level," Sands said. "I wanted more dance and I thought the idea of crossing academic borders was really cool because we always try to find ways to apply dance to other areas of our lives in this department."
Ian Loe, a senior broadcasting and music composition student who collaborated with Ostersmith last year, musically captures the sound, size and speed of animals in the work, including salmon, peacocks, fiddler crabs, elk, hummingbirds and whales, to name a few. For "Beautiful Weapons," Loe composed 13 pieces totaling 30 minutes of music.
"Ian has really risen to the occasion," Ostersmith added. "We are tackling some pretty abstract things – some of them with humor, but we also want to show reverence for this biodiversity."
Ostersmith hopes "Beautiful Weapons" will serve as a conduit for dance and science collaboration at Gonzaga and beyond. Dancers will perform the work – without Swanson's narration – in March at the American College Dance Association conference in the University of Colorado at Boulder.
"My goal is that this lives and breathes as a dance work on its own," Ostersmith said.