Performance Blending Art, Science Begins Touring Region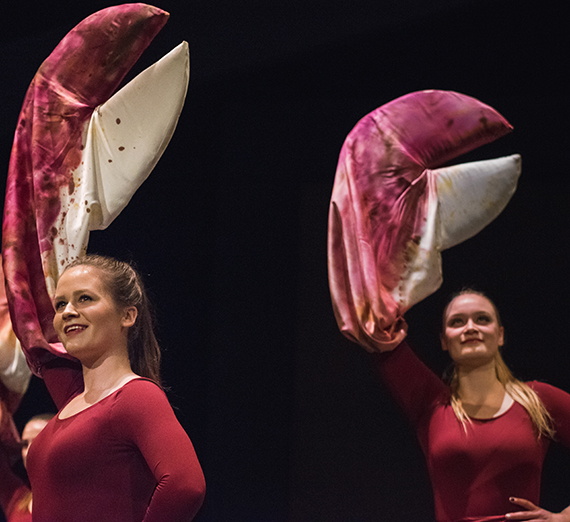 ---
'Beautiful Weapons'
Gonzaga News Service
SPOKANE, Wash. – "Beautiful Weapons," a 40-minute performance in which Gonzaga University students bring GU biology Professor Brook Swanson's research and lectures to life via dance, debuted Dec. 1 on campus. Now the performance will tour the region, performing that same collaboration with Swanson.

The performance by members of the Gonzaga Repertory Dance Company appeared at St. George's School in Spokane on Jan. 26, and will appear:
• Feb. 2: Eastern Washington University, Cheney (4 p.m., Music Performance Recital Hall);
• Feb. 9: Central Washington University, Ellensburg (5:45 p.m., Hertz Auditorium);
• Feb. 16: Whitworth University, Spokane (3:15 p.m., HUB Multipurpose Room);
• March 2: University of Montana, Missoula (4:30 p.m., Music Recital Hall);
• April 19: Gonzaga University (4:30 p.m., Magnuson Theatre).

The performance stems from a project in the first-year dance seminar taught by Swanson and Suzanne Ostersmith, assistant professor and dance program director. In that class, titled "Art and Science of Dance," students created dance pieces to help explain a scientific concept.

This presentation expands on that class with six Gonzaga dancers, chosen by Ostersmith for the University's first repertory dance company, performing dances inspired by different animals' movements while Swanson lectures.

In addition to their current tour, the dancers will perform the work (without Swanson's narration) at the American College Dance Association conference in March at the University of Colorado at Boulder.

Read more about the origins of the class and view a video of the performance.
For more information, please contact Suzanne Ostersmith at ostersmith@gonzaga.edu or (509) 313-6508.