GU Offers Online Doctor of Nursing Practice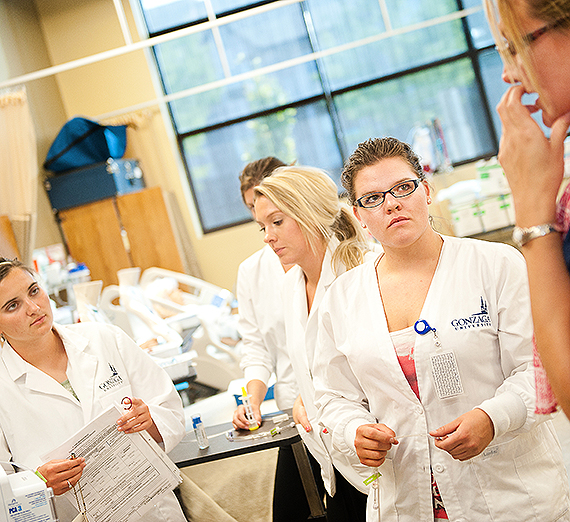 ---
Evolving U.S. Health Care Presents Big Challenges
By Peter Tormey
SPOKANE, Wash. — Recognizing the many challenges posed by our nation's health care system today, Gonzaga University will prepare more nursing professionals to become specialized leaders in this rapidly evolving field through its new Online Doctor of Nursing Practice program.
The program flows intentionally from Gonzaga's Catholic and Jesuit mission, which seeks to educate women and men to become people for others. Gonzaga began offering master-level, distance-learning nursing education in 1978 and currently has nearly 500 students in four professional pathways. Now, the University will use its more than three decades of experience delivering graduate nursing programs to help inform the new program, known as the DNP.
The DNP — entirely online except for one required and one optional on-campus visit — is accepting applications until Sept. 3 for its first cohort of 12-15 students who will begin classes Jan. 15, 2013. New cohorts of approximately 20 students each are expected to enter each subsequent summer, fall, and spring semester. Graduates will receive a Doctor of Nursing Practice degree upon finishing the required minimum of 30 credits; some students may need to complete up to 36 credits, depending on their master's programs.
The DNP differs from a Ph.D. program, where students develop their own research to conduct a major research project. DNP students will conduct a major scholarly project but will do so using existing evidence. The DNP students will identify problems or inefficiencies in their areas of practice - whether as family nurse practitioners, family psychiatric mental-health nurse practitioners, or health system leaders — and use existing scholarly research to implement and expedite their changes.
Lin Murphy, R.N., Ph.D., assistant professor of nursing and chair of the Department of Nursing, says the program will help improve the nation's health-care system by equipping nurse-leaders who have a master's degree in nursing with the tools needed to make changes in current practice.
"These are people who are actively engaged in practice, and who are dealing with issues that they want to improve. The idea is to give them the knowledge, skills and tools to be that sort of leader and change-agent," Murphy said. "We have high expectations that they are, and will continue to be, leaders in their practice areas."
Students will have the choice of producing a bound, dissertation-like document or creating a publishable manuscript plus an abstract for presentation at a major nursing or health care conference. The goal is to create new research-based improvements and make them widely available, quickly, to other practicing nurses nationwide.
"We want that knowledge to get out there for other nurse practitioners or nurse-leaders as soon as possible so these evidence-based changes can be implemented," Murphy said. "Who benefits? The patients."
Nurse practitioners frequently serve in remote areas where they may be the only health care professionals within hundreds of miles, so better educated nurse practitioners means a higher quality of care for everyone.
"Our health care system has become so complex and patients have so many chronic diseases and disorders," Murphy said. "Wouldn't we want nurse practitioners to be educated at the same level as pharmacists and physicians and physical therapists — to be educated at the doctoral level so they bring that knowledge and skill to their care of the patients?"
From their unique perspective, nurses have keen insights but may lack the advanced education to research, develop, and implement necessary changes in practice. The DNP aims to change that equation through its approach to the whole person, a central theme of Jesuit education.
"Nurses in advanced practice see their practice as looking at the whole person, not just diagnosing a disease but looking at how that disease might affect their family, their spouse," Murphy said. "While they are diagnosing and treating illnesses, they are consistently looking at how to improve that individual's health and their health as a member of a family and a community. So it's really that whole-person view that is very, very Jesuit."
The program addresses a position adopted by the American Association of Colleges of Nursing that all new advanced-practice nurses, including nurse practitioners, must have a DNP by 2015. Although the National Council of State Boards of Nursing and the organizations that certify nurse practitioners have yet to adopt the AACN position, Murphy said Gonzaga wants to be ready when the change occurs.
Gonzaga also offers one Ph.D., the Doctor of Philosophy in Leadership Studies. The Gonzaga University School of Law offers a Juris Doctor degree.