Tilford Triage: Good Fix for Nursing, Human Physiology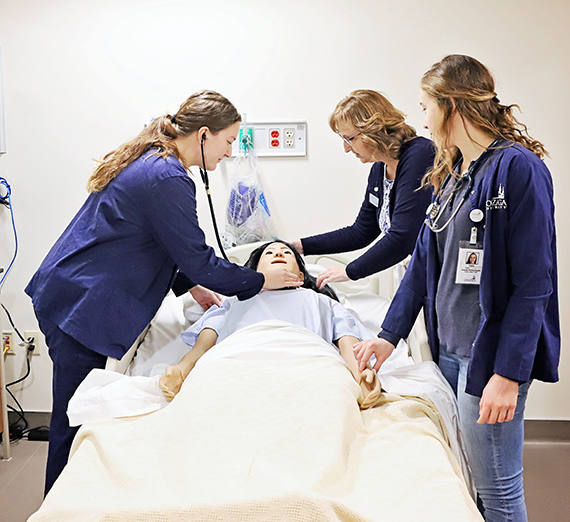 ---
Construction in the School of Nursing and Human Physiology has created more than 2,000 square feet of new classrooms and simulation laboratories in Tilford, and a biometrics laboratory in the adjacent Human Physiology Annex.
"The additions provide transformative teaching, laboratory and simulation spaces for our students and faculty," says Dean Vince Salyers.
Reconfiguration on the first floor of Tilford enables teaching and skills practice to occur simultaneously. A new simulation center was constructed, including two simulation suites with control rooms, an adjoining medication room, a debrief room and spacious lobby. The simulation suites also include AV equipment for recording and use in debriefing. A new high-fidelity patient simulator provides lifelike features and responsive physiology. Simulators allow learners to develop critical thinking, communication and clinical skills in safe learning environments prior to caring for real clients. Additionally, six new exam rooms and three psych/mental health exam rooms were constructed to increase the capacity for more structured skills development, clinical learning and evaluation.
The new Human Physiology Annex includes two faculty offices and the new biomechanics laboratory, to enhance students' learning experiences, provide space for faculty who recently joined Human Physiology, and to facilitate faculty and student research and scholarship. The bachelor of human physiology is a growing degree at GU.
Meanwhile, nursing Professor Neva Crogan will be honored nationally later in November as a Distinguished Educator in Gerontological Nursing for her work with students in the science of caring for the aging, which includes curriculum development, teaching and clinical work.
Associate Professor Jeff Ramirez was recently inducted as a Fellow in the American Association of Nurse Practitioners, and Dean Salyers was inducted as a Fellow in the American Academy of Nursing.
The School plans to collaborate with the UW School of Medicine, universities that offer nursing and other health programming, as well as with community partners in developing interprofessional learning experiences for students through eventual shared learning spaces in the McKinstry Building. (Learn more here.)
The Commission on Collegiate Nursing Education was on campus in October for a site visit as part of the School's reaccreditation process. Gonzaga will receive preliminary recommendations later this fall, with final recommendations and reaccreditation in 2020. The Department of Human Physiology is preparing for institutional program review during the 2019-20 academic year while the Department of Nurse Anesthesia continues to offer its doctor of nurse anesthesia practice in collaboration with Providence Sacred Heart Medical Center.
Did you know Gonzaga offers online nursing programs for graduate students?