Gonzaga Once Again Ranked Among the Top 100 National Universities by U.S. News & World Report
13th for Best Undergraduate Teaching; top 11% for Graduation and Retention; Engineering, Undergraduate Nursing and Business among Nation's Best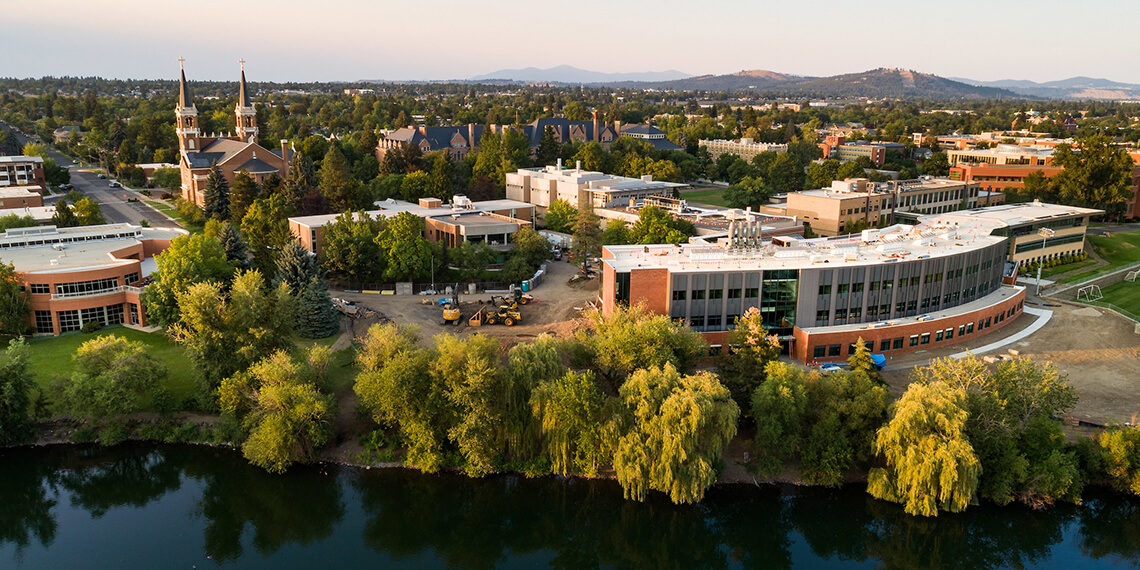 SPOKANE, Wash. – Gonzaga University again is ranked in the top 20% – moving up a spot to 79th – in the "National Universities" category by U.S. News & World Report in its 2022 annual rankings released today.
Gonzaga's first-year retention rate remained among the very best in the country at 94% while its graduation rate rose to 88%, lifting its graduation and retention rank to 43rd, in the top 11% among National Universities.
Gonzaga  is ranked  in the National Universities category for the third consecutive year. There are 391 schools in the category this year, ranging from Ivy League schools to major research institutions based on criteria that the  Carnegie Classification of Institutions of Higher Education  establishes.  National universities offer a full range of undergraduate majors as well as master's and doctoral degrees, and emphasize faculty research or award professional practice doctorates.
 Among its peers, Gonzaga is recognized in several specialty categories. In rankings for Best Undergraduate Teaching, Gonzaga advanced five spots to 13th among 71 universities evaluated. The School of Engineering and Applied Science moved up a spot to 22nd, or top 9% among 239 engineering programs not granting doctoral degrees. A new category for undergraduate nursing debuts Gonzaga at 76th, for a top 11% ranking among 694 programs. The undergraduate business program advanced 13 spots to 84th, among the top 16% of 514 programs ranked. Undergraduate computer science moved upward 19 spots to 191st.
Gonzaga's overall ranking is based on methodology involving multiple indicators: outcomes, 40% (average graduation and retention rates, graduation rate performance, social mobility and graduate indebtedness); faculty resources, 20%; expert opinion, 20% (academic reputation); financial resources, 10%; student excellence, 7%; and alumni giving, 3%. The graduation rate indicates the average proportion of a graduating class earning a degree in six years or less. First-year retention is a measure of the average proportion of first-year students who entered the school in the fall and returned the following fall.
Gonzaga offers  a diverse spectrum of undergraduate degrees and master's programs in addition to five doctoral-level degrees: a Ph.D. in Leadership Studies from the School of Leadership Studies, as well as four professional doctorates: Juris Doctor from the School of Law; Doctor of Educational Leadership from the School of Education; Doctor of Nursing Practice and Doctor of Nurse Anesthesia Practice, both from the School of Nursing and Human Physiology. 
"These rankings reflect Gonzaga's strong and growing national reputation as a leading comprehensive Catholic and Jesuit university," Gonzaga President Thayne McCulloh said. "We're so grateful for the support of our students, faculty, staff and broader community in helping students return for in-person instruction this year so that they can best engage with our gifted, dedicated faculty. To rank 13th for undergraduate teaching is a great tribute to what long has been a hallmark of the Gonzaga experience.
"I am also proud to see the strength of our engineering and computer science programs reflected in the rankings, as we are nearly ready to open the transformative John and Joan Bollier Family Center for Integrated Science and Engineering. In addition, the big jump for our business programs is exciting as we celebrate the School of Business Administration Centennial this year."
Gonzaga's focus on the support and intellectual development of the individual student is evidenced by its 11-to-1 student-to-faculty ratio. Only 2% of Gonzaga's classes include more than 50 students and 37% of Gonzaga's classes include fewer than 20 students. 
The rankings are available online  and will be in the print edition of the "Best Colleges 2022" guidebook. 
Academics
Alumni
School of Business Administration
School of Engineering & Applied Sciences
School of Law
School of Leadership Studies
School of Nursing & Human Physiology
School of Education
Online Programs
Alumni
Computer Science
Doctor of Educational Leadership
Doctor of Nurse Anesthesia Practice (DNAP)
Doctor of Nursing Practice (DNP) Program – Post Baccalaureate
Doctor of Nursing Practice (DNP) Program – Post Master's
Business Administration
Juris Doctor
News Center