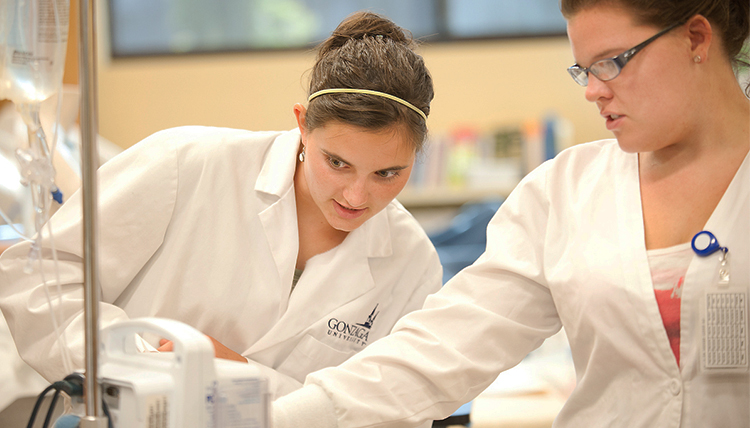 How It Works
All nursing bachelor students are admitted to the program as freshmen. When you apply to Gonzaga, you must indicate "nursing" as your first academic interest on the common application. (You're also required to complete "Section V" of the Common Application Gonzaga Student Supplement.) If offered admission, you'll undergo a second review before being accepted as a nursing major. (Those not admitted in nursing as freshmen will not later be considered for nursing at Gonzaga.)
As freshman nursing majors, you and your fellow students will begin the process of completing the Gonzaga core requirements and the nursing pre-requisite courses. Due to the availability of quality clinical placements, not all students can begin practicum (clinical) experiences in the fall of their junior year — half begin their practicum experiences in the fall, and half will wait until the spring semester to do so. However, as a freshman nursing student, you can request to begin your upper-division courses in either the fall or spring semester of your junior year. (If more students request the fall semester than the spring, the final determination will be based on earned cumulative GPA from pre-requisite courses.)
If you start the upper-division nursing courses in the spring of your junior year, you will have the following options:
Spreading your course work over nine semesters
Taking a leave of absence for a semester (if you don't complete your prerequisites within the first four semesters)
Applying to study abroad in the fall semester of your junior year
The nine-semester option also gives you an opportunity to complete a minor, study a foreign language, or repeat a course if necessary.
Once you begin your upper-division nursing courses, you'll complete a series of practicum courses that will introduce you to professional nursing practice in a variety of healthcare settings. The program also prepares you to take the National Council Licensing Examination (NCLEX) after graduation, which is a requirement for licensure as a registered nurse.