Campus Kids A Primary Building Block for Expansion of Community Engagement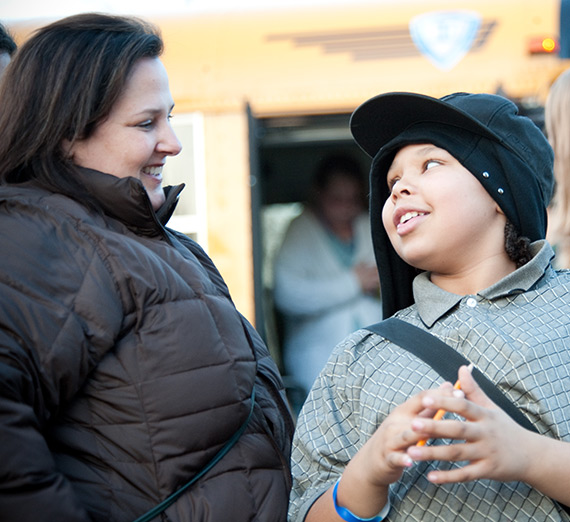 ---
Sima Thorpe (above) was a legal advocate and high school English teacher before joining Gonzaga in 1994 as volunteer coordinator. She could not have conceived what, or who, would follow in her tracks.
But by the time Thorpe, who would become founder and director of Gonzaga's Center for Community Action and Service-Learning (now Center for Community Engagement), had completed her work at Gonzaga in 2015 to become CEO of The Arc of Spokane, she and colleagues had built a model for service-learning that was replicated around the state and across the nation.
Assigned to develop a service-learning program from the ground up, one of Thorpe's first, and arguably most successful, programs she called Campus Kids.
She was flying on a wing and a prayer with no previous experience creating an after-school mentoring program run by college students to benefit elementary pupils. But she had heart and passion and wouldn't take no for an answer.
Logan Elementary was the closest to Gonzaga's campus, so Thorpe started there. She met with Principal Pat Lynass and shared a preliminary plan. Lynass said too many people offer short-term fixes but nothing that sticks. She told Thorpe to come back when she had a more permanent plan.
"The kids in this neighborhood have significant needs, are vulnerable and many have adult figures coming into and out of their lives frequently," says Lynass, now retired.
Thorpe went back to the drawing board, did extensive research on what Spokane-area organizations and universities around the country were doing, and came back with a well-documented proposal that she hoped would be sustainable.
"Sima was such a wonderful person, a good listener and her revised proposal presented a lot of opportunities for our kids and their parents," Lynass says.
The principal was so excited about the program that she introduced Thorpe to the Stevens Elementary principal and quickly Campus Kids doubled in size, serving both schools in this after-school mentoring program, where the children are bused to Gonzaga's campus.
There were so many parts to this puzzle. Thorpe was a champion of writing and getting grants, soliciting donations, working with Spokane Public Schools for transportation and other accommodations, and building energy among GU students to find reward in mentoring youth.
"These college mentors were role models for our students," Lynass says. "Our kids made positive connections with their mentors, who gave the youngsters a sense that college was possible for each one of them. Having positive role models was important for kids. Many of them didn't have that in their lives outside of school."
Thorpe recalled one child whose father was incarcerated. The father told Thorpe about his son's mentor showing up at the son's birthday party – the first time an adult male had ever attended this grade-schooler's party. "It made an incredible impact on the mother and the child," Thorpe says.
Another former Campus Kid, Lynn Blumen from Stevens Elementary, even wrote a letter to Gonzaga a few years back thanking Campus Kids directors for all the program had done for her since she participated in 2002-2003.
"I was socially awkward and had no friends in elementary school," Blumen says. "Whenever I tried to interact with other kids, I did a horrible job of it. Some of the kids ostracized and made fun of me."
"Campus Kids gave me and other kids an opportunity to be heard without judgment. That felt amazing. It helped bring me out of my shell," Blumen says.
A couple of former mentors explained how they and so many of their fellow mentors have thrived as a result of their experience in Campus Kids and other Gonzaga volunteer programs.
"I changed my career path from nursing to education," says Hunter Klein, a science teacher at Garry Middle School in Spokane. "I learned how to build strong, meaningful, reciprocal relationships with these students. This has carried over directly into my teaching as relationships are at the core of classroom management and teaching as a whole. This first year teaching would have been significantly more difficult if not for the passion and skills I developed from these programs."
Former mentor Renne Richards learned the importance of showing up and meeting people where they are. "Kids respond well when you take them seriously, even in their difficult moments, and at the end of the day we're all just seeking connection with one another and we all want to have fun," she says. She just finished two years of serving as an AmeriCorps coordinator with GU's Center for Community Engagement, working with elementary youth programs (like Campus Kids).
"Whenever I would have a bad day, I knew the buses would roll up in the DeSmet circle, the kids' little faces pressed against the window, searching for their mentors and waving wildly to grab their attention," Thorpe says. "They would be cheering as they came off the bus and run through a gamut of mentors. I would watch that and walk back to my office, always with a new refreshed attitude."
Campus Kids proved to be the launching pad for 19 other Gonzaga volunteer programs.
Today, Molly Ayers continues to lead expansion of the outreach opportunities available through the Center for Community Engagement. Read more about it in the ensuing pages of this issue of Gonzaga Magazine.
Campus Kids is a one-on-one, campus-based mentoring program focused on helping 4th-6th grade youth succeed academically, socially, and emotionally.
This story originally appeared in Gonzaga Magazine as part of a feature on community engagement titled "We Belong to Each Other." Check out more stories from this piece.
---