Community Engaged Learning Takes Studies Beyond the Classroom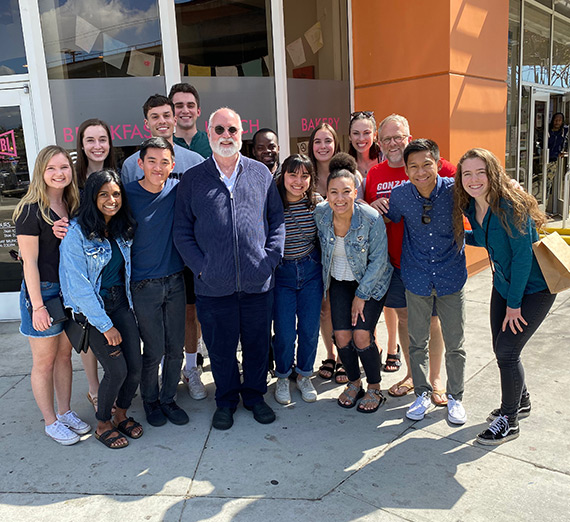 ---
Community engaged learning is a teaching and learning strategy that integrates meaningful community partnerships with instruction and critical reflection to enrich the student experience, teach civic and social responsibility, and strengthen communities. It takes place in many academic disciplines, from business and engineering to education and nursing. Here are two examples.
Philosophy: Thinking Like a Teenager
Each semester, Gonzaga students in Philosophy 101 discuss logic and reasoning, methods and arguments, as one would expect. But they also take their lessons beyond the college campus to put those new skills to work. In Charlie Lassiter's section called "Reasoning Goes to Rogers," the students lead John R. Rogers High
School participants in philosophical discussion of issues relevant to teens – moral quandaries about bullying or principles for finding a compromise with one's
parents, for example.
"Inevitably, the Rogers and GU students stray from the topics and begin to talk about their lives and interests," says Lassiter. "This is actually one of my favorite side benefits of the course. Each group gets a glimpse into the lives of others."
Community engaged learning courses like this provide new frameworks for the professors, too. Lassiter says it changes the way he grades. There are the usual quizzes to test for comprehension of concepts, but the bulk of the grading is on putting the concepts through interpersonal interactions and written reflections after each weekly meeting.
A bonus: Students also cultivate other skills by working in pairs and teaching material by example.
Leadership: It's About Us
Homeboy Industries in East Los Angeles is an apt classroom for studying leadership and service. The teacher here is Jesuit and Gonzaga alumnus Fr. Greg Boyle, who founded the nonprofit with a vision to provide hope to former gang members and ex-felons through life-skills training and employment.
Since 2006, Josh Armstrong, director of GU's Comprehensive Leadership Program, has taken students to Homeboy annually.
Once an immersion opportunity offered over spring break – like many Mission Possible excursions to combine learning with service – Armstrong has buoyed the educational offering with a for-credit class. He believes the dynamic leadership style of Fr. Boyle is worthy of study.
Offered through the School of Leadership Studies, the undergraduate course, Leadership, Kinship & Social Change, provides critical study and preparation for the spring break experiences and assists students in applying the lessons of this community to their own transformational change.
At Dolores Mission Catholic Church where Fr. Boyle's work began, students explore various community initiatives, and while they provide some assistance, they quickly learn not to call it "service." That's an important distinction for G (as Fr. Greg is called), who prefers to model and inspire kinship – the notion that "we belong to each other."
"If you go to the margins to make a difference, then it's about you and it can't be about me. It has to be about us," Boyle says. "So, if you go to the margin so that the folks at the margins make me different, then suddenly it's mutual."
Learn more about community engaged learning at Gonzaga.
This story originally appeared in Gonzaga Magazine as part of a feature on community engagement titled "We Belong to Each Other." Check out more stories from this piece.
---