Celebrate Pride Month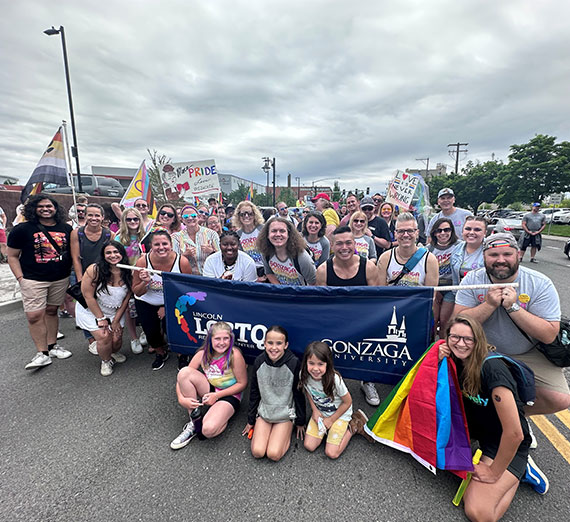 ---
Pride Month is traditionally celebrated in June each year in observation of the 1969 Stonewall Uprising in Manhattan, a tipping point in the national conversation around LGBTQ+ activism and the Gay Rights Liberation Movement in the United States. In the month of June, we recognize the achievements of the lesbian, gay, bisexual, transgender, queer and questioning community in the pursuit of equality, inclusion and justice for LGBTQ+ Americans.
Gonzaga University, the first Jesuit institution of higher education with a dedicated resource center for LGBTQ+ students, is proud to support its LGBTQ+ community, striving to be a safe and welcoming environment for all sexual orientations, gender identities and expressions by engaging in education, advocacy, outreach and programming. We invite you to celebrate Pride Month!
Events, Organizations and Resources
CAMPUS RESOURCES
Diversity, Inclusion, Community and Equity (DICE)
LBGTQ+ Resource Center, Hemmingson Center
LBGTQ+ Rights Clinic, Gozaga Law School
Foley Library Pride collection
JESUITS AND THE LGBTQ+ COMMUNITY
Outreach
, a website created by Fr. James Martin, S.J., highlights Catholic organizations, communities and people doing the work of connecting Catholic social teaching and LGBTQ+ equity and affirmation. Martin is the author of "Jesuit Guide to Everything" and "Building a Bridge," editor of "America" magazine, has presided at Lavender Mass virtually for Gonzaga University and been a Commencement speaker here.
Here is a list
of welcoming parishes, schools, communities, and people compiled by Outreach, and
you can nominate
a parish, school, community or individual for inclusion on the list.
The Tyler Clementi Foundation has an
anti-bullying statement
that bishops, Catholic religious orders, schools and organizations have signed, including the Association of Jesuit Colleges and Universities. It speaks to the dignity of LGBTQ+ people and their right to be free from bullying. Tyler Clementi's mother has spoken at Gonzaga at a collaborative event between the Office of Health Promotion and Lincoln LGBTQ+ Resource Center. If you are a Catholic order, organization or school and would like to add your support, email 
Jane@TylerClementi.org
.
LOCAL ORGANIZATIONS
Spectrum Center Spokane
Odyssey Youth Movement
Inland Northwest Business Alliance
Parents, Families, and Friends of LGBTQ+ Spokane (PFLAG)
Spokane Pride
PRIDE HISTORY AND MORE
Can Catholics celebrate Pride Month? Yes, and here's why
 by Fr. James Martin, S.J.
What is Pride Month and the History of Pride
The History of Pride
 from the Library of Congress 
A Guide to Gender Identity Terms
from NPR
CELEBRATING PRIDE WITH THE COMMUNITY
Wednesday, June 7
Prepping for Pride with Spectrum Center
, 4 p.m., The Hive
Friday, June 9
Spokane Falls Two-Spirit Powwow
, 1 p.m., Lilac Bowl in Riverfront Park, free
Friday, June 9
Pouring With Pride Party
, 6-10 p.m., Davenport Grand Terrace Bar, $15, 21+
Friday, June 9
Spokane AIDS Network Dance Party
, 9 p.m., nYne Bar & Bistro
Saturday, June 10
March with GU at the Spokane Pride Parade and Rainbow Festival
, noon, downtown Spokane
Saturday, June 10
Create your best PRIDE-inspired tank top at CDA4Pride 2023: Tie-Dye Party
, 9 a.m. to noon, Human Rights Education Institute (HREI), Coeur d'Alene, $18
Saturday, June 10
Smithsonian Time Capsule: Beyond Stonewall screenings
, 11 a.m. and 1 p.m., Northwest Museum of Arts and Culture, free
Tuesday, June 13
North Idaho Pride Alliance for a PRIDE Pizza Party at MOD Pizza, 10:30 a.m. to 10 p.m., Coeur d'Alene. NIPA will receive 20% of the proceeds.
Wednesday, June 14
CDA4PRIDE: Inclusive Healthcare
, sponsored by Kootenai Clinic Family Medicine Residency, 6-8 p.m.. Human Rights Education Institute (HREI), Coeur d'Alene. Informational session with healthcare practitioners and the LGBTQ+ community. Registration required.
Saturday, June 17
44th Gay Spokane Pageant
, 5 p.m., nYne Bar & Bistro
Saturday, June 24
Pride in Perry
, noon, Perry District
Thursday, June 29
CDA4PRIDE: Pride on the Runway
, Coeur d'Alene, 21+