Human Physiology a Perfect Fit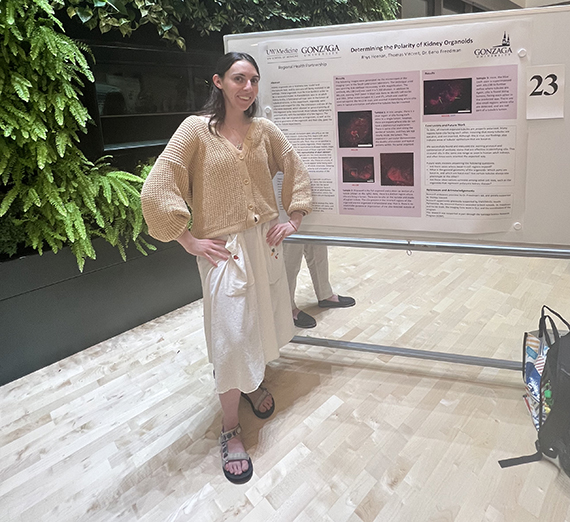 ---
Senior Spotlight: Rhys Heenan
Studies: Human Physiology
Hometown: Kirkland, Wash.

Talk about leaning into a major while at Gonzaga. Rhys Heenan ('23) earned her department's selection for the Outstanding Human Physiology Student Award with these accomplishments on her resume:
Senior teaching assistant for anatomy and physiology labs
Lead researcher on a project presented at the American College of Sports Medicine Northwest
Well-liked tutor and mentor for fellow students.
"I started off as human physiology and never switched majors, and I never questioned it," Heenan says.
"I knew that the department was a perfect match for me and it was only reinforced as I took more advanced courses, met new friends and grew alongside my peers."
After graduation, Heenan will work as a data analyst for a hospital in her hometown of Kirkland, Washington, while studying for the Medical College Admission Test and "finally learning how to drive."

The research project she and her team of GU students conducted was a highlight.

"We researched the effects of menstruation on maximal exercise performance," Heenan says. "Our findings suggested that menstruation leads to a significant decrease in hematocrit, or the ratio of red blood cells to plasma, which may decrease exercise performance as defined by VO2max, or maximal oxygen consumption.

"People (at the conference) were thrilled to see more research on women without simply ignoring menstruation," says Heenan, who was quick to credit her fellow researchers: Georgi Brady, Maddie Albers and Cole Goodheart. Assistant Professor Patrick Crosswhite served as their adviser.

Despite all of the gritty work, receiving the department's top student award was "a huge shock."

"I kept doubting myself and thinking of all of my amazing peers and how they're just as qualified," she says. "It may sound so simple, but getting this award made me realize that my professors and peers truly cherish me as a fellow esteemed colleague." 

For a current or prospective student considering the human physiology pathway, Heenan offers this advice: "You absolutely must follow it. It's the most important choice I've ever made, and I don't regret it for a second. It is the perfect learning environment and community. You couldn't feel more supported."
Find more great senior stories!